What is the George Floyd Challenge? No Evidence of 'Popular' Social Media Trend Following Offensive Images
Last week, a photo of a high school wrestling coach with a man kneeling on his neck circulated on social media sites, resulting in the man getting fired. The so-called George Floyd Challenge has since been recreated by a handful of others, resulting in job losses and even arrests.
Two construction workers from Minnesota were fired after they shared an image of one kneeling on the other's neck and three teenage boys from the U.K. were reportedly arrested on suspicion of committing a hate crime after doing the same, captioning their Snapchat post "police brutality."
Another image, which was reported to have been taken in either Chicago or Ohio, saw a pair of white men recreating the position in which George Floyd died by asphyxia after police officer Derek Chauvin kneeled on his neck for nearly nine minutes. This was one of the only, if not the only, images to have mentioned the "George Floyd Challenge."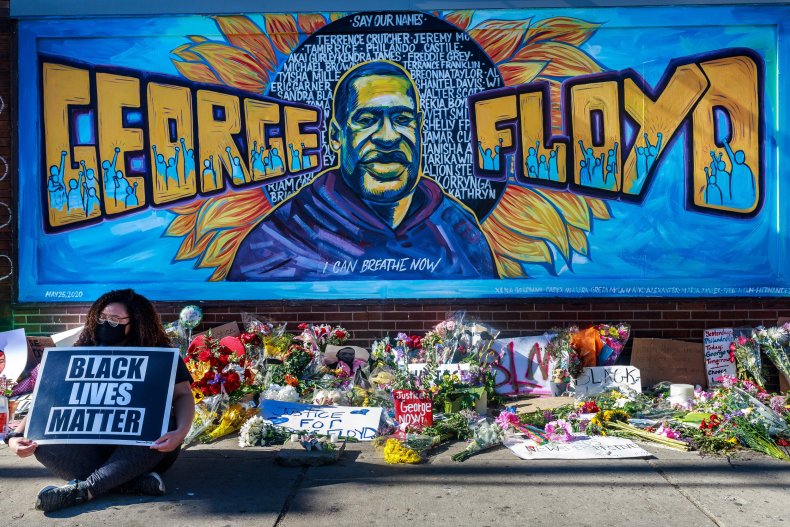 While the images are offensive and disrespectful, there are thankfully very few of them. Aside from the four images that have been widely shared, there are at least two others online.
On Wednesday, a petition was posted on Change.org calling for TikTok to "remove anything related to this challenge now." At the time of writing, the petition has more than 8,200 signatures and a goal of 10,000.
The petition says: "There is a challenge currently 'popular' on the app TikTok. It's called the 'George Floyd challenge'. It shows teens (white teens) kneeling on the neck of another teen and with a big smile on their face."
On TikTok, the tag #GeorgeFloydChallenge has more than 51,000 views across 38 videos but not a single one of them shows anybody taking part in the challenge. Most of the videos are of users condemning the handful of images that were widely circulated earlier in the week—but there is nobody recreating them.
Similarly, on Twitter and Facebook, all posts under the hashtag are social media users expressing their offense at the handful of viral images. Instagram has blocked the hashtag, but there are variations like #GeorgeFloydChallengeEndsNow and #GeorgeFloydChallengeIsDisgusting also criticizing the posts.
It would appear that the sheer number of posts expressing outrage around the very few images has led the idea of a "social media challenge" or a "popular trend" when there are in fact fewer than 10 public posts across social media platforms of people actually "taking part."