What Happened to Julian Assange's Cat After Embassy Eviction? WikiLeaks Says It is Safe, 'Will be Reunited in Freedom'
This week's arrest of WikiLeaks founder Julian Assange in London following his eviction from the Ecuadorian embassy there raised a number of important questions: Will the U.S. succeed in extraditing him? Is his arrest legitimate or a politically motivated warning to potential whistle blowers? Is WikiLeaks a journalistic organization? But perhaps most importantly: What happened to Assange's cat?
For years during the Australian national's stay at the embassy, his feline friend would appear in the building's window, posing for the cameras of curious passersby.
But when Assange was removed from the embassy Thursday, there was no trace of the cat, resulting in a raft of speculation and "Where's the cat?" questions on social media.
On Saturday, the official WikiLeaks Twitter account put those concerns to bed, tweeting out a notice that the cat is indeed no longer in the embassy and apparently was removed from the building months ago.
"We can confirm that Assange's cat is safe," reads the tweet, complete with a short video of the cat watching TV footage of Assange's arrest. "Assange asked his lawyers to rescue him from embassy threats in mid-October. They will be reunited in freedom."
The October 2018 date referenced in the tweet would line up with previous reporting that the embassy had given Assange an ultimatim last fall, demanding that he take better care of the cat or face having it confiscated and removed to an animal shelter.
The cat — alternately referred to as "Embassy Cat," "James," "Michi" or "Cat-stro" — had become a minor internet celebrity, complete with its own Twitter and Instagram accounts, during Assange's seven-year stay at the embassy.
Assange was arrested by London police Thursday based on an extradition request from the U.S. government, which has charged him with one count of conspiracy to commit computer intrusion in relation to the WikiLeaks release of reams of classified American intelligence documents downloaded by Chelsea Manning, who was convicted and imprisoned for her involvement. President Obama commuted Manning's sentence in January 2017.
The U.S. had initially attempted to make the Assange charges secretly, but in November 2018 an apparent court filing error led to the charge being made public.
The WikiLeaks founder had been holed up behind the walls of the Ecuadorian embassy since June 2012, when he was facing extradition to Sweden over sexual assault allegations. Ecuador officially granted him asylum in August of that year.
Sweden dropped the Assange rape investigation in 2017 but he continued his stay at the embassy because he still faced arrest by U.K. authorities for skipping bail.
Ecuadorian President Lenín Moreno, who took office in 2017, rescinded Assange's asylum after accusing him of "aggressive and discourteous behavior," as well as "interfering in internal affairs of other states." Morena said he had been assured by the U.K. that Assange would not be extradited "to a country where he could face torture or the death penalty."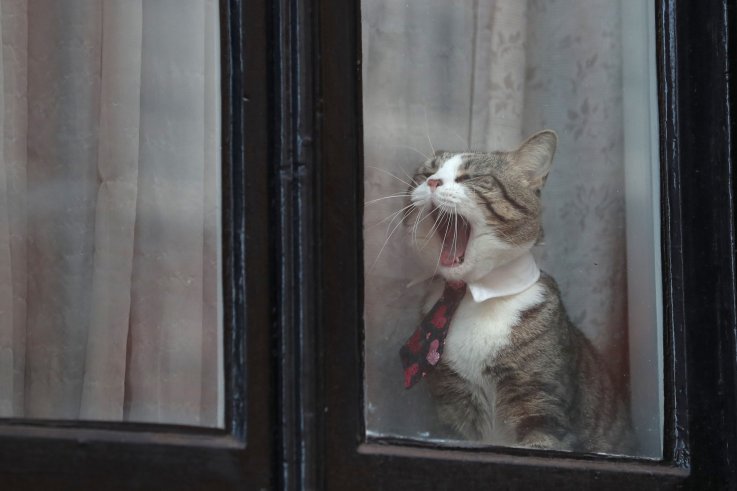 What Happened to Julian Assange's Cat After Embassy Eviction? WikiLeaks Says It is Safe, 'Will be Reunited in Freedom' | World