What Happened to 'The Dropout's' Sunny Balwani and Where Is He Now?
Naveen Andrews stars as Ramesh "Sunny" Balwani in Hulu's The Dropout, opposite Amanda Seyfried as a convicted fraudster, Elizabeth Holmes. The eight-part series follows the rise and fall of Stanford dropout, Holmes, and her company Theranos, which falsely claimed to have revolutionized blood testing in the U.S.
In 2009, Holmes employed her boyfriend Sunny Balwani as president of Theranos and later Chief Operating Officer and together. They found themselves facing multiple criminal charges of fraud and potential jail time.
Newsweek has everything you need to know about the real Sunny Balwani and where he is now.
What Happened to 'The Dropout's' Sunny Balwani?
Sunny Balwani was born in Pakistan to a Sindhi family. They moved to India before immigrating to the U.S., where he studied information systems at the University of Texas at Austin.
Following his graduation, he worked for Lotus Software and Microsoft, helping to create software development company CommerceBid, which went on to be purchased by Commerce One, another business development software company, according to various reports.
In 2000, Balwani sold his shares in Commerce One, reportedly pocketing $40 million before the company went out of business.
He then met high school graduate and soon-to-be Stanford student Elizabeth Holmes during a Mandarin summer program in China, according to the latter's testimony. She was 18 years old when they first met and he was 19 years her senior. The pair were reportedly romantic when in 2003, Holmes founded her own company, Theranos.
Despite having no background in biological sciences or medicine, Balwani joined Theranos in 2009 as president and later COO, until he left the company in 2016.
He also invested $12 million into the company around 2009, at a time when Theranos' funds were significantly low and the company reportedly had reached a breaking point.
During his time at Theranos, Balwani was in charge of the day-to-day operations. He was reportedly known for firing people on the spot and berating staff when tests failed, as former employee Doug Matje told CBS.
Holmes and Balwani never disclosed their romantic relationship to Theranos investors and as heard in the podcast, The Dropout, which the Hulu series is based on, staff and investors were stunned when they found out Holmes and Balwani had been dating.
Theranos claimed to have created a revolutionary blood-testing device that used just a small drop of blood from a finger prick to run hundreds of tests. However, the device, known as the Edison, never worked on the scale Theranos claimed.
Theranos claimed their technology had been validated by the FDA (Food and Drug Administration), pharmaceutical companies and had been deployed on the battlefield by the U.S. military in Afghanistan. All these claims were false.
Theranos also managed to obtain $900 million from investors over the years, under the false pretense of using working and accurate blood-testing technology, reported CBS.
Holmes and Balwani's empire came crashing down in 2015 when John Carreyrou writing for The Wall Street Journal published a series of scathing articles about Theranos after speaking with former employees and whistleblowers.
In his article, Carreyrou reported Theranos' Edison device gave inaccurate results, demonstrated misleading tests to investors, and revealed the company used already commercially available machines for the majority of its testing.
He continued to investigate Theranos and published all his findings in the 2018 book, Bad Blood: Secrets and Lies in a Silicon Valley Startup.
Further investigations by the Centers for Medicare and Medicaid Serves (CMS) found issues with Theranos' technology at numerous labs and in March 2018, the Securities and Exchange Commission (SEC) filed civil charges against Holmes, Balwani, and Theranos, alleging that they had committed "massive fraud."
The SEC accused them of receiving $700 million in investments by carrying out an "elaborate, years-long fraud in which they exaggerated or made false statements about the company's technology, business, and financial performance."
Holmes settled the case for $500,000. Balwani is believed to still be fighting the charges.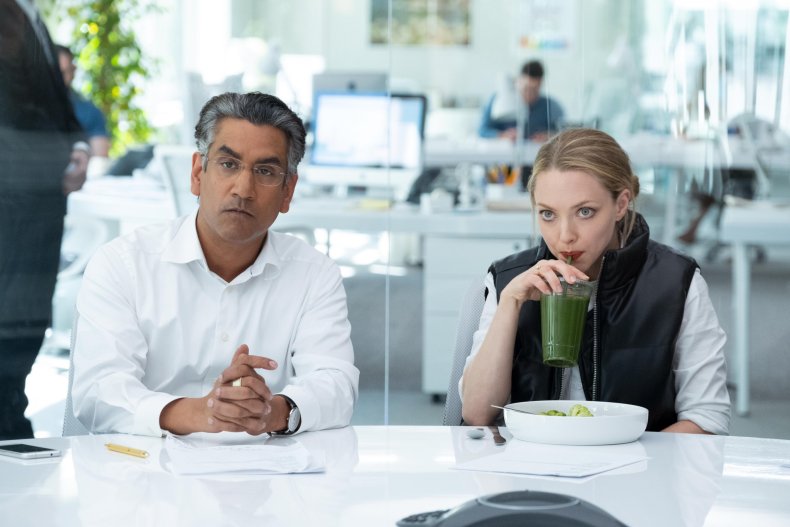 In June 2018, Balwani and Holmes were indicted on nine counts of wire fraud and two counts of conspiracy to commit wire fraud. Prosecutors believed they ran two criminal schemes, one to defraud investors and another to defraud doctors and patients.
The indictment alleged Holmes and Balwani made false claims "concerning Theranos' ability to provide accurate, fast, reliable, and cheap blood tests and test results" and omitted information about the problems associated with Theranos technology. The indictment also stated both Holmes and Balwani were aware Theranos was "not capable of consistently producing accurate and reliable results for certain blood tests" and "made numerous misrepresentations" to potential and current investors.
Originally, Balwani and Holmes were to stand trial together but in March 2020, a judge ruled they would be tried separately.
At her trial, Holmes stated Balwani controlled and sexually abused her. In court, she alleged Balwani wanted to "kill the person" she was and make her into a "new Elizabeth," reported The Washington Post.
Balwani has "categorically" denied the allegations of abuse made by Holmes, describing them as "false and inflammatory," reported Reuters.
In her court testimony, Holmes stated Balwani did not force her to make any false statements to investors, business partners, journalists, and other figures involved in the company.
Where Is Sunny Balwani Now?
Sunny Balwani has yet to face the court. His trial is set to begin in early March and he has denied all of the charges against him.
Elizabeth Holmes' trial began in August 2021 and in January 2022 she was found guilty on four counts of defrauding investors. She faces up to 20 years in prison.
Today, Holmes is currently on bail, awaiting sentencing in September 2022.
Balwani's trial is set to play a major role in the sentencing of Holmes. In her trial, Holmes alleged Balwani was abusive in both their personal and professional relationships, which will be addressed at his trial.
A former federal prosecutor, Amanda Kramer, told NPR: "Some facts established in Balwani's trial might prove to be relevant in Holmes' sentencing."
Very little is known about Balwani's whereabouts today.
The Dropout airs Thursdays on Hulu and Disney+.