What Went Wrong at Woodstock '99? 'Perfect Cocktail of Unfortunate Events'
Woodstock '99, which sought to recreate the hippie spirit of the legendary 1969 music festival, ended up having nothing to do with peace and love.
Instead, Woodstock blended chaos, violence and misogyny to the soundtrack of nu-metal and millennial angst. You might even call it a "Trainwreck."
More than 400,000 people attended the highly anticipated festival held at the former Griffiss air base in Rome, New York, with the Red Hot Chilli Peppers, Metallica and Korn taking to the main stage.
However, at Woodstock '99 elements of poor management, budget cuts, high temperatures, misogyny, inadequate security, the music, a disgruntled crowd forced to pay high prices, and the lack of sanitation were a disastrous cocktail, eventually spilling over into violence, sexual assault, riots and even death.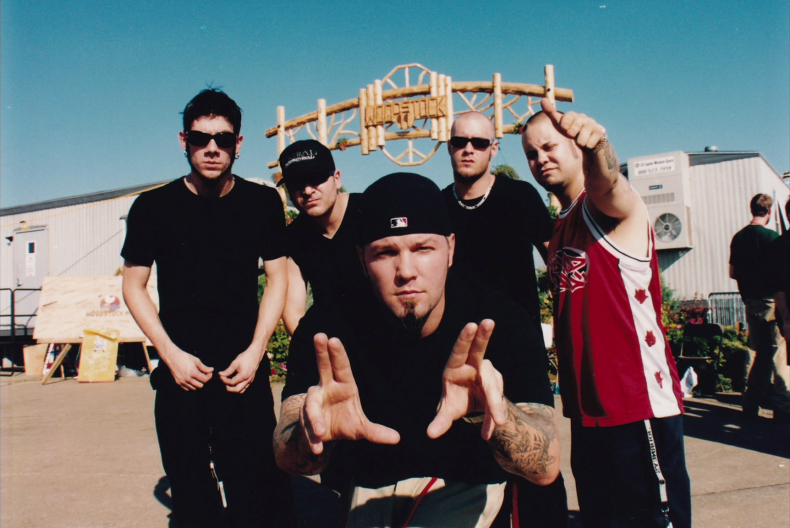 Jamie Crawford's three part-part documentary series, Trainwreck: Woodstock '99 explores what went wrong and questions how exactly and who was to blame.
Was it the music? Was it the fault of the organizers? Was it solely down to the crowd? "It's not one simple narrative," director Jamie Crawford told Newsweek.
He shared: "There was just such a wealth of story and material. It's not a simple narrative. There is no one single version of this story. It's like one of those giant medieval paintings where they are in their sort of myriad of vignettes that are happening at the same time and you need to try and tie all those together into something that represents the whole.
"I think that fundamentally, the takeaway from this story is that it was sort of a perfect cocktail of unfortunate events, missteps, and mishaps that individually might not have been problematic, but together combined to bring this thing tumbling down and leave it in a charred smoky mess and the Limp Bizkit factor was one factor of many."
The Location
From the get-go, there were issues with Woodstock '99's location. It was nothing like the green hills of Woodstock '69 and attempting to learn from the mistake of '94 where over 190,000 people broke in for free, organizers wanted to find somewhere no one would get in without paying.
The festival was held at the former Griffiss Air Force Base in Rome, upstate New York.
However, as a result of a heatwave, festival goers were subject to intense temperatures, exacerbated by the tarmac roads and asphalt on the ground.
They were also subject to severe dehydration as a result of a lack of access to water. If there was water, it cost attendees over $4 per bottle.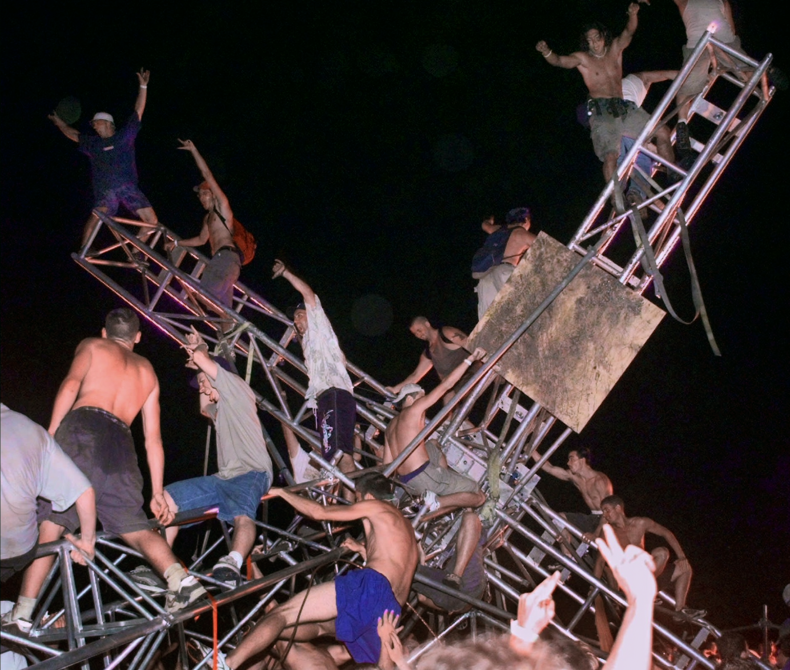 According to The Baltimore Sun, more than 700 people were treated for heat exhaustion and dehydration over the weekend and there were over 1,200 onsite medical admissions.
Festivalgoer David G. DeRosia, 24, died from a heat-related illness at University Hospital in Syracuse, New York.
According to Esquire, DeRosia collapsed in the crowd while watching Metallica perform on a Saturday evening. He died on Monday, July 26, after being in a coma for two days from "hyperthermia, probably secondary to heat stroke."
The Role of the Organizers
Wodostock '99 was organized by Michael Laing, John Scher and Ossie Kilkenny.
Speaking in Trainwreck: Woodstock '99, Scher admitted he knew nothing about the lineup he had booked, which consisted of nu-metal acts, playing one after the other.
When problems started to surface, he told cameras in Trainwreck: Woodstock '99: "We were having fun. We had worked a year to plan this, and it was working. Yes, issues existed, but they were isolated. Nobody came thinking they were going to stay at the Ritz Carlton."
Additionally, there was not enough security in place and there had been so much cost-cutting, and with food and drink at high prices, festivalgoers weren't happy.
The cuts also hit sanitation services hard and there were even reports of people suffering from trench mouth, a gum infection caused by a buildup of bacteria in the mouth that is often associated with trench warfare of World War I.
Festivalgoers contracted the illness as a result of poor sanitation and amid reports that human feces leaked into the drinking and shower water.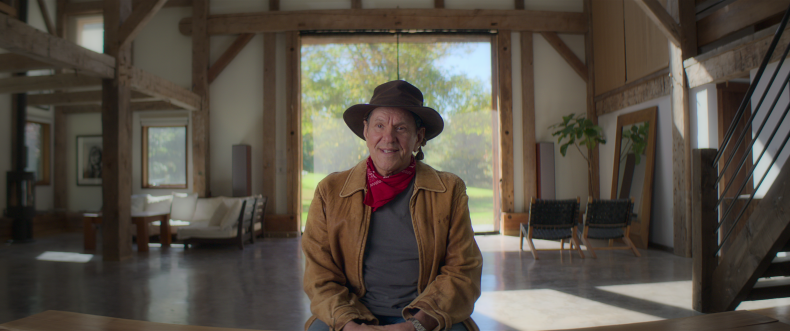 The Music and Limp Bizkit
Whereas 1969 saw the likes of Bob Dylan, Janis Joplin and Jimi Hendrix perform, Woodstock '99 saw a lineup consisting of mainly heavy-metal and nu-metal acts from Korn to Limp Bizkit, Rush, Red Hot Chili Peppers and more.
As heard in Trainwreck: Woodstock '99, some people believed the heavy music may have contributed to the chaos that unfolded over the weekend as it captured the spirit of the increasingly angry audience.
For example, before performing "Break Stuff," Limp Bizkit frontman Fred Durst encouraged the crowd to do exactly that.
Moments later, people began crowd surfing using plywood from the fences, while others started climbing up sound towers and the behavior in the mosh pits became aggressive.
On the Sunday, as the Red Hot Chili Peppers performed a cover version of Jimi Hendrix's "Fire," people began starting real bonfires amid a candlelit vigil. Looting and rioting began shortly after.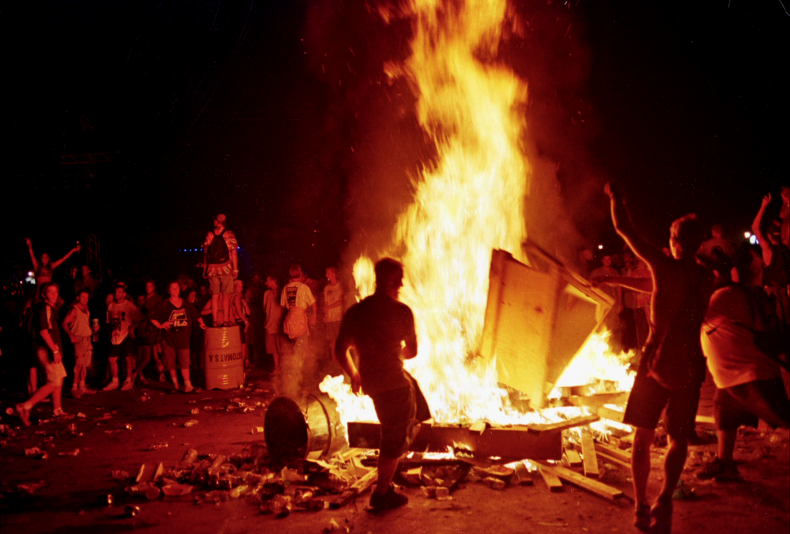 In the end, Crawford believes there isn't a single factor that can explain what triggered the events at Woodstock '99.
He shared: "The very intriguing thing about this is that we didn't set out to give you the answers. We set out to offer up the evidence and for you draw your own conclusions from what happened because what's fascinating is that everything that ever happens everybody has their own unique perspective and opinion about it all of our memories."
As for the candlelight vigil that went horribly wrong, leading to full-on bonfires burning on the grounds of Woodstock '99, Crawford believes the ordeal is "hilariously representative" of the whole event in many ways.
Set up by an anti-gun group to honor the victims of the Columbine school shooting and usher in a new decade of peace, things completely backfired when the candles were used as kindling to start major fires.
Crawford said: "I think the candles are sort of hilariously representative of the whole event in many ways. The intention behind them was was was honorable. They were trying to highlight a social ill of the time and they had successfully had this candlelit vigil moment in the original Woodstock and also in Woodstock' 94 and so as many people pointed out, you still need a lighter to light a candle. So there are other ways of setting fire to things. However, despite the best intentions it landed at precisely the wrong minute of the wrong hour of the wrong day."
To make Trainwreck: Woodstock '99, Crawford was determined to only speak with people who were at the event, including festivalgoers, Woodstock staff, journalists and even the musicians to ensure the documentary gave as clear a picture as it could.
Crawford shared: "People have such vivid memories of this event. It's 20-plus years ago, and yet, it's sort of baked into their sensory memories and what was amazing was that you sit down to interview people, we interviewed maybe 35 people from all different perspectives on this project and our golden rule all along was that we only wanted to talk to people who were there on the ground and what was amazing is that sort of as soon as you open up the can of Woodstock '99 worms, the sensory memories that people have, are just so powerful, like what you can smell, 'I remember waking up the stench of s*** when I came out of my tent, or whatever it is."
In Woodstock '99, Korn's Jonathan Davis reflected on his performance at Woodstock on a Friday evening and Fatboy Slim recalled the harrowing moment a truck drove into the crowd during his set, causing him to stop his set and leave the festival almost immediately.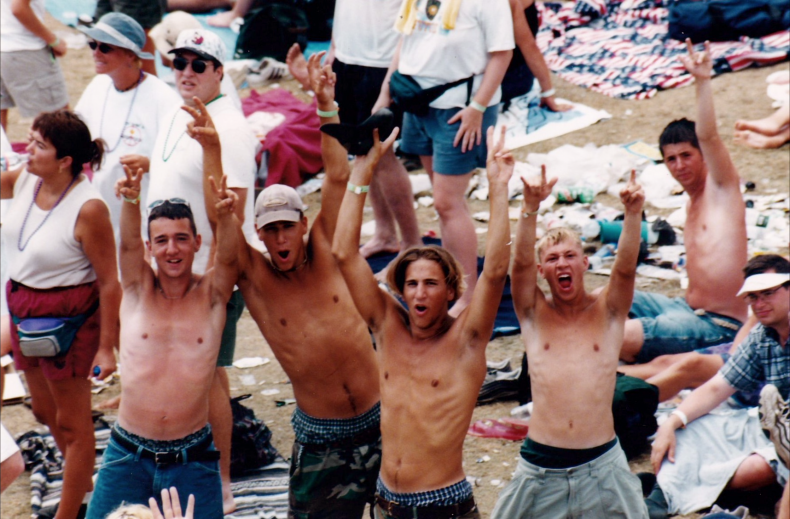 However, one famous face that Crawford would have loved to have included in Woodstock '99 was Limp Bizkit's frontman, Fred Durst.
Crawford shared: "The one person we would really have loved to have talked to, but didn't get to do in the end is Fred Durst from Limp Bizkit. There was a long dialogue with him and his team. And in the end, they were very keen, and then in the end, they kind of backed off it.
He continued: "He's been tarred with the Woodstock '99 brush for many years, in some people's minds fairly and in other people's minds very unfairly. It would have been intriguing to ask him about it directly."
John Schur and the organizers of Woodstock '99 have not accepted any responsibility for the failures of the festival and over the years, have placed the blame on Limp Bizkit and the crowd in attendance.
Discussing the role of the organizers in Woodstock '99, Crawford reflected: "Talking to the producers about it because as you will have seen they have their own very distinct memories of it partly I think because they are responsible for the gig and they will inevitably remember it with slightly rose-tinted glasses and also because they saw their own limited view of the events they weren't camping half a mile away from the action or drinking from the dodgy pipes so so I don't think they could have as a visceral memory of those elements as the people who actually experienced them.
"So I think on in some respects they made valid arguments and in other respects, they deflect it wherever possible the problems that had occurred."
Will Woodstock re-emerge? Let's just say for Crawford, it was "perhaps for the best" that in 2019, Woodstock didn't return to celebrate 50 years since the 1969 festival.
Trainwreck: Woodstock '99 is streaming on Netflix now.