What Harris and Pence Need to Do to Win the Vice Presidential Debate | Opinion
Vice President Mike Pence and Senator Kamala Harris are meeting in Utah on Wednesday for the one and only vice presidential debate of the 2020 election. It will air at 9 p.m. Eastern.
The COVID-19 pandemic is expected to be the primary topic. Pence is in charge of the White House coronavirus task force, and the debate comes less than a week after President Donald Trump tweeted that he tested positive for COVID-19.
Harris is the first woman of color on a major party presidential ticket, and the Black Lives Matter movement and police reform also may be discussed.
Just as in last week's debate between Trump and former Vice President Joe Biden, the two contenders on Wednesday have strongly divergent governing philosophies. Newsweek columnists and guest contributors, who will be live-blogging the event, shared their opinions on what the candidates need to do to succeed.
Gordon Chang
With Joe Biden's lead increasing in the wake of the first debate and with the coronavirus ripping through the White House, President Donald Trump has, I think, only one realistic road to winning: convincing the American public that China is responsible for the devastation caused by COVID-19.
So far, Trump has not been able to make this case with undecideds. Vice President Mike Pence, therefore, is the last best Republican hope.
Pence has facts galore on his side. Not only did China's Xi Jinping deliberately take steps to spread the disease beyond his country's borders, he also propagated a narrative that the disease would not be serious. Pence can make the case that when it counted—in February—Beijing lulled public health officials in the United States and other countries into not taking measures they would have adopted had they known the severity of the disease.
For Pence, this argument would be hard to present in a manner that will stick, especially because he cannot look like he is shirking responsibility. If he prevails on this issue, however, he might be able to stop the Trump's campaign continuing downward slide.
The coronavirus argument is, of course, part of a broader narrative. Pence needs to show that China is an existential threat and that the Trump administration would have a better policy countering Beijing.
Gordon G. Chang is the author of The Coming Collapse of China. Follow him on Twitter: @GordonGChang.
Frank Donatelli
Both vice presidential candidates are the chief surrogates for the top of the ticket, advocating presidential themes and critiques of the general election campaign. VPs normally do not freelance and stay close to what the presidential candidates are saying.
Each candidate will want to reframe the narratives around the COVID-19 issue, given the president's illness and follow-up behavior. Kamala Harris will question the White House's transparency, ongoing precautions against spreading the disease and future plan going forward. Mike Pence will be defending the president and the progress made to date. He may say Trump was trying to show America the disease will be overcome and that we have to face the issue directly.
Harris is a new national candidate and will want to introduce herself as knowledgeable and familiar with the issues. She'll also want to avoid being too aggressive, a trap Tim Kaine fell into four years ago. Pence is a good baseline player, dependable and capable of defending against attacks on the president. As a more traditional conservative, he might be a bit more willing to attack Joe Biden's heavy tax and regulatory policies, something that Donald Trump is incapable of doing but that could resonate with moderate voters
Frank Donatelli served as assistant for political affairs to President Ronald Reagan and as deputy chairman of the Republican National Committee during the 2008 presidential campaign of John McCain.
Nigel Farage
This is the most important vice presidential debate anyone can remember. The real question tonight is, if you vote Democrat at this election, who are you really going to get as president?
No one seriously thinks that Joe Biden can carry out the duties of commander-in-chief into his 80s. So, is Kamala Harris up to the job?
Pence is solid and reliable, but can he confound the critics and show that he has charisma?
We will find out the answers to these questions and more in a few short hours' time.
Nigel Farage is senior editor-at-large of Newsweek's "The Debate" platform and leader of the U.K.'s Brexit Party.
Caroline Glick
To win the debate this evening against Sen. Kamala Harris, Vice President Mike Pence will have to expose her radicalism on everything from tax, health and environmental policies to foreign policy. Harris was rated the most liberal senator by the nonpartisan GovTrack.us. Once Pence exposes her radicalism, he will also need to pin her positions to nominee Joe Biden. During the presidential debate last week, Biden insisted that the public needn't be concerned by the progressive grassroots of the party or of the radical platform the party adopted at its convention, insisting that he is the Democrat Party. If that is true, then how does he expect to work harmoniously with his vice president who agrees wholeheartedly with the radical base of the party and has made that clear in both her public statements and her voting record? To the extent Pence successfully highlights this state of affairs in a clear way, he will emerge the victor in tonight's debate.
Caroline B. Glick is a senior columnist at Israel Hayom and the author of The Israeli Solution: A One-State Plan for Peace in the Middle East (Crown Forum, 2014). From 1994 to 1996, she served as a core member of Israel's negotiating team with the Palestine Liberation Organization.
Doug Gordon
Anyone expecting round two of the street brawl we all witnessed in Cleveland last week is going to be sorely disappointed with the vice presidential debate in Utah. Both in tone and substance, Wednesday night's debate will likely look very different. The only aspect that remains the same is that the onus is on the Trump campaign to shake up a race it is clearly losing. Something Donald Trump failed to do in Cleveland.
Wednesday night, Mike Pence will try to make the country have collective amnesia. He will try to make the country forget the more than 210,000 people who have died of the coronavirus. He will try to make the country forget that Trump ended up in the hospital from the same reckless and dangerous behavior he suggests for the rest of the country. He will try to make the country forget the chaos of the last four years, the daily Twitter rants and the president's near-constant embrace of white nationalism. And he will try to make us forget the fact that the country has 4.7 million fewer jobs today than when Trump took office. He will try to rewrite history and our own collective memory to make the administration seem competent, normal and accomplished.
Trump tried a street bully approach in Cleveland. Pence will likely try a choir boy approach in Utah. But in the end, gaslighting is gaslighting, regardless of tone. And voters are seeing right through it.
Doug Gordon is a Democratic strategist and co-founder of UpShift Strategies who has worked on numerous federal, state and local campaigns and on Capitol Hill. He is on Twitter at @dgordon52.
Tom Rogers
Kamala Harris has to do four things: sound presidential, given the focus on Joe Biden's age; keep "Trump administration failing on COVID-19" front and center, with a particular focus on Donald Trump's lunacy in handling his own COVID-19 illness; make clear she supports practical solutions on health care and the economy, without sounding as if she is a "radical leftist socialist"; and show Mike Pence and Trump to be totally out of step on the social issues that matter most to women.
Pence has to do four things: comport himself as a total gentlemen to counter the losing, bullying image that Trump conveyed; answer COVID-19 arguments by admitting all the health risks but saying the administration is fighting for the people who have lost jobs and trying to get the country back to work; push Harris on why she is not telling Democratic mayors to crack down on violent protesters to the fullest extent of the law and say her unwillingness to do so indicates something about inability to control the "extremist" forces of the far left; suggest there is a coherent, proactive agenda for a Trump-Pence second term, rather than simply attacking idea of a Biden presidency.
Tom Rogers is an editor-at-large for Newsweek, the founder of CNBC and a CNBC contributor. He also established MSNBC, is the former CEO of TiVo, currently executive chairman of Engine Media and is former senior counsel to a congressional committee.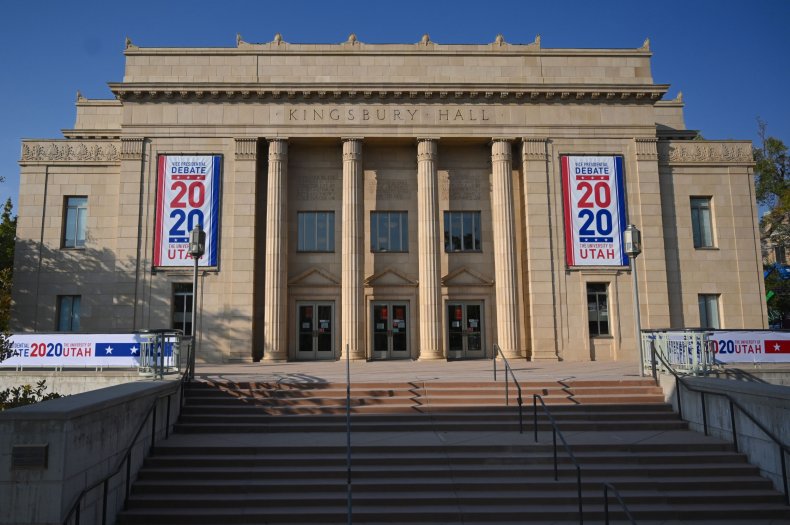 Ben Weingarten
For Vice President Pence to have a successful debate, he should do three things. First, VP Pence should create a clear and compelling contrast between the successful Trump-Pence agenda and vision for America, with the would-be disaster of the Biden-Harris agenda and vision for anti-America, as detailed in my pre-debate commentary for the first presidential debate. Every viewer should walk away knowing exactly what the two campaigns stand for. Second, VP Pence should seek to convince Americans that an ambitious, power-hungry leftist like Sen. Kamala Harris has no business being anywhere near the Oval Office—yet would be poised to do so should former Vice President Joe Biden win the presidency, given the effective managed decline evinced by his basement "campaign," and the nearly contemporaneous Freudian slips by which former VP Biden and Sen. Harris both indicated the ticket was more "Harris-Biden" than "Biden-Harris." Third, VP Pence should anticipate and lay waste to any attack by Sen. Harris on the Trump administration over its handling of the coronavirus crisis, which she will almost certainly argue was punctuated by President Trump's recent bout with the disease. VP Pence should rebut it with a stronger counter-narrative, namely that the Trump administration task force, which VP Pence chaired, undertook at record speed all manner of life-saving initiatives, which former VP Biden rejected; that the Biden-Harris team has no discernible plan for dealing with the pandemic and economic recovery going forward, in contrast with the Trump administration record; and that the Trump administration has confronted the Communist China most culpable for the pandemic to an unprecedented degree—the same Communist China that former VP Biden spent 47 years cheering on and helping elevate to such a dangerous position, while his family profited from it. VP Pence should argue that while former VP Biden has been living life in fear, cocooned, and frequently calling lids at 9am, President Trump has been as engaged, vigorous, and unflinching as ever—as is required of a commander-in-chief—and that his physical recovery from the coronavirus will personify America's recovery if given four more years in office. Then, VP Pence should go on offense, putting Sen. Harris on her back foot, and neither letting Sen. Harris nor the moderator set the narratives. This onslaught should include pressing Sen. Harris on the myriad questions her running-mate ducked, particularly on issues in her wheelhouse as a member of the Senate Judiciary Committee like court-packing and the filibuster, as well as the religious tests she imposed on presidential nominees and her smearing of Justice Brett Kavanaugh; on how she can faithfully serve a would-be president she painted as a bigot on the campaign trail; and on her arguably tyrannical behavior as California attorney general and San Francisco district attorney, forcing Sen. Harris to reject her past and embrace wholesale the ascendant progressives in her party, or risk alienating them.
Ben Weingarten is a senior fellow at the London Center for Policy Research, fellow at the Claremont Institute and senior contributor to The Federalist. He is the author of American Ingrate: Ilhan Omar and the Progressive-Islamist Takeover of the Democratic Party (Bombardier, 2020). Ben is the founder and CEO of ChangeUp Media LLC, a media consulting and production company. Subscribe to his newsletter at bit.ly/bhwnews, and follow him on Twitter @bhweingarten.
Christine Todd Whitman
Kamala Harris needs to tie Mike Pence to the Trump administration, of which he's been incredibly supportive, and its many decisions that have proved disastrous, including those around COVID-19. He has been a loyal vice president and an apologist, and he must answer for it.
Pence will go after her past record and try to lump her in with the far left, but she needs to hold her ground on the moderate Joe Biden line. Specifically, she needs to be clear about how Biden's proposal on the environment differs from the Green New Deal. Overall, she needs to reassure Americans that the Biden-Harris administration will not veer to the far left, that she is not Alexandria Ocasio-Cortez in disguise, which Pence will say she is.
Finally, she has to call out any sexist dog whistles that he gives—including if he tries in any way to diminish her experience and hard-earned accomplishments that have brought her to this point. She is as self-made a success story as they come, and her mixed racial background speaks to her broad perspective—something that is beyond the understanding of most white men.
Christine Todd Whitman is president of the Whitman Strategy Group. She served in the Cabinet of President George W. Bush as administrator of the Environmental Protection Agency and previously was governor of New Jersey.
The views expressed in this article are the authors' own.