What Has Alex Trebek's Wife Jean Currivan Trebek Said About His Passing?
Jean Currivan Trebek, the wife of late Jeopardy! host Alex Trebek, posted for the first time on Instagram since her husband's passing. Trebek died on Sunday from pancreatic cancer. He was 80 years old. Currivan shared an intimate picture of her and her Trebek from their wedding, as he slips her wedding ring onto her ring finger.
"My family and I sincerely thank you all for your compassionate messages and generosity. Your expressions have truly touched our hearts. Thank you so very, very much," she wrote, adding: "Many Blessings to all, Jean Trebek."
Currivan previously wrote on her Guideposts blog in July about finding joy with Trebek during his battle with pancreatic cancer. She said that in December 2018 while vacationing in Israel, she noticed something different about Trebek.
"It felt as if the bottom dropped out of my world," she said at the time. "Alex has been everything to me. I met him when I was 21, a challenging period in my life. His friendship — we were friends for a long time before becoming a couple — changed my life."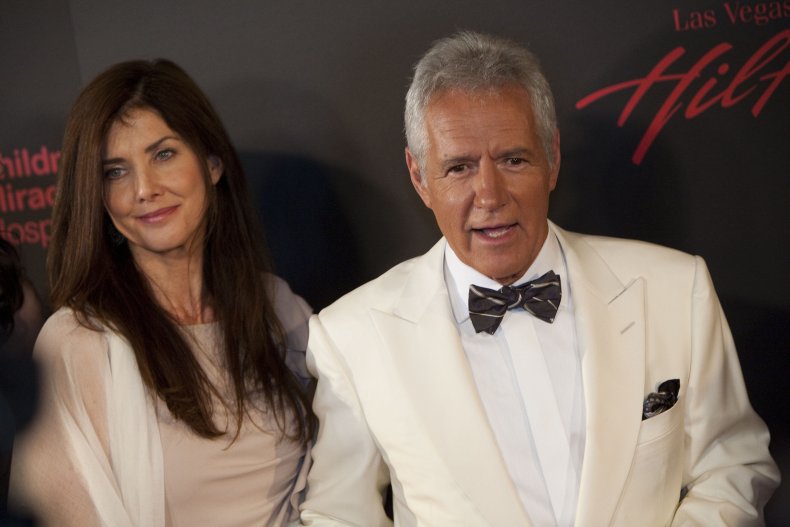 Currivan and Trebek met in 1988 through a friend. Despite the 24-year age gap, they hit it off early on. Two years later, they were married. The couple share a son, Matthew, and daughter, Emily.
Currivan told Survivor Net in November 2019 about how her practicing sound healing and working as a Religious Scientist practitioner helped her stay positive throughout her husband's diagnosis and battle.
"It comes from a place of love, because I want to uplift him...and when I keep my own self buoyed and enjoying my life, I can actually share that with him. He can look at me and have a sense of 'life is beautiful, my wife is doing something good,'" she said.
It's safe to say that Trebek was beyond grateful for everything Currivan did for him throughout his struggle with pancreatic cancer. "She's kept me alive," Trebek told People in 2019. "If it weren't for Jean, I'd have put myself out of this a long time ago."
He also spoke about his wife's support in the ABC special What is Jeopardy!. "It's always tough for the caretakers, because she has to deal with her worrying about my wellbeing, and also dealing with—I'm not always the most pleasant person to be around, when I'm experiencing severe pain or depression, and she has to tread lightly around me," Trebek confessed.