What Has Amy Coney Barrett Said About Separation of Church and State?
President Donald Trump intends to announce his next Supreme Court nomination on Saturday, and Amy Coney Barrett is one of the judges Trump said he is considering for the position.
The debate about who Trump will pick to replace Associate Justice Ruth Bader Ginsburg began immediately after news of Ginsburg's death on September 18. Trump told reporters last weekend that his nominee will "most likely" be a woman, and Barrett has been widely reported as one of the potential nominees at the top of his list.
Earlier in his term as president, Trump nominated Barrett, who once clerked for the late Associate Justice Antonin Scalia, to serve on the U.S. Court of Appeals for the Seventh Circuit in Chicago. She received bipartisan support from the Senate during her confirmation hearing in October 2017, with three Democrats joining Republicans to approve her appointment. Trump also reportedly considered Barrett to fill former Associate Justice Anthony Kennedy's seat when he retired but ultimately chose Brett Kavanaugh, who was confirmed as the Supreme Court's latest addition in October 2018.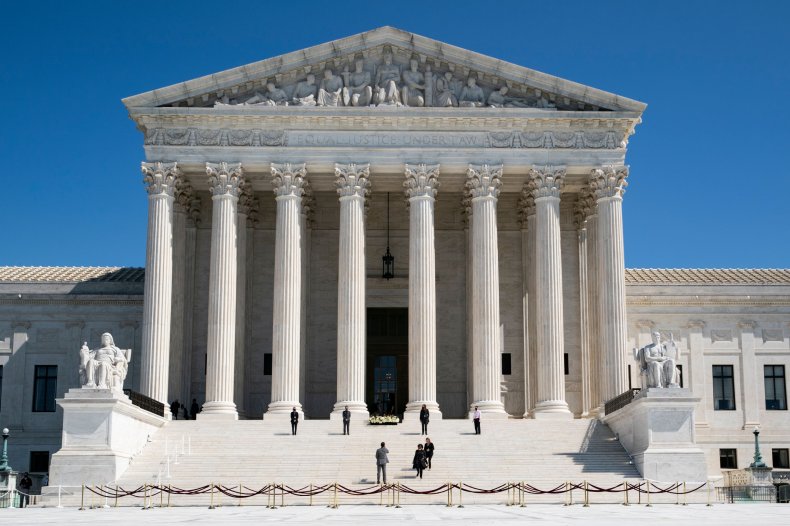 Whether or not Barrett's Catholic faith influences her judicial decisions was the subject of extensive scrutiny among Democrats during her hearing with the Senate Judiciary Committee in 2017. Barrett, who attended the Notre Dame Law School and later taught there, contributed to a 1998 paper co-written by one of her professors, John Garvey—now the president of the Catholic University of America—titled "Catholic Judges in Capital Cases." One of the conclusions the paper drew was that "Catholic judges (if they are faithful to the teaching of their church) are morally precluded from enforcing the death penalty. This means that they can neither themselves sentence criminals to death nor enforce jury recommendations of death." The paper added that judges with other religious backgrounds were just as likely as Catholics to face moral dilemmas in capital punishment cases.
"Judges cannot—nor should they try to—align our legal system with the Church's moral teaching whenever the two diverge. They should, however, conform their own behavior to the Church's standard. Perhaps their good example will have some effect," the paper concluded.
When asked during the 2017 Senate hearing how she would weigh her faith with her responsibilities as a judge, Barrett said, "It's never appropriate for a judge to impose that judge's personal convictions, whether they derive from faith or anywhere else on the law." Barrett emphasized a point the paper made about the role recusal can play when personal conflicts arise and said she would "fully and faithfully" recuse herself if such a conflict ever arose for her, though she added that she could not think of any kinds of cases in which such actions would be necessary for her to take.
Despite Barrett's comments, Senator Dianne Feinstein mentioned during the 2017 hearing that Barrett has delivered speeches in the past that raise questions about her ability to separate her faith from her interpretation of the law. In a 2006 Notre Dame Law School commencement speech, Barrett encouraged the graduating class to engage in prayer before accepting any new job and said, "If you can keep in mind that your fundamental purpose in life is not to be a lawyer, but to know, love, and serve God, you truly will be a different kind of lawyer." She also referenced in the speech a comment the university's president made to the graduating class earlier in the ceremony: "You will always keep in mind that your legal career is but a means to an end, and as Father Jenkins told you this morning, that end is building the kingdom of God."
Feinstein did not mention any specific speeches Barrett has delivered but said that the content within some of them was "of concern." Feinstein said it was important for any judge to distinguish between dogma and law—and with Barrett, Feinstein said, "The dogma lives loudly within you."
In a letter discouraging Barrett's confirmation in 2017, Feinstein mentioned a public discussion Barrett hosted with Notre Dame students in 2013, in which she referred to Roe v. Wade as a case that "permitted abortion on demand." Barrett said that the landmark 1973 case was unlikely to be overturned after the high court upheld it for decades, Notre Dame's student newspaper reported at the time, but Barrett pointed to 1992's Planned Parenthood v. Casey as an important instance in which the original decision was altered.
"As of the Casey ruling, before viability the state policy may not pose a substantial obstacle to a woman's obtaining an abortion, but the state can regulate in the interest of the life of the fetus. Casey also stated that after viability the state can regulate with an exception for health of the mother," Barrett told the students. She added that judicial confirmation hearings have gotten increasingly controversial in the years since Roe v. Wade because both parties consider the case's future when weighing candidates, according to the paper.
Another incident Feinstein mentioned in her letter to then-Senate Judiciary Committee Chairman Chuck Grassley was a 2012 letter Barrett signed in response to an Affordable Care Act (ACA) requirement for all employers to provide employees with insurance options that covered birth control. The letter took issue with the fact that religious institutions under the ACA were required to provide insurance options that covered birth control pills and other forms of contraception, despite some institutions' stance against the use of such tools.
"The simple fact is that the Obama administration is compelling religious people and institutions who are employers to purchase a health insurance contract that provides abortion-inducing drugs, contraception, and sterilization," the letter said. "This is a grave violation of religious freedom and cannot stand." More than 300 people signed the letter, including Barrett and the professor with whom she published the 1998 paper on the responsibilities of Catholic judges in death penalty cases.
In addition to the papers and speeches that many Democrats have found to be controversial, Barrett has also received attention for her reported involvement in a religious group called People of Praise, which The New York Times reported in 2017 taught its members that husbands were to serve as personal advisers to their wives and as the primary authority figure in a family. Also concerning to some is Barrett's signature amongst more than 1,300 others on a 2015 letter that affirmed some Catholic teachings and said, "We believe that women should be prominent messengers of the truths contained in the Church's teachings."
Two years after Barrett was confirmed as a judge for the Seventh Circuit, she said that she doesn't believe faith should have a role in judicial decisions—including those regarding whether or not a candidate is approved to fill a position.
"A judge is obligated to apply the law as it is and not as she wishes it would be. She is obliged to follow the law even when her personal preferences cut the other way, or when she will experience great public criticism for doing so," Barrett said during a public discussion at Hillsdale College in May 2019. She later added, "whether someone is Catholic or Jewish or Evangelical or Muslim or has no faith at all is irrelevant to the job, and in fact, it's unconstitutional to consider it as a qualification."
While Democrats have expressed concern about these points and more, Republicans largely support the idea of Barrett ascending to the Supreme Court, and some of Barrett's students and co-workers have said that she does not bring her own ideology into her work, according to The New York Times.
As Barrett mentioned in her 2017 Senate confirmation hearing, her perspectives on the issues she tackled as a law student in the late 1990s—when some of her first papers were written—have been influenced by the decades of experience she's gained since, making it difficult to determine exactly how she would vote when the separation of church and state arises in future cases. Despite her writings on recusal and past encouragement to graduating law students to use their faith to "be a different kind of lawyer," Barrett has said publicly and under oath that her religious background does not weigh on the decisions she makes on the bench.
Barrett declined Newsweek's request for comment on this story.
Update (9/23/2020, 9 p.m.):This article was updated to include additional remarks from Barrett about Roe v. Wade, abortion and judicial precedent.