What Has Matthew Perry Been in Since 'Friends' Ended?
Matthew Perry played the role of Chandler Bing on Friends from the show's launch in 1994 until its end in 2004. The entire cast of Friends have become household names ever since, going on to star in award-winning films to other television shows.
During the highly anticipated Friends: The Reunion in May, Perry shared with his co-stars the anxiety he felt about performing in front of a live audience over the 10 years of filming.
He said: "To me, I felt like I was going to die if they didn't laugh. And it's not healthy, for sure. But I would sometimes say a line and they wouldn't laugh and I would sweat and just go into convulsions.
"If I didn't get the laugh I was supposed to get, I would freak out."
His co-stars during the reunion appeared shocked at Perry's claims, with Lisa Kudrow stating: "You didn't tell us that, though. I don't remember you ever saying that."
Speaking to TODAY, Aniston reflected on Perry's comments: "I didn't understand the level of anxiety and self-torture [that] was put on Matthew Perry if he didn't get that laugh and the devastation that he felt. Which makes a lot of sense."
Thankfully after Friends ended, Perry's career continues to flourish just like his co-stars. Newsweek has everything you need to know about Perry's acting career below.
What Has Matthew Perry Been in Since 'Friends' Ended?
During his time on Friends, Perry appeared in a number of films including Fools Rush In, Almost Heroes, and The Whole Nine Yards alongside Bruce Willis.
Like the majority of his Friends co-stars, Perry went on to pursue other acting projects alongside directing and playwrighting opportunities.
After Friends ended, he made his directorial debut in Scrubs, also guest-starring in the episode as Murray Marks.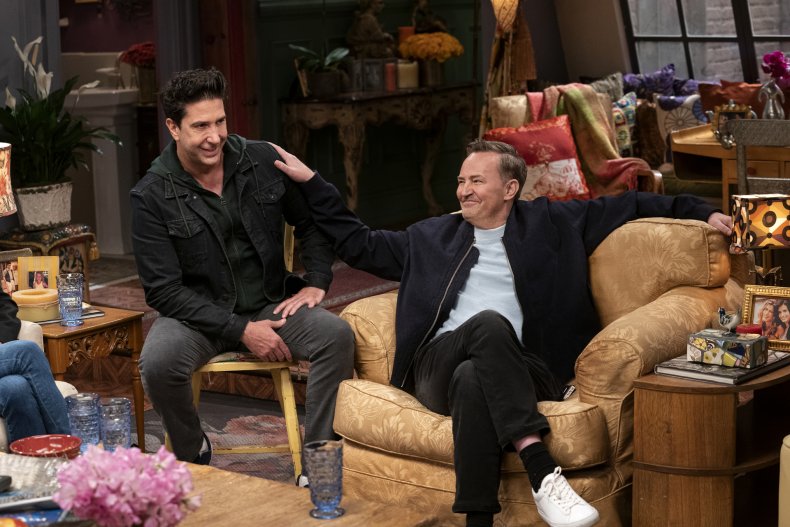 In 2006, he starred in the TNT movie The Ron Clark Story/The Triumph, and received Golden Globe and Emmy nominations for his performance.
From 2006 to 2007, Perry appeared in Aaron Sorkin's drama Studio 60 on the Sunset Strip.
He then took on the multiple roles of co-creator, co-writer, executive producer and star of the ABC sitcom Mr. Sunshine, which aired in early 2011.
He then went on to star as Ryan King in the NBC sitcom Go On in 2012 and 2013, alongside Julie White and Brett Gelman.
In 2014, Perry guest-starred as Sam in an episode of Cougar Town, reuniting with his Friends co-star Courteney Cox.
Perry was the third Friends cast member to appear in the show starring Cox, after Lisa Kudrow and Jennifer Aniston.
Perry also guest-starred in The Good Wife as attorney Mike Kresteva, starring alongside Julianna Margulies, Matt Czurchry, and Alan Cumming.
He reprised his role as Mike Kresteva in The Good Wife sequel The Good Fight in March 2017.
Perry co-developed and starred as Oscar Madison in the CBS sitcom The Odd Couple, starring opposite Thomas Lennon as Felix Unger.
In 2016, Perry played the lead role in his own play, titled The End of Longing at the Playhouse Theatre in London. The play later transferred off-Broadway to the MCC Theater, in New York City, in 2017 and starred Jennifer Morrison.
Most recently, Perry starred in the mini-series The Kennedys After Camelot as Ted Kennedy, the younger brother of President John F. Kennedy.
Afterthe seriesaired in 2017, Perry took a three-year hiatus from acting.
His last film appearance until very recently was in 17 Again in 2009 as the adult Mike O'Donnell.
In 17 Again, he starred alongside Zac Efron, Michelle Trachtenberg, Leslie Mann, and Thomas Lennon.
Later this year, Matthew Perry fans will be able to see him in the dark comedy film Don't Look Up written by Adam McKay.
Perry is to appear opposite Jennifer Lawrence, Meryl Streep and Leonardo DiCaprio.
Friends is streaming on HBO Max now.