What Have Dan Harmon and Justin Roiland Been Up To Since Rick and Morty Season 3?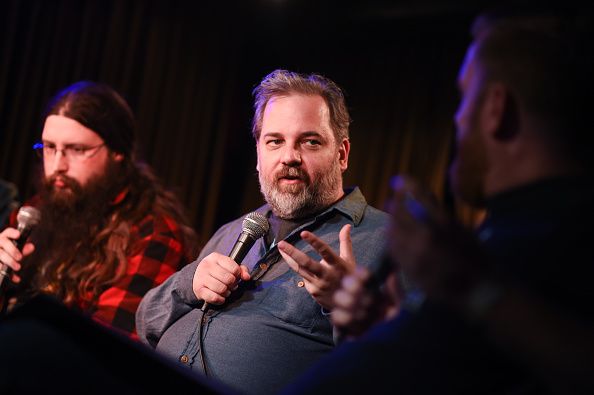 Rick and Morty's fourth season is set to premiere on Adult Swim in November 2019, more than two years after the third season concluded in October 2017. This will be the longest gap between seasons since the show began in 2011. Rick and Morty series creators, Dan Harmon and Justin Roiland spent some of those two years writing Adult Swim's 70 episode order for the animated sci-fi comedy, but they also had other projects on their plate. Some of these projects are even available to experience as we speak. This is a list of everything that Dan Harmon and Justin Roiland have publically worked on in the two years since season three concluded.
Dan Harmon's Projects
Sirens of Titan Limited Series
It was first announced in 2017 that Dan Harmon would be bringing Kurt Vonnegut's Sirens of Titan to life in a limited series. Eager fans have received minimal updates since that announcement, but according to a 2018 GQ profile, Harmon has completed at least one script for the upcoming show. In that same profile, an unnamed producer is depicted commenting to Harmon about the show, stating, "I was quite impressed and thrilled. I really felt you guys handled this masterfully."
Harmon has also mentioned the project in passing on his podcast, Harmontown.
Harmontown
Each week, Dan Harmon sits on a stage and candidly discusses his woes, as well as his thoughts, with his friends Jeff Davis (Whose Line Is It Anyway) and Spencer Crittenden (Harmontown). Listening to the show usually feels similar to being a fly on the wall of Harmon's personal journal. The podcast often has appearances from other members in Harmon's comedic circle like Rob Schrab (Ghosted, Parks and Recreation) and Kumail Nanjiani (The Big Sick, Silicon Valley). The show recently passed a 300 episode milestone. Harmontown is available on Spotify, Apple Podcasts, and Harmontown.com
Gregory Graves Vol. 1: Interview with a Supervillain
During the interim between Rick and Morty seasons three and four, Dan Harmon co-authored a graphic novel with Eric Esquivel. As implied by the title, the comic focuses on Gregory Graves, an insane scientist awaiting his execution. During the wait, Gregory Graves meets with a reporter where he reveals some fairly illuminating facts about the world's so-called "heroes."
The comic is published by Harmon's own company, Starburns Press and available for enjoyment on Amazon.
HarmonQuest Season Three
Following a successful second season on VRV, the company announced that the Dungeons & Dragons-centric show would receiving another season last October. That season is expected to drop at some point in 2019.
The show stars the Harmontown crew of Dan Harmon, Spencer Crittenden, Jeff Davis and Erin McGathy playing through a D&D campaign spanning 10 episodes. Every episode also features a celebrity guest, which is usually a comedian of some acclaim. Season 2 guests include Elizabeth Olson (Avengers: Endgame, Sorry for Your Loss) and Janet Varney ( Legend of Korra, Stan Against Evil). Of course, it's not just the visual of watching five grown-ups playing D&D at a table, no matter how fun that can be. Harmontown also provides animated dramatizations of the actions performed in their campaign.
According to Crittenden, filming of Season three happened in November 2018.
The first two seasons can be watched on VRV.
Some light acting
This is less of a project and more of statement about Harmon's non-writerly activities during the two-year gap. Harmon briefly appeared as a self caricature on the 2017 Simpsons episode "Springfield Splendor." Harmon also performed sizable roles in the Seven Stages to Achieve Eternal Bliss By Passing Through the Gateway Chosen By the Holy Storsh and Dope State. Seven Stages showed at Tribeca Film Festival in 2018 and has yet to be available elsewhere.
Conversely, the weed-focused Dope State premiered exclusively on Pluto TV on April 20 of this year. The show can be found on Pluto TV channel number 420, it's (not surprisingly) their THC channel. Watch it on either gaming consoles or right here.
Justin Roiland's Projects
Justin Hosted Meme Review with Elon Musk
Earlier this year Justin Roiland and Elon Musk (Tesla, Grimes' Boyfriend) were guest hosts on the YouTube show Meme Review. They were taking over for PewDiePie, who usually hosts the meme reviewing segment. Fans of the show had been clamoring for Musk to host the show for months and then Musk finally responded on January 27, and brought Rick and Morty's co-creator with him for the experience.
Solar Opposites
In August 2018, Roiland announced he was working on a new show called Solar Opposites with Rick and Morty writer Mike McMahan. According to an official synopsis, the show will be about "a family of aliens from a better world who must take refuge in middle America. They disagree on whether this is awful or awesome." It will star Justin Roiland as Terry and Korvo, Sean Giambrone (Kim possible, The Goldbergs) as Yumyulack, and Mary Mack (Aqua Teen Hunger Force) as Jesse.
Solar Opposites is expected to stream on Hulu sometime in 2020. The show is starting with a two-season,16-episode order.
Trover Saves The Universe
Justin Roiland has been hard at work on a new video game called Trover Saves The Universe. It's developed by Roiland's game studio, Squanch Games and stars Roiland as the titular character.
The game features Trover, an eye-hole monster whose had his dogs stuffed in his eyeholes by a beaked lunatic named Glorkon. The alien intends to use your dog's life essence to destroy everything. You have to travel around the universe with the reluctant hero, Trover and stop Glorkon. The game releases for PlayStation VR on May 31 and then comes to PC on June 4. Pre-order a PSVR copy right here and get it on Steam here.
Hot Streets
In addition to Roiland's Rick and Morty duties, the writer-actor stars in another Adult Swim show, an animated police supernatural FBI show called Hot Streets. The show follows Mark Branski and Donald French, two FBI agents that go on Various missions together. Roiland voices Chubbie Webbers, a bisexual talking bloodhound.
Hot Streets can be watched on Adult Swim's Website.
Other Acting Roles
Like Harmon, when Justin Roiland isn't writing he moonlights as an actor. Outside of starring roles, Roiland has spent the last two years portraying characters on shows like Star Vs. the Forces of Evil, where he played a character named Doop-Doop. He also appeared on Adventure Time as the various Lemongrab characters, as he's done since 2011.
Any of these things are great to check out while you're waiting for the new season of Rick and Morty to drop this November.