'What If' on Disney+: Why Chris Evans Doesn't Voice Steve Rogers in the New Disney+ Show
What If Episode 1 is streaming now on Disney+, and tells an alternate version of the events of Captain America: The First Avenger.
In the Marvel film, Steve Rogers (played by Chris Evans) is a skinny Brooklyn teen who is given a super-serum to turn him into Captain America. What If asks what would have happened had Peggy Carter (Hayley Atwell) had taken that serum and become Captain Carter.
For this parallel universe take on The First Avenger, a number of voice actors from the 2011 movie return.This includes Atwell as well as Dominic Cooper as Howard Stark and Toby Jones as Dr. Arnim Zola.
One character sounds different in this MCU multiverse story. The What If version of Steve Rogers, who becomes HYDRA Smasher rather than Captain America, is voiced by Josh Keaton rather than Chris Evans.
Why Chris Evans Is Not in 'What If'
Though big-league MCU actors like Samuel L. Jackson and the late Chadwick Boseman did record audio as their characters, none of the main Avengers are back for What If.
Robert Downey Jr. is also not returning as Tony Stark, and Variety reported that Scarlett Johansson and Brie Larson will also be recast in the Disney+ show.
Per series director Bryan Andrews, it was scheduling that got in the way of the actors returning. "Schedules are crazy, so it's really hard to get everybody," he told GamesRadar. He added to Uproxx, "All of these people are extremely talented and they've got a lot of stuff going on...and if someone's too busy and they can't make it, it's a bummer."
With Chris Evans and Robert Downey Jr., there is also an additional reason that they do not return. In Avengers: Endgame, both were given well received endings to their characters, so it is understandable why they might think that returning to voice their characters in an animated show would be a bit of an anticlimax.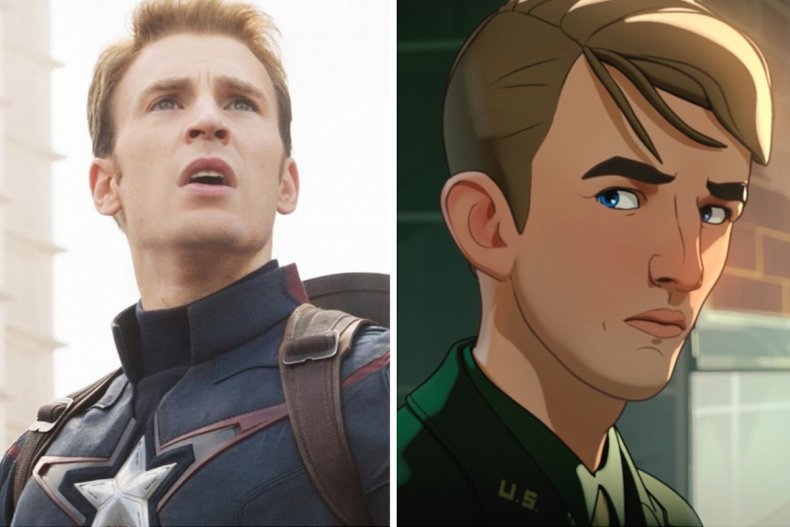 Both have also hinted that for now their time in the MCU is over. Deadline reported in January 2021 that Evans was in discussions for a Disney+ show, but this rumor was publicly denied by both Evans and Marvel super-producer Kevin Feige.
Though Captain America 4 has been confirmed to be in development, it is thought to be telling the story of the new Captain America Sam Wilson, as played by Anthony Mackie.
In What If, Josh Keaton makes his MCU debut but the voice actor already has experience in the worlds of Marvel and DC. Among the Marvel characters he has previously voiced are Ant-Man (in Avengers Assemble), Spider-Man (in The Spectacular Spider-Man) and Iron Man (in the 2020 Iron Man VR video game). He is also the voice of the Green Lantern in multiple DC projects.
What If airs Wednesdays on Disney+.