What Is Ivanka Trump Accused of? Personal Email Use for Government Work Draws 'Crooked Hillary' Comparison
Ivanka Trump used her personal email account to send hundreds of messages about official White House business in what her father's aides reportedly fear will draw comparisons with Hillary Clinton.
President Donald Trump has repeatedly attacked Clinton, his Democratic rival in the 2016 presidential race, over her use of a private email server for government business while she was secretary of state.
According to The Washington Post, the president's daughter, who is a White House adviser, used a personal email account, one she shares with her husband, Jared Kushner, also a White House adviser, through much of 2017.
President Trump's aides are reportedly alarmed by how the issue looks, considering Clinton's emails were a foundation stone of his campaign. His supporters regularly chanted "lock her up" at his campaign rallies, and Trump dubbed Clinton "Crooked Hillary.
Ethics officials at the White House learned of Ivanka Trump's use of a personal email account when reviewing correspondence between Cabinet agencies.
"Like most people, before entering government service, Ms. Trump used a private email," Peter Mirijanian, a spokesperson for Abbe Lowell, ethics counsel for Ivanka Trump, told Newsweek in a statement.
"When she entered the government, she was given a government email account for official use. While transitioning into government, until the White House provided her the same guidance they had to others who started before she did, Ms. Trump sometimes used her private account, almost always for logistics and scheduling concerning her family.
"To address misinformation being peddled about Ms. Trump's personal email, she did not create a private server in her house or office, there was never classified information transmitted, the account was never transferred or housed at Trump Organization, no emails were ever deleted, and the emails have been retained in the official account in conformity with records preservation laws and rules.
"When concerns were raised in the press 14 months ago, Ms. Trump reviewed and verified her email use with White House Counsel and explained the issue to congressional leaders."
Shortly before the 2016 election, then-F.B.I. Director James Comey said at the conclusion of an investigation into Clinton's use of a private server for her official emails that no criminal case would be brought against her.
But he did say she and her aides were "extremely careless" because some of the tens of thousands of emails sent over the server contained classified information. Some personal emails sent before 2014 were deleted. Comey said there was no evidence of a cover-up.
Clinton did not respond immediately to a request for comment.
According to a recent report in The New York Times, Ivanka Trump has let it be known that she is in the White House to help her father by using her "charm and contacts to cut through Washington's bureaucracy, particularly with Congress."
She played a prominent role in the final days before the midterm elections, endorsing Republican candidates and even appearing and speaking at the president's rallies in an effort to boost GOP hopes.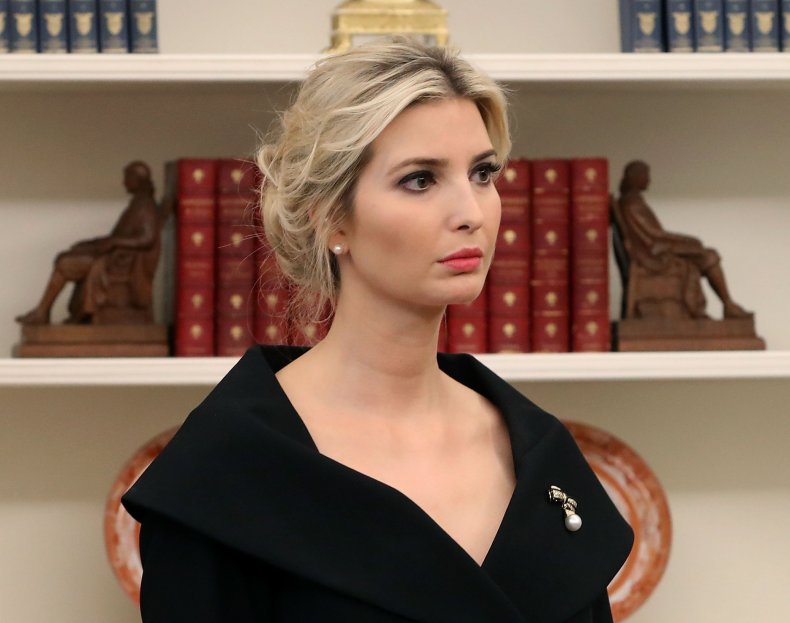 This article was updated to include a full statement by Peter Mirijanian.