What Is a January Exception? Impeachment Manager Says Failure to Convict Could Set Dangerous Precedent
As Democratic lawmakers presented rationales for Donald Trump's impeachment before the U.S. Senate on Tuesday, Representative Jamie Raskin, the lead House impeachment manager, addressed the former president's lawyers, and their push for a dismissal, with a warning.
Raskin noted that attorneys' suggestion to drop charges against Trump could create a dangerous precedent for his successors, by establishing a period toward the end of a president's term in which he is not held accountable for constitutional offenses. The congressman used the term "January exception" to describe this concept.
"President Trump has sent his lawyers here today to try to stop the Senate from hearing the facts of this case. They want to call the trial over before any evidence is even introduced," said Raskin in an emotional speech that opened Trump's impeachment trial in the Senate. He referenced the defense presented by the former president's legal team, which argued for a dismissal on the ground that Trump is no longer in office.
"In the past, Congress has acknowledged and exercised its duty to not impeach when an official is no longer in office. In the case involving the impeachment of President Richard M. Nixon, Congress decided not to impeach because he resigned from office," his attorneys wrote in a lengthy brief submitted to the Senate on Monday.
Trump did not resign after the House of Representatives voted to impeach him on an "incitement of insurrection" charge for his role in the January 6 Capitol riot. However, because the Senate declined to gather for an emergency hearing to deliberate his possible conviction, President Joe Biden assumed office before the second leg of impeachment proceedings could take place.
In any case, Raskin said Tuesday that failing to move forward with a trial would indicate that Trump—and by extension, future presidents—was not held to previously established constitutional standards during his final weeks in the White House.
"[Trump's defense team's] argument is that if you committed an impeachable offense in your last few weeks in office, you do it with constitutional impunity. You get away with it," he said.
"In other words, what would be a high crime and misdemeanor in your first year as president, and your second year as president, and your third year as president, and for the vast majority of your fourth year as president, you can suddenly do in your last few weeks in office, without facing any constitutional accountability at all," Raskin said.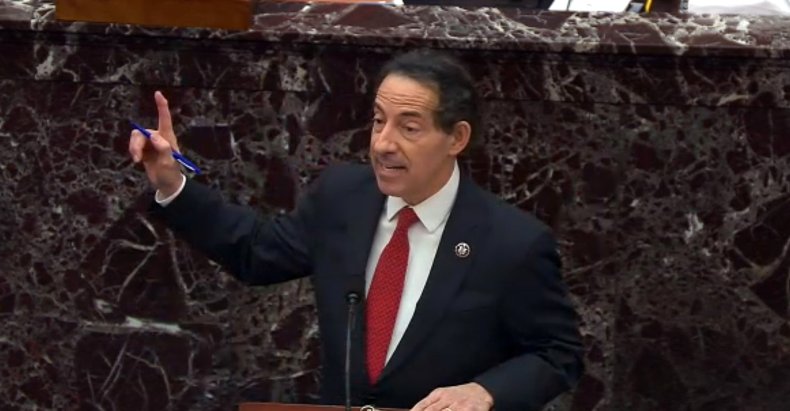 The basis of such an argument deviates from constitutional tenets, Raskin continued, calling it "a January exception" that would in turn pave the way for dangerous ensuing violations.
"It's an invitation to the president to take his best shot at anything he may want to do on his way out the door, including using violent means to lock that door. To hang on to the Oval Office at all costs and to block the peaceful transfer of power," the impeachment manager added. "In other words, the January exception is an invitation to our founders' worst nightmare."
Newsweek reached out to Trump's team for comment but did not receive a reply in time for publication.