What Joe Biden Has Promised To Do on His First Day as President
President-elect Joe Biden will be ushered into the White House on the Capitol's grounds in two days, two weeks after the seat of Congress was stormed by pro-Trump rioters who sought to disrupt his confirmation as the next commander-in-chief.
As the inauguration looms, public attention has turned to the president-elect's plans for his first day in office. Biden has promised to put forward a raft of relief measures in his first 24 hours as president, and reverse a few of President Donald Trump's most controversial executive orders.
In a memo to senior staff on the Biden transition team, Ron Klain, the president-elect's chief of staff, said his boss planned to sign "roughly a dozen actions" on inauguration day, and listed some of the day-one priorities of the incoming administration.
He started by reiterating some of Biden's most touted pledges for his first day in the Oval Office. Reversing Trump's decision to pull the U.S. out of the Paris Climate Agreement was near the top of the list, with Klain saying Biden would rejoin the pact on his first day in office.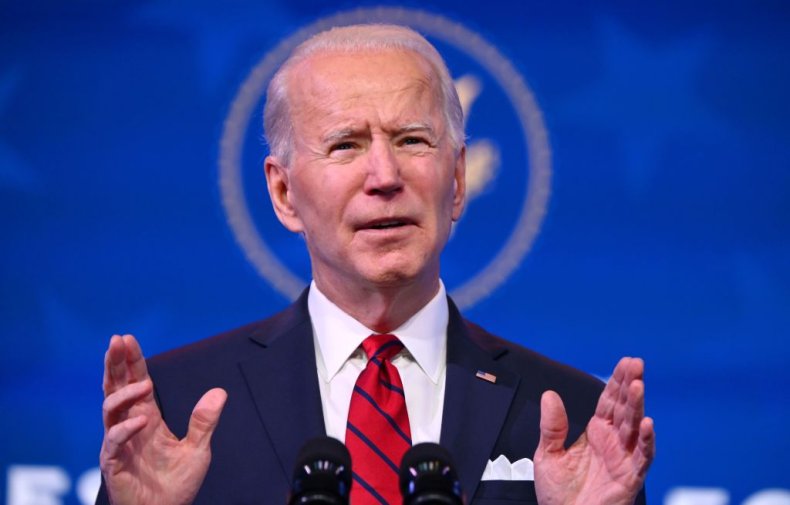 "Today, the Trump Administration officially left the Paris Climate Agreement," President-elect Biden tweeted on November 5. "And in exactly 77 days, a Biden Administration will rejoin it."
Politico reported that the next commander-in-chief would also deal with another environmental issue: the Keystone XL pipeline. The outlet said Biden would cancel the permit for the development on day one, citing three sources and a presentation circulating among lobbyists.
The incoming White House chief of staff said in his memo that Biden would also ask the Department of Education to extend the pause on federal student loan payments and interest. Although it is unclear how long the extension of the pause will last, it could prevent a blow to economy when current relief expires at the end of this month.
"On day one, the president-elect will direct the Department of Education to extend the existing pause on student loan payments, and interest, for millions of Americans with federal student loans," a transition team official said in a briefing last week.
Klain also reminded transition staff that Biden would move to reverse President Trump's so-called "Muslim Ban"—a block on travel from several Muslim-majority countries—and launch his much-discussed "100 Day Masking Challenge" to curb the spread of COVID-19.
Under the mask mandate, the wearing of masks will be required on federal property and any inter-state travel, according to the memo released over the weekend. Klain called the measure a "critical" element of the administration's plans to combat the coronavirus crisis.
Moving onto the ongoing economic crisis, which threatens to worsen without further relief, Biden's chief of staff said an extension of federal restrictions on evictions and foreclosures would also be a top priority for the president-elect on inauguration day.
"We will take action to extend nationwide restrictions on evictions and foreclosures and provide more than 25 million Americans greater stability, instead of living on the edge every month," he told transition staff.
The Centers for Disease Control and Prevention put a temporary halt on evictions to curb the spread of COVID-19 in September last year, but only managed to have it extended to January 31, 11 days after Biden's inauguration.
Moody's Analytics estimates published in December forecast that as many as 11.4 million tenants in America could be struggling with rent debts this month, averaging at around $6,000 per household.
Newsweek has contacted the Biden transition team for further comment and details of its plans for Biden's first day in the Oval Office. This article will be updated with any response.