In his first days as president, Joe Biden plans to take executive action to roll back the "gravest damages" of Donald Trump's administration, the Democrat's incoming chief of staff said Saturday.
Biden will take "decisive" action to address four overlapping and compounding crises facing the nation—COVID-19, the economy, climate change and racial inequity—in his first 10 days in office, Ron Klain wrote in a memo to senior staff.
On the day of his inauguration, Biden will reverse Trump's "Muslim Ban" and end restrictions on immigration from some Muslim-majority countries, rejoin the Paris climate accord and ask the Department of Education to extend the existing pause on student loan payments and interest for millions of Americans. He will also issue a mask mandate on federal property and during interstate travel.
They are among roughly a dozen actions Biden will take on his first day in the White House, his incoming chief of staff, Klain said.
On his second day in office, Biden will sign executive orders to tackle the COVID-19 crisis in order to safely reopen schools and businesses, Klain wrote.
On Friday, he added, Biden will direct his Cabinet agencies "to take immediate action to deliver economic relief to working families bearing the brunt of the coronavirus crisis."
Between January 25 and February 1, Biden will take execution actions relating to criminal justice reform, expanding access to health care and providing support to communities of color and other underserved communities, Klain said.
He will also take action to "restore dignity to our immigration system" and start work on reuniting families that were separated at the U.S.-Mexico border under Trump's policies.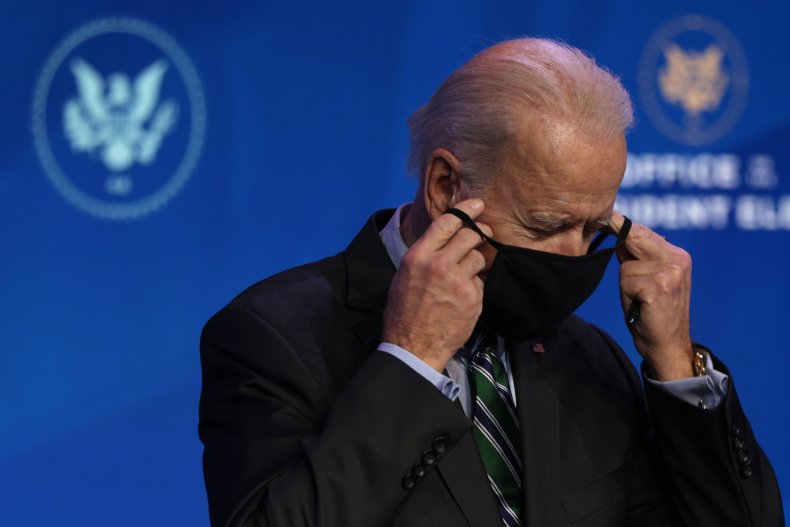 "These executive actions will deliver relief to the millions of Americans that are struggling in the face of these crises," Klain said in the memo. "President-elect Biden will take action—not just to reverse the gravest damages of the Trump administration—but also to start moving our country forward."
Klain wrote that "full achievement" of the Biden-Harris administration's goals will require support from Congress, including on the $1.9 trillion COVID-19 relief bill Biden outlined this week.
Biden will also propose an immigration reform bill to lawmakers on his first day in office, Klain said, adding that more actions will be added after completing a "final legal clearance process."
Klain is confident Biden won't face the same legal issues Trump faced on some of his initial executive orders, writing that "while the policy objectives in these executive actions are bold, I want to be clear: the legal theory behind them is well-founded and represents a restoration of an appropriate, constitutional role for the President."
The actions outlined in the memo are "just the start of our work," Klain added.
"Much more will need to be done to fight COVID-19, build our economy back better, combat systemic racism and inequality, and address the existential threat of the climate crisis. But by February 1st, America will be moving in the right direction on all four of these challenges—and more—thanks to President-elect Joe Biden's leadership."