What Kate Middleton's Uncle Said About Claim She Made Meghan Markle Cry
Kate Middleton's uncle says he does not "believe a word that comes out of" Meghan Markle's mouth in response to claims his niece made Meghan cry.
Gary Goldsmith made the first direct comments from the Middleton family since the Duchess of Sussex told a TV audience in the tens of millions that Kate reduced her to tears and apologized.
British press reports in November 2018 claimed Meghan made Kate cry at a bridesmaids' dress fitting for Princess Charlotte.
Meghan confirmed there was an argument between the women in the days before her 2018 royal wedding to Prince Harry.
However, she denied making her sister-in-law cry, saying "the reverse happened."
Meghan told Oprah: "A few days before the wedding, she was upset about something pertaining—yes, the issue was correct—about flower girl dresses, and it made me cry, and it really hurt my feelings."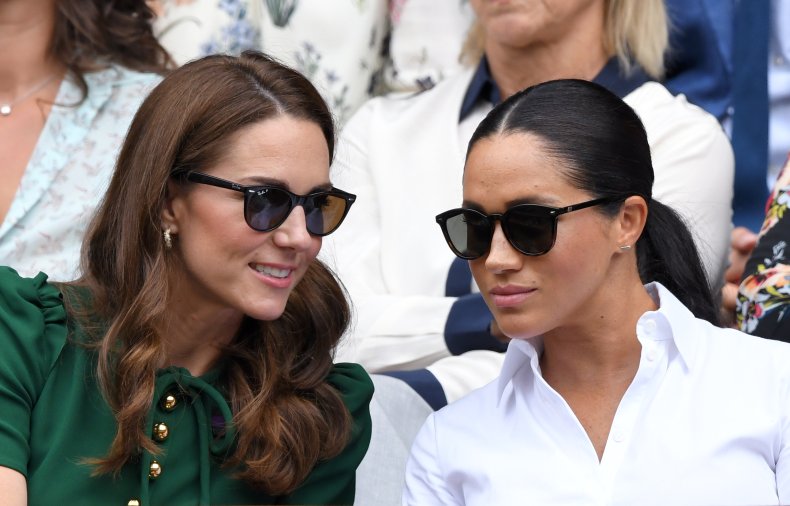 Now Goldsmith has launched an outspoken attack on Meghan and Harry's CBS prime time interview.
He told the Mail on Sunday: "I've known Kate since she was born and she doesn't have a mean bone in her body. It's just simply not in her nature.
"She's even lovelier on the inside than on the outside. If anyone had a hissy fit, it must have been Meghan. Kate would have been trying to make the peace.
"I would fight for Kate's honor until the day I die. She is the most spectacular person I've ever met."
The Duchess of Sussex also told Oprah she was unsupported by the palace with no one to teach her how to be royal, giving the example that she had to Google the words to the U.K. national anthem.
Goldsmith said: "When Meghan first entered the Royal Family, I was made up for Harry.
"Like the rest of the country, it seemed she was the real deal and it was a marriage made in heaven. But what has happened is heartbreaking.
"I don't blame Meghan—she's a Hollywood starlet. You can't blame a tiger for biting the head off a sheep.
"But I don't believe a word that comes out of her mouth. She's an actress and knows how to manipulate her audience.
"I don't believe for a second she had to Google the words to the National Anthem. Harry has been singing it since the age of five."
Goldsmith's remarks come after Piers Morgan resigned from ITV's Good Morning Britain after refusing to apologize for saying of Meghan: "I don't believe a word she says."
Morgan's outburst was the most complained about in the modern history of British TV regulator Ofcom and was condemned by mental health charity Mind.
However, Goldsmith also questioned elements of the way Harry and Meghan described her mental health breakdown to Oprah.
He told the Mail on Sunday: "The last time I checked, he [Harry] was the face of a mental wellbeing charity.
"Where was he in all this? Surely as her husband, he should have been able to give her the help and support she needed.
"He's a senior Army officer who has been in a war zone. He should be able to stand up for himself and his wife.
"He shouldn't claim to be family-centric when he has hurt everyone who loves him. You don't ask for anonymity and take a step back from public life to then throw your family and your grandmother under a bus on TV.
"Why would you do that? The royal family is not racist, it's not sexist, it's not ageist. They are a moral compass."
Goldsmith's intervention comes after Meghan's celebrity friends took to TV screens in America and Britain as well as to Twitter to defend her.
Actress Janina Gavankar told ITV Meghan had evidence to back up the claims made in the interview.
She said on This Morning: "I thought I'm so thankful that they [Buckingham Palace] are finally acknowledging the experience.
"But on the other side I thought I know that the family and the staff were well aware of the extent of it and though their recollections may vary, ours don't because we lived through it with them. And there are many emails and texts to support that."
And Gayle King made similar remarks about Meghan having email evidence on CBS This Morning, adding that Meghan and Harry were frustrated by the focus on their claims a royal family member made racist comments about Archie's skin being too dark.
She told viewers on March 16: "I think what is still upsetting to them is that the palace keeps saying they want to work it out privately but yet they believe these false stories are coming out which are very disparaging against Meghan, still.
"No one in the royal family has talked to Meghan yet at this particular time and I think it's frustrating for them to see that it's a racial conversation about the royal family when all they wanted all along was for the royals to intervene and tell the press to stop with the unfair, inaccurate, false stories that definitely have a racial slant.
"And, until you can acknowledge that, I think it's going to be hard to move forward but they both want to move forward with this.
"They both want healing in this family. At the end of the day that's Harry's family."
She added: "Meghan has documents to back up everything she said on Oprah's interview."