What Kim Jong Un Did in China: Red Carpet Visit Included Virtual Reality and Lavish Banquet
North Korean and Chinese media have confirmed a meeting took place between the countries' leaders, Kim Jong Un and Xi Jingping, hosted in the Chinese capital Beijing, at which they discussed denuclearization of the Korean peninsula ahead of key summits with South Korea and the U.S. in the coming weeks.
The surprise trip was shrouded in secrecy and was only publicized after the North Korean leader and his wife Ri Sol Ju left the country after a visit which lasted from Sunday to Wednesday (25-28 March), according to the Chinese state news agency Xinhua. Kim and his entourage reportedly arrived in Beijing on Monday and left on Tuesday via train.
On Wednesday, the North Korean ruling party's newspaper, Rodong Sinmun, featured an 8-page spread about the trip, including several pictures. The country's veteran news reader, Ri Chun Hee, broadcast on Korean Central Television a detailed account of the visit in her traditional pink dress.
Kim and his wife were received by Xi and his wife Peng Liyuan, with a red carpet ceremony at the North Hall of the Great Hall of the People on Monday. They attended a "magnificent banquet" that included live performances of music, dances, and North Korean and Chinese songs, North Korean state news agency KCNA reported, noting that Kim's motorcade received the protection of 21 motorbikes.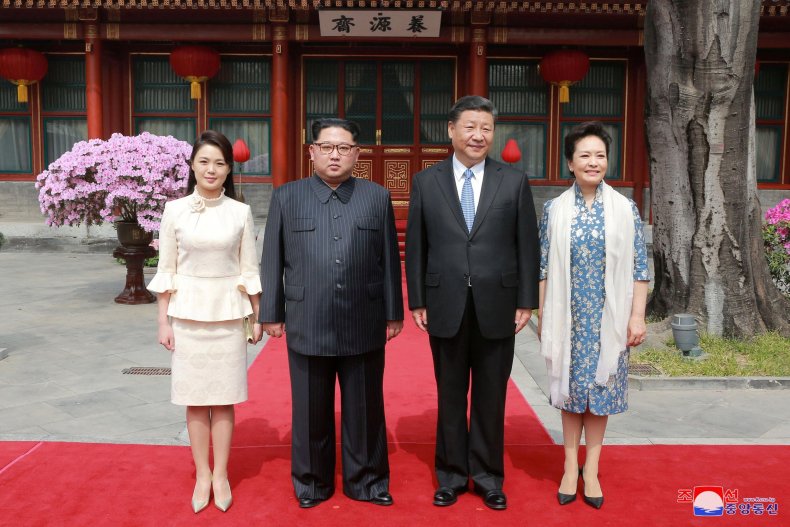 At the meeting between North Korean and Chinese officials, Kim thanked China for its friendship and renewed its commitment to giving up on nuclear weapons, according to Chinese state media reports.
"It is our consistent stand to be committed to denuclearization on the peninsula, in accordance with the will of late President Kim Il Sung and late General Secretary Kim Jong Il," he said, quoted in Xinhua.
Despite paying lip-service to the idea of a nuclear-free peninsula, Kim's father and grandfather laid the groundwork for the country's nuclear development program which has accelerated in recent years.
"The issue of denuclearization of the Korean Peninsula can be resolved, if South Korea and the United States respond to our efforts with goodwill, create an atmosphere of peace and stability while taking progressive and synchronous measures for the realization of peace," Kim reportedly added.
North Korean media reports of the visit did not include mentions of denuclearization nor of the summits with South Korea and the U.S., merely attributing a "positive change in the situation of the Korean peninsula" to North Korea's efforts.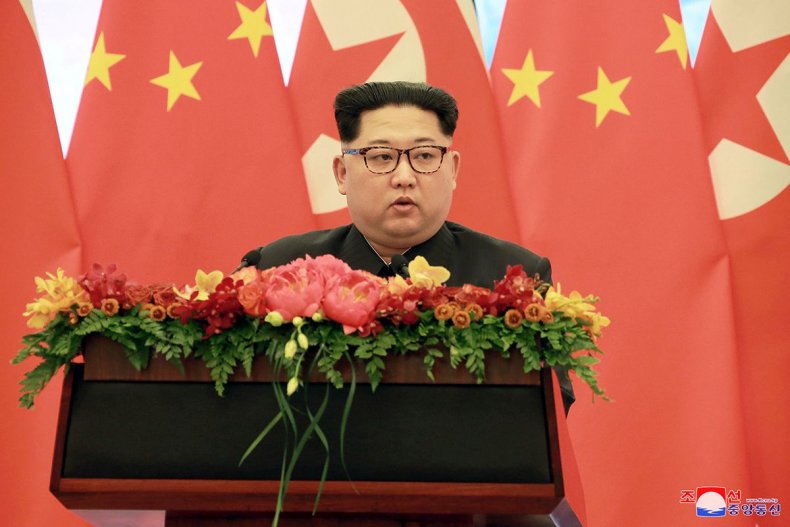 The timing of the visit to China, North Korea's closest economic and military partner, is seen as strongly linked to preparations ahead of foreign summits.
According to Robert E. Kelly, associate professor in political science at South Korea's Pusan National University, the trip to Beijing signals an increased likelihood of a summit between Kim and President Donald Trump—which Pyongyang has yet to officially confirm.
"Kim probably wanted to ask the Chinese if they thought Trump's offer was real, given Trump's tendency to skylark, before answering him," Kelly wrote in his assessment on the visit for the Lowy Institute.
A highlight of the trip was Tuesday's visit to the Chinese Academy of Science, showcasing China's scientific and technological achievements since Xi took power in 2011. Pictures showed Kim and his wife touring the exhibition and trying on virtual reality headsets. Kim expressed his admiration for China's accomplishments in a note.
"Under the wise command of the Communist Party of China, we will achieve better scientific performance," he wrote, according to KCNA.