What to Know About the Supreme Court's Free Speech Case Involving a Cheerleader and Snapchat
The U.S. Supreme Court will consider this week whether a Pennsylvania teenager's First Amendment rights were violated when she was barred from her high school cheerleading squad after she posted an emotional outburst on social media.
Here's everything you should know about this cheerleader, Brandi Levy, and the legal case her Snapchat story started.
The Snapchat Story
On a spring Saturday in 2017, 14-year-old Levy was frustrated by the news that she only made the junior varsity cheerleading squad. Like many other high school students would do, she took her feelings to social media and posted a Snapchat "story" featuring a picture of herself with her extended middle finger and the text "F*** school, f*** softball, f*** cheer, f*** everything."
She then sent another story reading: "Love how me and [another student, whom Levy identified by name] get told we need a year of jv before we make varsity but that doesn't matter to anyone else?"
Just as many other teenagers would, Levy sent the story to 250 friends on the social media app with the expectation that the content would self-destruct after 24 hours. The story would be a moot point by the time Levy and her peers returned to Pennsylvania's Mahanoy Area High School for class Monday morning.
"I was just feeling really frustrated and upset at everything that day," Levy, who is currently 18 years old and in college, told The Washington Post.
But this wasn't the case. Someone took a screenshot of the story and showed it to a girl whose mother was one of the cheerleading coaches. When complaints from fellow teammates about the post came to light, the squad's coaches moved to suspend Levy from the team for one year.
According to the Post, her coaches stated that Levy's post breached squad policy against "any negative information regarding cheerleading, cheerleaders, or coaches placed on the internet."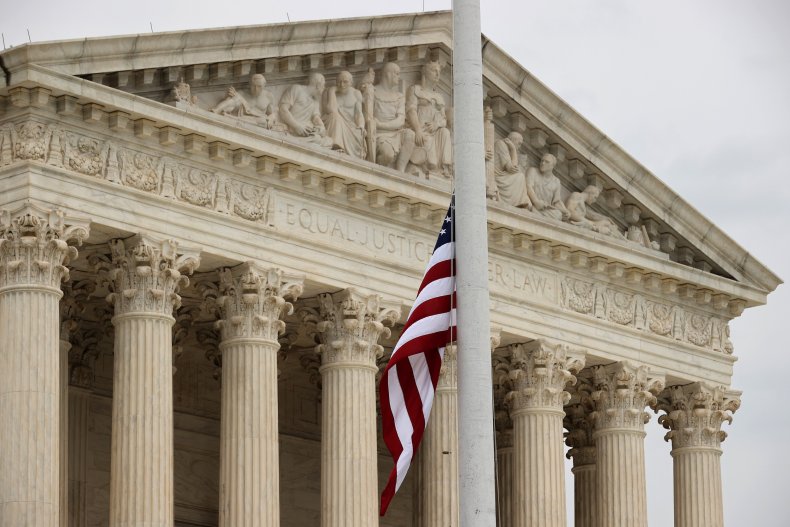 Mahanoy Area School District v. B.L.
On September 25, 2017, the American Civil Liberties Union of Pennsylvania (ACLU-PA) filed a law suit on behalf of Levy. The lawsuit challenges "Cheerleading Rules on their face and as applied to B.L. to punish her for the content of her out-of-school speech," according to a briefing on ACLU-PA's website.
A district judge ruled that Mahanoy Area High School had violated Levy's First Amendment rights and did not have the authority to "discipline" her off-campus speech. Levy was ordered back onto the JV squad, and she made varsity her junior and senior year, which she told the Post was "a little awkward."
The case went further, though. Over a year later, on June 30, 2020, the U.S. Court of Appeals for the 3rd Circuit ruled on an appeal from the school district. The opinion stated that public schools "cannot censor students' off-campus speech based on a fear of disruption of school activities," according to the ACLU-PA.
"We are equally mindful, however, that new communicative technologies open new territories where regulators might seek to suppress speech they consider inappropriate, uncouth, or provocative," Judge Cheryl Ann Krause said in her opinion. "And we cannot permit such efforts, no matter how well intentioned, without sacrificing precious freedoms that the First Amendment protects."
Stating the 3rd Circuit's opinion could be dangerous, the school district appealed the ruling to the Supreme Court, which will begin to hear oral arguments on Wednesday, according to the Post. The Biden administration will represent the Mahanoy Area School District.
"Since the dawn of public education, schools have exercised authority to discipline speech that disrupts the campus or harms other students, whether that speech originates on campus or off," said the school district's brief filed by lawyer Lisa Blatt, as cited by the Post.
Blatt denied Newsweek's request for comment.
Legal Precedent
The case concerns the 1969 decision in Tinker v. Des Moines, in which the Supreme Court ruled students don't "shed their constitutional rights to freedom of speech or expression at the schoolhouse gate."
The case was in response to the suspension of students who wore armbands protesting the war in Vietnam.
But Tinker does not apply in Levy's case, according to the 3rd Circuit decision, because it involves off-campus speech.
"Expanding [regulations on student speech] to all hours of the day and night would mean that public school students would have limited free speech rights everywhere they go," Sara Rose, senior staff attorney at the ACLU-PA, told Newsweek. "Young people need spaces to express themselves, blow off steam and comment on issues they care about. Their speech would be chilled if they knew that a school administrator could punish them for anything they say."
The Biden administration and anti-bullying advocates argue otherwise, claiming that in its decision, the appeals court opened a door for schools to permit dangerous behavior.
Schools should not be forced "to ignore speech that disrupts the school environment or invades other students' rights just because students launched that speech from five feet outside the schoolhouse gate," Blatt wrote in her brief cited by the Associated Press.
Lawyers for Mary Beth and John Tinker, the siblings behind the 1969 decision, filed a "friend of the court" brief in support of Levy and spoke against the district's proposal rule expanding disciplinary measures against students' speech.
"The proposed rule would give school officials the ability to regulate virtually any speech communicated by students," the brief reads, according to a version published by the Des Moines Register. "Petitioner maintains "much off-campus speech is beyond the school's purview" under its proposed test, but it is hard to imagine what might be excluded.… In short, this encompasses anything students might talk about."
The brief goes on: "This case may have started with a student expressing strong emotion in a manner that was offensive to some in a seemingly trivial social media post. But the question now before the Court could not be more important to the First Amendment rights of young Americans. As one court explained when it drew the line against extending Tinker's exceptions to off-campus speech, "freedom of expression may not be made a casualty of the effort to force-feed good manners to the ruffians among us."
"That is super dangerous," Witold "Vic" Walczak of the American Civil Liberties Union said to the Associated Press of expanded regulation on student speech. "Not only would students like Brandi not be able to express non-threatening, non-harassing bursts of frustration, but it would give schools the possibility of regulating important political and religious speech."
Rose said that organizations "across the ideological spectrum" also filed briefs on Levy's behalf.
She added, "The student in this case was simply expressing herself, and she's standing up for the 50 million public school students in this country who would be negatively impacted if the court rules to give schools more authority to regulate off-campus speech."
Significance
The topic of Levy's case has significant meaning today. Amid the coronavirus pandemic, many educators have feared online bullying as students are learning remotely, according to the Associated Press.
Rose said that when students aren't under the supervision of the school, it should be up to the parents to decide what's appropriate for them to say.
"Most cyberbullying content is created off campus on computers, iPads, all kinds of electronic devices," Philip Lee, a University of the District of Columbia law professor, told the Associated Press. "But at same time, you don't want situation where schools are monitoring everyone's speech at home."
This story has been updated to include comments from Sara Rose, senior staff attorney at the ACLU-PA.