Lake Mohave is near capacity, and the healthy body of water could be good news for Lake Mead in Nevada and Arizona.
Lake Mead has steadily risen throughout the spring and summer, jumping more than 22 feet from 2022 water levels. The rise is a hopeful sign after the lake experienced years of drought and reached drastically low levels last summer, prompting fears that a dead pool—the point at which water levels are too low to flow downstream—would occur much sooner than originally thought.
Meteorologists expect that Lake Mead could level off at 34 percent full and stop its upward trek until the winter months when precipitation is expected to return. Downstream, if the smaller Lake Mohave fills to capacity, it's a sign that Lake Mead could see another increase in water levels.
"Downstream from [Mead], Lake Mohave is 94 percent full and that's really good news," AccuWeather meteorologist Alex DaSilva told Newsweek.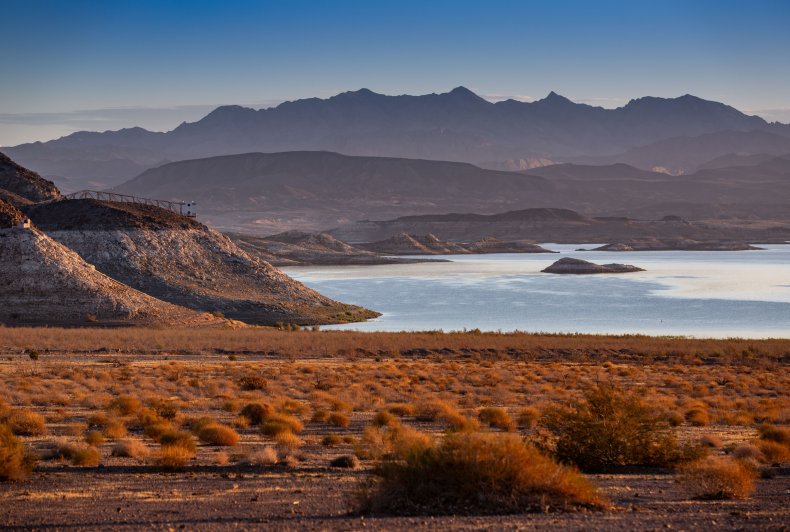 Parker Dam also is at 94 percent full, even farther downstream.
"A lot of the reservoirs downstream of Lake Mead are near capacity," DaSilva said, adding that Lake Mead is so much larger than nearby reservoirs that it takes much longer to fill. "It takes a lot more rainfall and snowmelt to actually move the needle back to where we need it to be."
However, the state of Lake Mohave and Parker Dam could reflect how Lake Mead will perform in the coming weeks. If they continue to rise, it implies that Lake Mead may follow suit.
Data from website Lakes Online shows that for the last several years in September, Lake Mohave has maintained water levels near 643 feet. The lake starts to drop sharply in September and October, similar to Lake Mead, and begins to rise again in November when precipitation falls during the winter season.
DaSilva compared Lake Mohave to how a retention pond acts during times of drought.
"If it rains a lot, it fills up really quickly, but if it's really dry a week later, it can be basically dry," DaSilva said. "That's kind of what happens. Smaller bodies of water have much greater highs and lows."
Lake Mead is the largest man-made reservoir in the U.S., so even excessive amounts of rain barely increase the water levels. And despite its upward trend, water preservation efforts are ongoing as experts have told Newsweek that Lake Mead is unlikely to return to full capacity unless people greatly reduce their water usage from the Colorado River.
States in the lower Colorado River basin, such as Nevada and Arizona, are experiencing mandatory water cuts. Earlier this year, Nevada, Arizona and California agreed to cut an additional 3 million acre-feet of water in exchange for a payment from the federal government.
Despite the efforts, University of California, Davis professor Jay Lund previously told Newsweek that humans must further reduce their water use, even if it means fallowing agricultural fields.
"We might get lucky with the weather, but the idea of the system recovering is really hard unless you reduce water use in that basin," Lund said.