Lake Mead water levels have started to even out after a steep rise that added more than 20 feet to the lake since late April.
After years of drought, Lake Mead, which is in Nevada and Arizona, reached drastically low levels last summer, prompting fears that a dead pool—the point where water levels are too low to flow downstream—would occur much sooner than originally thought. Water levels started to recover this year because of above-average precipitation and snowpack that melted throughout the summer.
Many people have followed along with the lake's recovery, expressed hope that the drought was over and documented the lake's journey by watching the rising waters reclaim a previously sunken speedboat near Government Wash, but some meteorologists expect that the steady rise has leveled off for the year.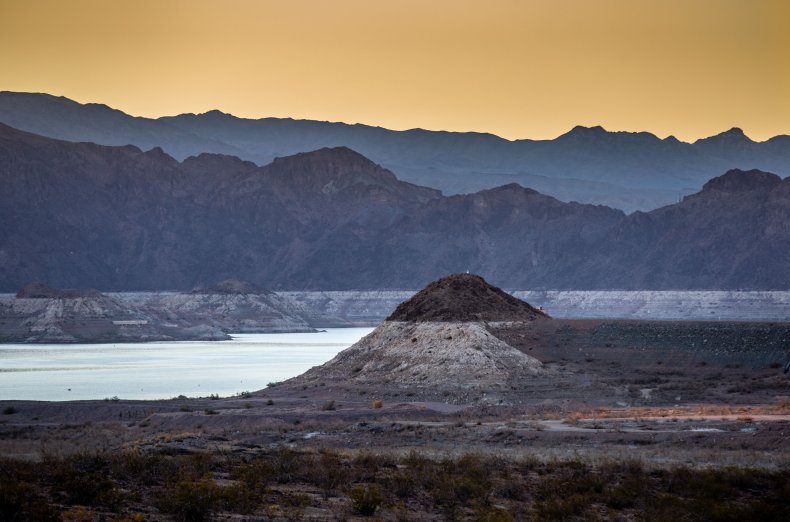 As of Friday, Lake Mead water levels were at 1,066.3 feet, according to Lake Mead Water Level, a website using a chart to track the water levels at the lake and compare them to past years. Current levels exceed the U.S. Bureau of Reclamation's prediction that the lake would be at 1,065.59 by the end of September.
However, Friday's measurement was .02 feet lower than Thursday's. The level has been evening out for the past week, as it dropped slightly overnight on Wednesday last week and continued a brief downward trek before jumping up again on Monday of this week.
The snow has already melted from higher elevations in the area, meaning that the wet winter will no longer supplement the lake, although the run-off drastically added to the levels throughout the spring and early summer. Lake Mead also benefitted slightly from storm Hilary, which lashed the West Coast with excessive rain.
In July, Lake Mead was roughly 7 feet behind reaching its 2021 levels. At that time, AccuWeather senior meteorologist Dave Houk told Newsweek that it was unlikely that water levels would rise much higher from rain and snowpack run-off this year. He said that the lake could rise if officials decided to release water upstream from Lake Powell.
The lake then continued its steady upward trek for another month.
However, on Friday, AccuWeather meteorologist Alex DaSilva told Newsweek that forecasts imply that the lake should stop rising soon, given that the monsoon season is nearing its end. History shows that Lake Mead typically declines in October and November before rising again during the winter months.
"It's worth noting that even though we have seen such a rise in Lake Mead, we are actually still below the 2021 levels," he said. "We are much above last year's levels, but for 2021, 2018, 2019, we are still below those water levels. As good as this is, and it's wonderful news we have seen this big rise, we are still below where we would ideally want to be."
Lake Mead is now 34 percent full and Lake Powell 38 percent, with only two weeks left in the water year, which runs from October 1 to September 30. In past years, the lake has risen slightly in the fall and early winter months, so there's still hope that it could resume its rise.
The last five years of data show that each year, Lake Mead water levels begin to decline starting in the early spring. Drought and rising temperatures in the summer usually exacerbate the decline each year.
In 2022, the rate at which water levels were falling increased, but the chart told a different story this year and the lake started its sharp rise at a time it would normally begin its decline.