What Is Legionnaires' Disease and Should You Be Concerned?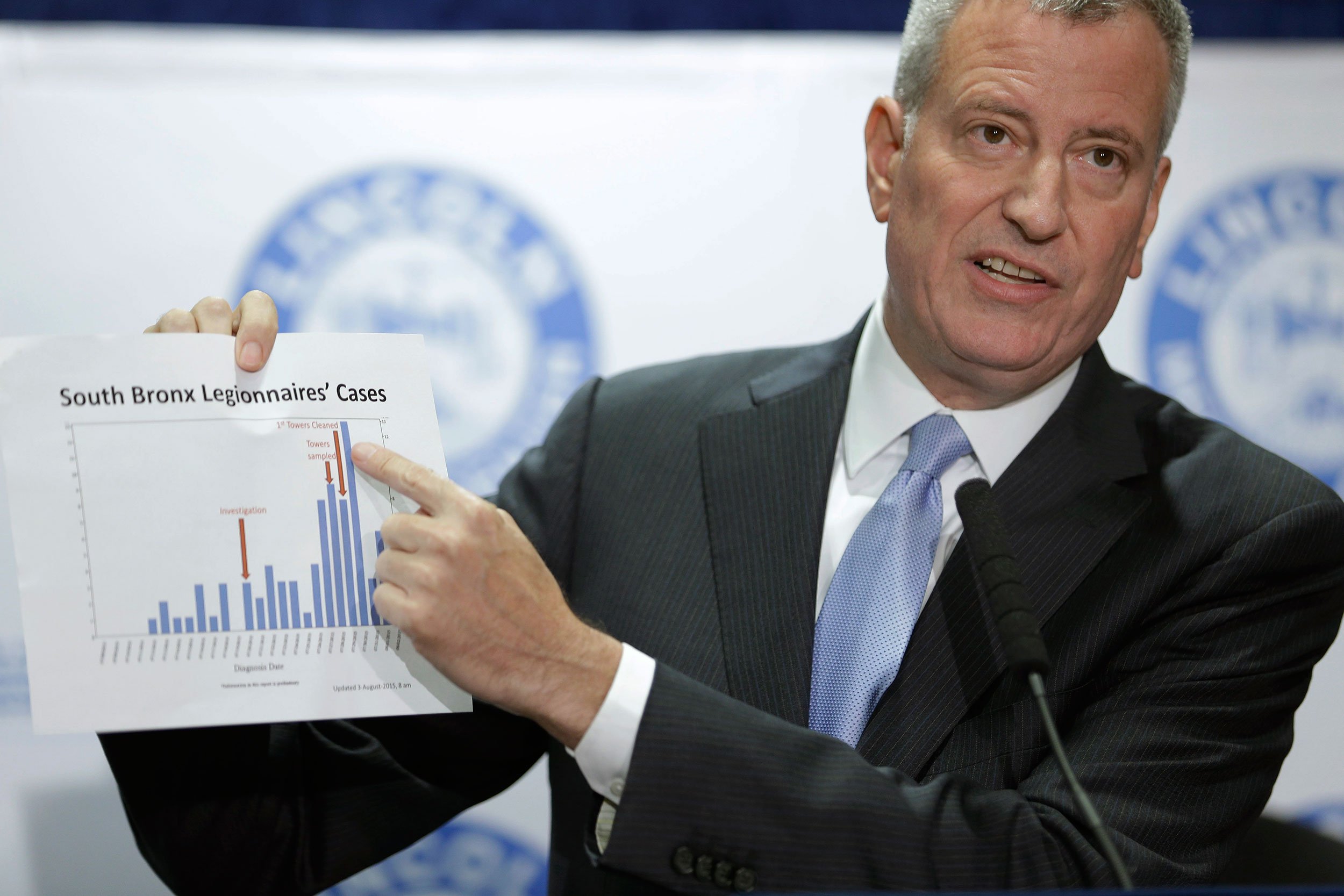 Updated | Health officials in New York City confirmed on Thursday that one man has died of Legionnaires' disease and another case has been confirmed. Both cases are in people living in the Parker Towers complex in Forest Hills, Queens.
This is not the first time the illness has hit New York City. In 2015, the death count from Legionnaires' disease reached double digits. In that outbreak, at least 100 people in the South Bronx fell ill from infections, the greatest number ever in the city's public health history. Doctors diagnosed the first case of that particular outbreak in the South Bronx on July 12. Around the same time, health officials in Cleveland, Ohio also diagnosed a woman with this form of bacterial pneumonia.
New York City Mayor Bill de Blasio and local public health officials said at the time that they planned to stop the outbreak by passing legislation that will require inspection and replacement of thousands of cooling towers in aging buildings that are believed to be the source. Water in 17 towers has already tested positive for Legionalla pneumophila, the bacteria that causes the disease. Shortly after, New York City Council voted unanimously on to pass legislation that mandates strict regulations of cooling towers.
So how worried should you be? Here's what you need to know.
What is it?
Legionnaires' disease is a type of bacterial pneumonia caused by the Legionella bacteria that can lead to a serious—and sometimes fatal—respiratory illness.
The origin of the name comes from an outbreak that occurred in 1976 at a convention in Philadelphia for the American Legion, a service organization for U.S. veterans. Between six and 14 men died that year from the disease, according to The New York Times. Doctors at the time were unable to identify the source of the illness, so it became known as Legionnaires' disease. In 1977, scientists finally isolated the bacteria, which were found in the cooling towers of the hotel where the convention took place.
How do you get it?
Legionella bacteria thrive in warm water (around 104 to 122 degrees Fahrenheit). The bacteria are found in low levels in natural environments, like lakes and rivers. Most people who get sick are exposed to the bacteria through water supplies such as cooling towers and hot water tanks or from water in hot tubs, plumbing systems and fountains.
A person may contract the illness after breathing in contaminated water that's vaporized or misted. The bacteria cannot be spread through human contact.
What are the symptoms?
Legionnaires' disease causes pneumonia-like symptoms, including shortness of breath, coughing and high fever, as well as muscle pain, headaches and fatigue. Symptoms of an infection occur two to 14 days after exposure.
How many people contract Legionella each year?
According to Legionella.org, approximately 10,000 to 18,000 people are infected with the bacteria each year in the U.S.
Who is at highest risk?
The U.S. Centers for Disease Control and Prevention says most people who are exposed to this bacteria don't become fatally ill but may still get a little sick. Seniors, current or former smokers, people with pre-existing chronic lung diseases such as chronic obstructive pulmonary disease and emphysema, and those with compromised immune systems are at highest risk for developing a potentially fatal form of Legionnaires' disease.
How is Legionnaires' disease treated?
If caught early on, the disease is highly treatable with a course of antibiotics. In serious cases, hospitalization is required to stabilize a patient and prevent complications such as lung failure.
How can you prevent an infection?
The best way to prevent Legionnaires' disease is to limit potential exposure to the bacteria. This can be done by regularly inspecting and servicing water systems to check for bacteria growth. Others sources of water, such as fountains and bathtubs, should be serviced on a regular basis. The bacteria can also grow on showerheads, so it's important to clean them regularly.
The Legionella bacteria can be killed with a number of water-cleaning methods, including hyper-chlorination, chlorine dioxide, copper-silver ions and ultraviolet light. Experts recommend a full washout and oxidizing disinfection of cooling towers every six months. Hot water systems should store water at 140 degrees, which creates a less hospitable environment for the bacteria.
Updated: This article has been updated to reflect changes in the number of people health officials say have been diagnosed with Legionnaires' disease or have died, as of August 7, 2015.
Updated: This article has been updated to include information on the most recent Legionnionnaires' disease outbreak in September 2017.