What Liz Truss, Britain's New Prime Minister, Means for Joe Biden
U.K. Foreign Secretary Liz Truss has triumphed in the race to lead the country's ruling Conservative Party and she will become the nation's new prime minister on Tuesday.
Truss defeated former Chancellor Rishi Sunak in a ballot of Conservative members on Monday after a long leadership contest that arose from the resignation of Prime Minister Boris Johnson in July.
Johnson will formally tender his resignation to Queen Elizabeth II at Balmoral in Scotland on Tuesday and Truss will then have an audience with the monarch where she will be asked to form a government.
She will become the fourth Conservative leader and fourth U.K. prime minister in 12 years.
The leadership election was largely focused on domestic issues as the U.K. is facing high inflation heading into the fourth quarter of 2022 and the Bank of England is forecasting a recession lasting for the whole of 2023.
However, the U.K. remains a key U.S. ally and one of the world's largest economies, meaning the new prime minister's relationship with President Joe Biden is of major importance.
The U.K-U.S. relationship is often referred to as "the special relationship" because of the historic closeness and cultural ties between the two countries, though this term is more commonly heard in London than Washington.
Truss may be less keen on the "special relationship" than her recent predecessors. She has reportedly questioned the U.K.'s closeness to the U.S. and said of the relationship in 2021 that the country shouldn't worry "like some teenage girl at a party if we're not considered to be good enough."
She's also said the relationship is "special, but not exclusive."
Experts who spoke to Newsweek suggested that Truss' victory may not bring major changes in the U.K.'s approach to the Biden administration but there are risks.
Peering Across the Atlantic
British leaders have often been divided between those who look to the European continent and those who look to the U.S. as Britain's primary relationship. With the U.K. now firmly out of the European Union (EU), Truss is likely to look across the Atlantic.
Thomas Gift, founding director of University College London's Center on U.S. Politics, told Newsweek that Truss "is more of a Euroskeptic than Rishi Sunak," meaning she's less in favor of co-operation with the EU.
"So it seems fair to say that she'd be more likely to peer across the Atlantic, rather than to the continent, in looking for a close ally and partner on the world stage," he said.
Still, for all the importance of foreign policy priorities and the domestic politics of both the U.S. and the U.K., a lot of what Britain's next prime minister means for Biden could simply "distill down to intangible personality traits," Gift said.
A Chameleon
While President Biden has been a lifelong Democrat, Truss has changed party and her position on the key question of EU membership. She was once a member of the more centrist Liberal Democrats and in favor of the U.K. remaining in the EU.
"A Liz Truss premiership marks a change in personnel more than policy for bilateral relations. As such, continuity is likely to be more the hallmark than change, even if Truss continues to maintain her sub-Mrs Thatcher act in office," Robert Singh, a professor at the Department of Politics at Birkbeck, University of London, told Newsweek.
"To some extent, Truss is an unknown quantity," he said. "Her chameleon-like evolution from Liberal Democrat and Remainer to hardline Tory Brexiteer is testimony to her political ambition more than her core convictions, which remain opaque and malleable."
Brexit, China and Russia
Singh told Newsweek that in some ways, Truss was echoing Johnson in her appeal to conservatives but her government may also take steps that will be welcome in Washington.
"She has staked her recent rise on appealing to the more nationalist, populist wing of the Conservative Party on matters from the Northern Ireland protocol to raising defense spending," Singh said.
"As such, she echoes Boris, as far as Washington is concerned," he went on.
There is ongoing controversy about Northern Ireland - a part of the U.K. that shares a border with the independent Republic of Ireland, an EU member state. A special protocol in place keeping Northern Ireland in the EU's single market has proven highly contentious.
President Biden has also previously expressed his strong commitment to the 1998 Good Friday Agreement, which is the basis for peace in Northern Ireland following decades of sectarian violence.
Biden told Irish Prime Minister Micheál Martin in a virtual meeting on St. Patrick's Day: "I want to emphasize this administration's unequivocal support for the Good Friday accord."
"I think too much blood, sweat and tears have been shed to get that done. And this is no time to change it," he said.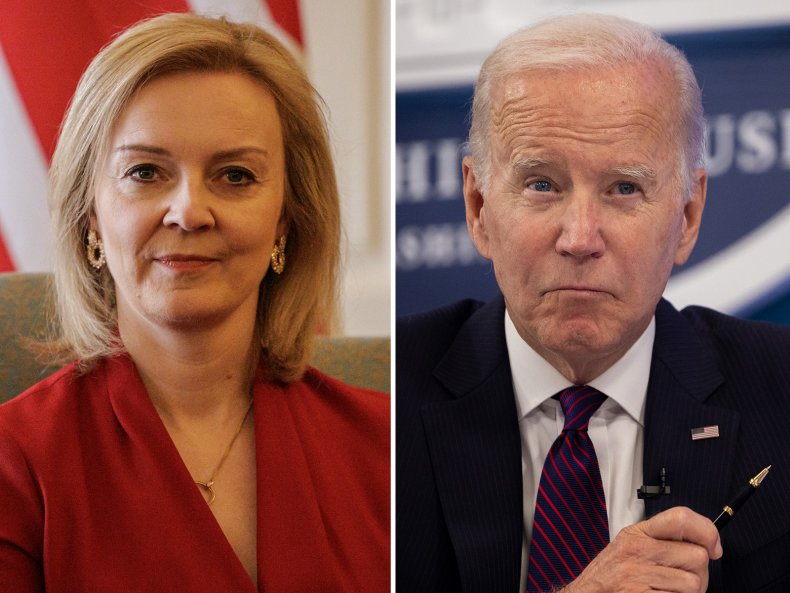 It is the position of the Irish government that the Northern Ireland protocol is essential to maintain the Good Friday Agreement but some Conservatives have taken the opposite view.
"The NI Protocol is undermining the Belfast (Good Friday) Agreement. The EU are unwilling to change the Protocol, therefore we must act," Truss tweeted in June, pointing to an op-ed she'd written on the subject.
The Biden administration is expected to take a dim view of any action perceived as undermining the agreement.
However, "the positive aspect, for Biden, is that on certain key priorities - including China, reviving and strengthening democratic alliances, and assisting Ukraine - a Truss-led UK will remain firmly in partnership with the U.S," Singh said.
He added that "any increase in defense spending and capacity to project military power would be welcome in D.C. - though whether she can achieve this remains unclear."
If the U.K. were to join the Trans-Pacific Partnership, that would also help U.K.-U.S. relations, Singh said.
However, Singh warned that "positions she has taken on Northern Ireland and EU relations more broadly remain deeply problematic and risky."
"Like Boris, there is considerable concern in Washington about the ongoing tensions in UK-EU relations, and Truss will need to balance appealing to a parliamentary party most of whose members opposed her candidacy and antagonizing Britain's closest ally," he said.
Sunak was the clear favorite among Conservative members of parliament during initial rounds of voting, but it was Conservative party members who made the final decision on the leadership.
Less Baggage Than Johnson
Boris Johnson is a divisive figure with a history of controversial comments, including once suggesting that former President Barack Obama's "part-Kenyan" heritage had led him to hate the British.
Singh suggested that Truss "will not have the baggage that Boris brought to Number 10, in terms of his infelicitous comments on Barack Obama, Brexit and more that caused him to be seen by many Democrats as the British Mini-Me of Donald Trump."
Johnson has often been compared to Trump and his decision to step down as prime minister following a series of controversies appears to have re-enforced this comparison for some.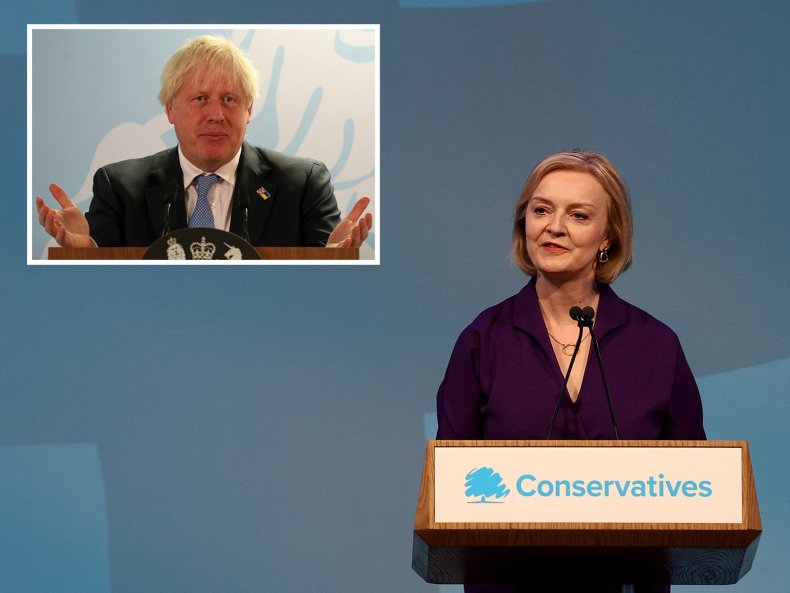 A Personal Relationship
There have been several examples of close personal relationships between British prime ministers and U.S. presidents, including Ronald Reagan and Margaret Thatcher in the 1980s, and George W. Bush and Tony Blair in the 2000s.
However, such a relationship seems unlikely to blossom between Truss and Biden.
"So much of international relations - and the 'special relationship' specifically - is based on the rapport of individual leaders," Thomas Gift told Newsweek.
"Often, that chemistry is hard to predict in advance. When a close affinity does exist, it tends to develop over time and be forged more in backroom conversations than at official summits and public meetings," he said.
Robert Singh said that personal relations "are unlikely to become warm between Truss and Biden but she is likely to prove a more conventional figure to deal with."
"The return of great power competition and war in Europe means the U.S. and U.K. will continue, despite many difficulties, to maintain close working relations, especially in diplomacy, intelligence, and military cooperation, all of which transcends personnel changes in 10 Downing Street and 1600 Pennsylvania Avenue," he said.
"There won't be a renaissance of the closeness of Reagan and Thatcher, or Bush and Blair. But as long as Truss doesn't overreach on Northern Ireland, normal service will likely resume," Singh added.