Text messages sent and received by Donald Trump's ex-chief of staff show that Representative Marjorie Taylor Greene said several GOP members of Congress suggested the former president should impose martial law as a way to "save our Republic."
But when the Georgia Republican was asked during testimony this past Friday whether she ever pushed for Trump to impose martial law, she responded, "I don't recall."
More than 2,000 text messages obtained by CNN were sent and received by former chief of staff Mark Meadows between Election Day 2020 and the inauguration of President Joe Biden on January 20, 2021. Several of those messages came from Greene, including one sent on January 17, 2021, just days before the inauguration, according to CNN.
"In our private chat with only Members, several are saying the only way to save our Republic is for Trump to call for Marshall (sic) law. I don't know on (sic) those things. I just wanted you to tell him," Greene's text read.
"They stole this election. We all know. They will destroy our country next. Please tell him to declassify as much as possible so we can go after Biden and anyone else!" she added.
Meadows did not appear to respond to the text, CNN said.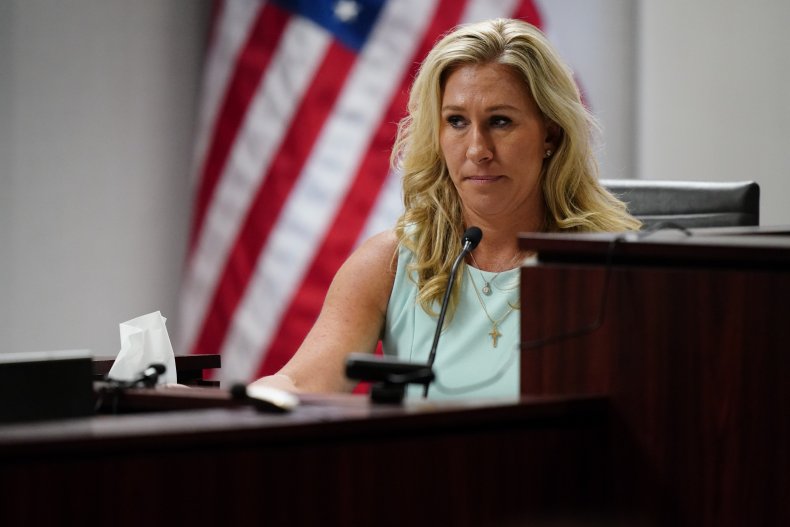 "Martial law" does not have an established definition, but it usually means the military is allowed "take the place of the civil­ian govern­ment and exer­cise juris­dic­tion over civil­ians in a partic­u­lar area," according to the Brennan Center for Justice.
The topic of martial law came up several times during Greene's testimony Friday in a voters' group's lawsuit seeking to disqualify her from seeking reelection because of allegations that she facilitated the U.S. Capitol riot on January 6, 2021.
The first instance was when she was asked whether she ever pushed for Trump to impose martial law so he could remain in power, which she said she didn't recall.
The lawyer questioning Greene asked her to clarify whether she was denying that she advocated for martial law or just couldn't remember. Greene responded that she didn't remember.
The topic came up again when she said she had meetings with Trump between the 2020 election and Biden's inauguration. She was asked if she ever discussed her "advocacy" for martial law during those meetings.
Green again responded that she didn't remember. She gave the same answer when asked whether she discussed martial law with any member of the White House staff who was part of the Trump administration.
Greene also said that she didn't remember whether any other elected congressional representatives advocated martial law as a way to stop the transfer of power from Trump to Biden.
It was not immediately clear which members of Congress Greene was referring to in her January 17 text message to Meadows.
The text messages obtained by CNN also showed that Greene reached out to Meadows on December 31, 2020, to discuss organizing objections to the election results certification by Congress, which occurred on January 6, 2021.
Newsweek reached out to a representative for Greene for comment.
Update 4/25/22, 4 p.m. ET: This story was updated with additional information and background.