Melania Trump has railed against the Democrats in a rare political attack, accusing the party of sowing division and caring more about removing Donald Trump from office than about the coronavirus pandemic.
"The Democrats have chosen to put their own agendas ahead of the American people, they intend to create a divide, a divide, that causes confusion and fear instead of security, that is not leadership," she said.
Melania's comments were made during a speech at her first campaign event in suburban Philadelphia, Pennsylvania with just one week to go until election day on November 3.
"Let us also not forget what the Democrats chose to focus on when COVID-19 first came into our country," she added. "When the president was taking decisive action to keep the American people safe the Democrats were wasting American taxpayer dollars in a sham impeachment.
"They cared more about removing our elected president."
Speaking about Democratic presidential nominee Joe Biden, Melania criticized the former vice president for having a "socialist agenda" that will "destroy America."
"[Biden's] policies and socialist agenda will only serve to destroy America and all that has been built in the past four years," she said. "We must keep Donald in the White House so he can finish what he's started and our country can continue to flourish."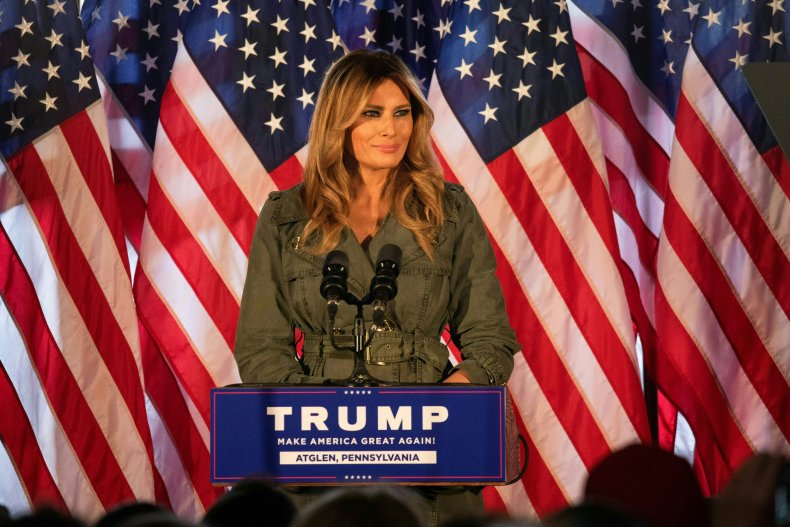 Melania said that she is a "worried mother and wife" who knows "there are many people who have lost loved ones, or know people who have been forever impacted by this silent enemy."
The first lady added: "We don't close down and hide in fear. We get to work to find real and lasting solutions."
She also went on to defend her husband and his use of Twitter while admitting she doesn't always agree with his approach.
"For the first time in history, the citizens of this country get to hear directly from their president, every single day through social media," she said. "I do not always agree with the way he says things but it is important to him that he speaks directly to the people he serves."
The first lady previously railed against what she called the "liberal media" in leaked tapes made public by her former friend and aide Stephanie Winston Wolkoff this month.
She discussed the criticism she faced over children separated from their parents at the U.S. southern border in a recording and her frustration at being criticized for her husband's policy while having to perform traditional first lady duties like decorating the White House for Christmas.
"Give me a f****** break," she is heard saying. "They say I'm complicit. I'm the same like him, I support him. I don't say enough I don't do enough where I am."
"I'm working ... my a** off on the Christmas stuff, that you know, who gives a f*** about the Christmas stuff and decorations? But I need to do it, right?"
She continued: "OK, and then I do it and I say that I'm working on Christmas and planning for the Christmas and they said, 'Oh, what about the children that they were separated?' Give me a f****** break. Where they were saying anything when Obama did that? I can not go, I was trying get the kid reunited with the mom. I didn't have a chance, it needs to go through the process and through the law."
Melania went on to say that the "liberal media" were against her for not publishing a story.
"They would not do the story. They would not do the story," she said. You would not believe it. They would not do the story because they are against us because they're liberal media.
"Yeah, if I go to Fox they will do the story. I don't want to go to Fox."