What Is Mexico's Quinto Partido Curse? World Cup's Round of 16 Spells Demise for El Tri Yet Again
Mexico fans must have had a familiar feeling on Monday after El Tri flamed out in the Round of 16 at the World Cup courtesy of a 2-0 loss to Brazil. It marked, quite remarkably, the seventh consecutive World Cup in which Mexico advanced to the Round of 16 only to be bounced straight away.
It has become known as the "quinto partido"—or fifth game—curse. In other words, dating back to the 1994 World Cup, Mexico can't seem to reach that ever-elusive fifth game that comes with the quarterfinals of the tournament.
Heading into the match, the Mexican side was optimistic they could break the curse, despite facing off against Brazil, considered by oddsmakers to be the best remaining team in the tournament.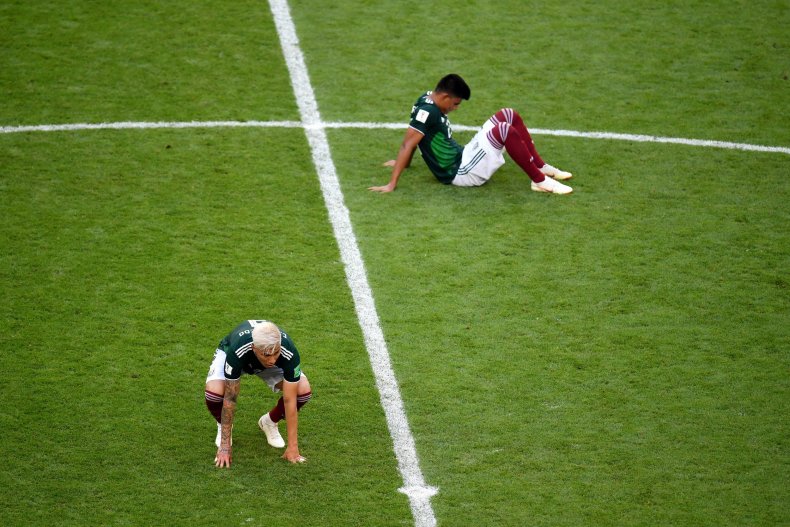 "The fact this may be our last important game to change history doesn't motivate us. It doesn't go through our heads that this could be our last opportunity," midfielder Andres Guardado said leading up to the Round of 16 match, according to ESPN. "What motivates us is the fact that we are in a round of 16, with Brazil before us and we're one victory away from reaching the fifth game at last... It's in our hands."
Alas, confidence was not enough for El Tri. An entire generation of Mexico fans have now grown up knowing only that El Tri get to the Round of 16 and are summarily eliminated. In 1994, perhaps the biggest disappointment befell El Tri as it was knocked out by an unheralded Bulgaria team. In '98 it was Germany. In 2002 it was the United States who knocked them out (Dos a Cero). In 2006 Argentina did them in. In '10 it was Argentina again. In 2014 the Netherlands did the trick. And, of course, 2018 was Brazil.
It seemed Mexico might be destined for a new result in 2018 after starting off the tournament playing impressively. In their first match they outlasted defending champions Germany by a score of 1-0, a result that would be key in helping El Tri advance out of perhaps the toughest group in the 2018 World Cup.
But in the end, Mexico just didn't have the firepower to hold off a talented Brazil side. Brazilian star Neymar had an especially impressive match. He scored the opening goal that proved to be the winner, and he helped set up the other goal scored by Roberto Firmino that put the game away for good.
For Mexico, the attention will now turn to the 2022 World Cup in Qatar for the next chance to break through for an elusive fifth game. Or, perhaps, the quinto partido curse will strike yet again.