'What a Moron': Dr. Fauci Caught on Hot Mic After GOP Senator Grills Him Over Finances
A hot mic caught infectious diseases expert Dr. Anthony Fauci calling a Republican Kansas senator "a moron" after he was questioned about his financial records.
Fauci's comment came at the end of an exchange in which Senator Roger Marshall accused "Big Tech" of helping hide his financial records from the public. Marshall's questioning suggested that Fauci might somehow be profiting off of knowledge Fauci receives as the head of the Director of the National Institute of Allergy and Infectious Diseases (NIAID).
Fauci responded to Marshall by stating that his financial records have been publicly available for 37 years. He has served as the head of NIAID since 1984.
"So Dr. Fauci, according to Forbes, your annual salary in 2020 was $434,000," Marshall's questioning began. "You oversee over $5 billion in federal research grants. As the highest-paid employee in the entire federal government, yes or no, would you be willing to submit to Congress and the public a financial disclosure that includes your past and current investments?"
Fauci responded, "I don't understand why you're asking me that question. My financial disclosure is public knowledge and has been so for the last 37 years or so."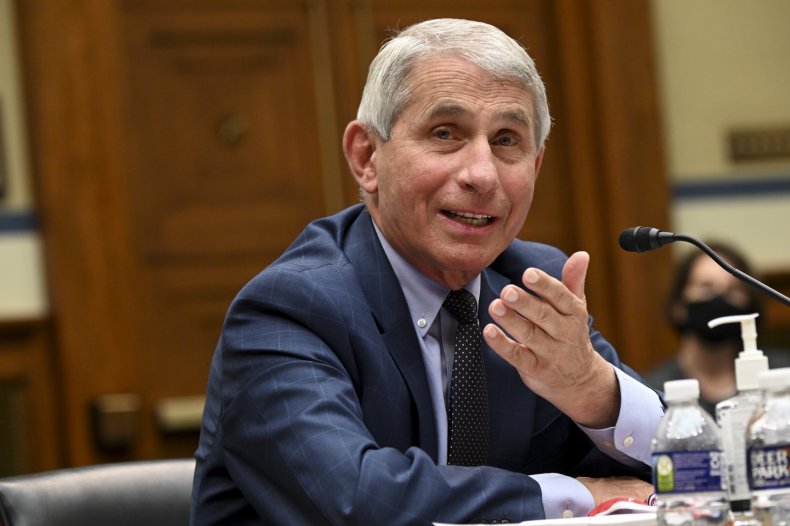 Marshall replied, "Tech giants are doing an incredible job of keeping it from being public. We'll continue to look for it. Where would we find it?" Marshall neither explained which technology companies he suspected of hiding it nor their suspected methods for doing so.
Fauci said, "All that do you have to do is ask for it. You're so misinformed. It's extraordinary."
Marshall continued, "Wouldn't you agree with me that you see things before members of Congress would see them? So there's an air of appearance that that maybe some shenanigans are going on? You know, I don't think, assume that's the case."
Fauci responded, "What are you talking about? My financial disclosures are public knowledge and have been so. You are getting amazingly wrong information."
Marshall said, "Well, I cannot find them. Our office cannot find them. Where would they if they are public knowledge?"
While Fauci didn't answer Marshall's question, such records are likely available by filing a Freedom of Information Act request with NIAID.
Newsweek reached out to the NIAID and Marshall for comment.
Fauci said, "It is totally accessible to you if you want it."
Marshall replied, "For the public? It is accessible to the public?"
Fauci said, "To the public. You are totally incorrect."
Marshall concluded, "Great. We look forward to reviewing it."
As the questioning wrapped up, a hot mic caught Fauci muttering, "What a moron."
In a tweet published after the exchange, Marshall wrote, "Calling me a moron during a Senate hearing may have alleviated the stress of the least trusted bureaucrat in America, but it didn't take away from the facts. We need the truth Dr. Fauci!"
Conservatives have long criticized Fauci for recommending COVID-19 reduction measures that some have seen as unnecessary, power-hungry and infringing upon personal freedoms.
Republicans and right-wing media figures have also called for Fauci to be questioned or fired over his emails that showed he was informed that COVID-19 could have originated at the Wuhan Institute of Virology (WIV) in China before he publicly acknowledged that possibility.
Other Republican legislators and media figures have demanded Fauci's firing because of the NIAID-funded research at the WIV. The WIV has been accused of causing the pandemic through an accidental leak.
Fauci initially said the NIAID's funding of the WIV didn't go toward "gain-of-function" research that might have led to a COVID-19 outbreak. However, he later admitted that he couldn't say with absolute certainty that WIV officials didn't misuse NIAID funds for such research.