Meghan Markle turns 40 next month while Prince Harry may have another dilemma approaching on the horizon—and all while working on Netflix and Spotify deals.
The Duchess of Sussex celebrates her birthday on August 4 and fans on Twitter have been raising money for charity in her honor.
Accounts on the social media platform suggest $17,000 has already been raised for Indian menstrual hygiene charity the Myna Mahila Foundation to mark the milestone.
Last year fans raised $119,000 for girls education charity Camfed to mark both Meghan and Harry's birthdays.
When the Duke of Sussex turned 36 last September, the couple doubled the pot with their own donation.
The milestone birthday comes after Prince Harry returned to Britain for just the second time since his royal exit for what would have been Princess Diana's 60th birthday on July 1.
The duke and brother Prince William unveiled a statue in their mother's honor in the midst of a years-long rift between them.
Harry and Meghan have been on family leave following the birth of their daughter Lilibet Mountbatten-Windsor on June 4.
However, that did not stop Meghan announcing their second major project as part of their Netflix deal, Pearl—an animated series for families.
The show will follow a 12-year-old girl who meets inspiring women from history "on a journey of self-discovery," according to the press release.
Meghan said last week: "Like many girls her age, our heroine Pearl is on a journey of self-discovery as she tries to overcome life's daily challenges.
"I'm thrilled that Archewell Productions, partnered with the powerhouse platform of Netflix, and these incredible producers, will together bring you this new animated series, which celebrates extraordinary women throughout history.
"David Furnish and I have been eager to bring this special series to light, and I am delighted we are able to announce it today."
Their first Netflix project, Heart of Invictus, is also still in the pipeline and will follow a group of competitors in the Invictus Games The Hague 2020, which will take place in 2022 due to the pandemic.
Prince Harry said in a statement: "This series will give communities around the world a window into the moving and uplifting stories of these competitors on their path to the Netherlands next year.
"As Archewell Productions' first series with Netflix, in partnership with The Invictus Games Foundation, I couldn't be more excited for the journey ahead or prouder of the Invictus community for continuously inspiring global healing, human potential and continued service."
They also have their Spotify podcast, Archewell Audio, which is yet to post any new content since a festive special just after Christmas, 2020.
Earlier this month, they hired a new head of audio, Rebecca Sananes, who confirmed the move on her Twitter account.
However, there is another potential question looming on the horizon for the prince who is a veteran, having served two tours of Afghanistan with the British military.
Last November, Harry did not make Britain's Remembrance Sunday commemoration at the Cenotaph, in London, where Britain remembers its war dead each year.
At the time, coronavirus restrictions hampered his ability to travel for the sombre occasion and his request to have a wreath laid on his behalf was blocked by the palace.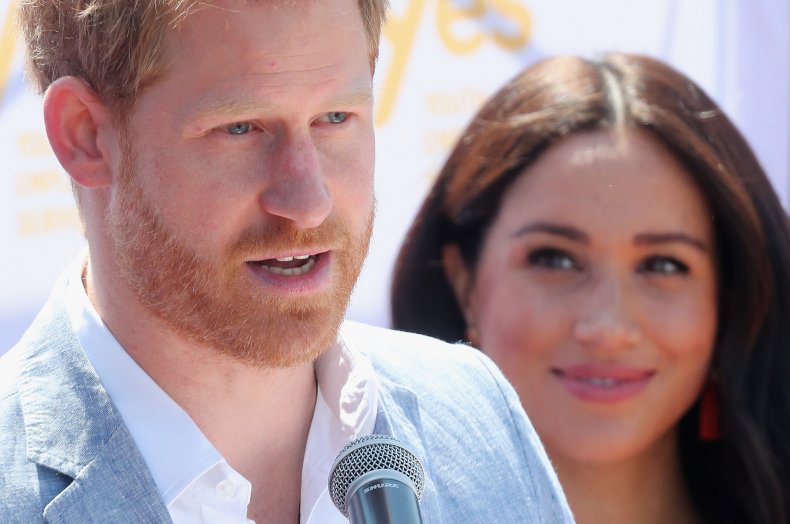 That stand-off leaves him facing a decision this year about whether to try to return to Britain to attend the ceremony in person, in what would be his third trip to the U.K. since quitting royal duties in March 2020.
Back in November, he had not yet been stripped of his honorary military titles by Buckingham Palace.
Most coveted among them, was the position of Captain General in the Royal Marines, which alongside several others was taken away in February.
The palace said in a statement that it was "not possible to continue with the responsibilities and duties that come with a life of public service."
However, Harry and Meghan said at the time: "As evidenced by their work over the past year, the Duke and Duchess of Sussex remain committed to their duty and service to the U.K. and around the world, and have offered their continued support to the organizations they have represented regardless of official role.
"We can all live a life of service. Service is universal."
That means Remembrance Sunday this year could give the prince an opportunity to renew his commitment to the British armed forces, if he makes the journey home to mark the occasion.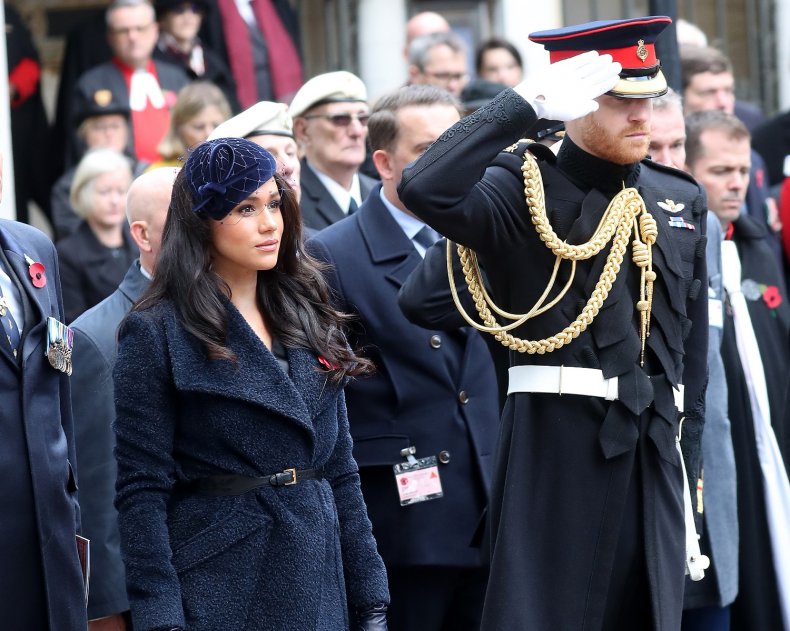 In Focus
Prince Harry and Meghan Markle attend the 91st Field of Remembrance at Westminster Abbey on November 07, 2019 in London, England.
Launch Slideshow

3 PHOTOS