Meghan Markle is partnering with Elton John's husband for a new Netflix children's animation titled Pearl.
The latest project from her and Prince Harry's Archewell Productions will follow a 12-year-old girl "on a journey of self-discovery," the Duchess of Sussex said in a statement.
Also executive producing the series will be David Furnish, who, alongside his rock star husband, was a guest at Harry and Meghan's wedding in May 2018.
Prince Harry and Meghan's friendship with the couple is a personal one with a long history as John and Furnish were close friends of Princess Diana's.
The "Rocket Man" singer played "Candle in the Wind" at her funeral in 1997 and joined Harry for an emotional trip to a charity she helped in 2017.
With the series focusing on "extraordinary women throughout history," royal watchers may be keeping an eye out for a tribute to Diana within the show.
Based on the format, it is not impossible Pearl could even meet Diana during her travels, if Meghan and the show producers decide to take that step.
Meghan said in her statement: "Like many girls her age, our heroine Pearl is on a journey of self-discovery as she tries to overcome life's daily challenges.
"I'm thrilled that Archewell Productions, partnered with the powerhouse platform of Netflix, and these incredible producers, will together bring you this new animated series, which celebrates extraordinary women throughout history.
"David Furnish and I have been eager to bring this special series to light, and I am delighted we are able to announce it today."
In 2017, John joined forces with Harry to help make ITV documentary Diana, Our Mother: Her Life and Legacy, which marked 20 years since the princess died in a Paris car crash in 1997.
They visited Aids charity London Lighthouse together, where they looked over pictures of Diana and discussed the impact of her work.
John said: "It was considered to be a gay disease and for someone who was within the Royal Family and who was a woman, and who was straight, to have someone care from the other side, was an incredible gift."
The singer met Diana at Prince Andrew's 21st birthday party in 1981—the year she married Prince Charles—but they remained close until her death.
In his memoir, Me, he described how she was once photographed seemingly comforting him at Gianni Versace's 1997 funeral though the reality of the moment was a little more mundane.
John wrote: "She was leaning just past me, reaching for a mint that David [Furnish] had offered her. The warm words of comfort... were actually: 'God, I'd love a Polo.'"
Elsewhere in the book, he wrote: "She was blessed with an incredible social ease, an ability to talk to anybody, to make herself seem ordinary."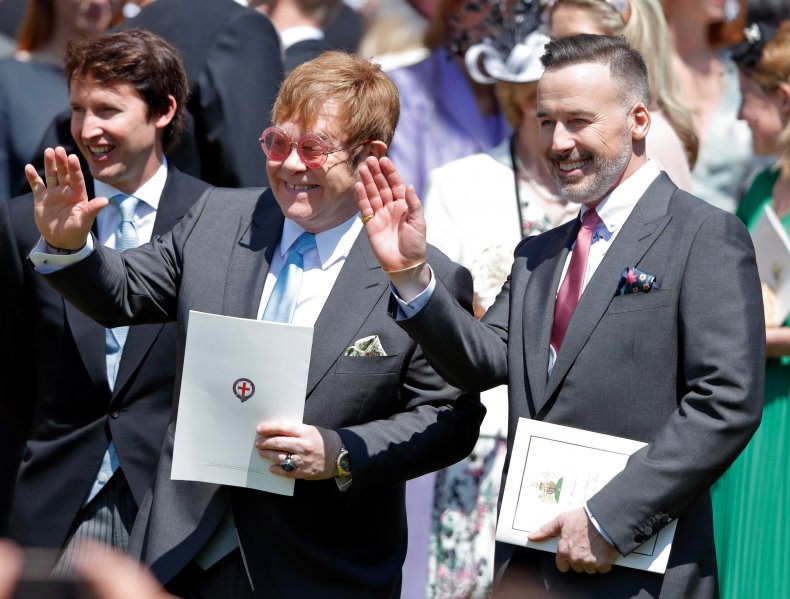 In Focus
Elton John and David Furnish at the wedding of Prince Harry to Meghan Markle at St George's Chapel, Windsor Castle, on May 19, 2018, in Windsor, England. Furnish is executive producing Pearl alongside Meghan Markle.
Launch Slideshow

4 PHOTOS
David Furnish, also an executive producer, said in a statement: "I am delighted that we are finally able to announce this exciting animated series.
"Meghan, The Duchess of Sussex and I are deeply passionate about bringing the inspirational and positive stories of extraordinary women from around the world to a global audience of all ages.
"The team collaborating on the series are first class, and Netflix are the perfect partner."
Amanda Rynda, showrunner and executive producer, said: "An exciting tale that weaves together fantasy and history, Pearl focuses on a young girl who learns to step into her own power when she embarks on a heroic adventure and meets important women from history along the way."