10 Celebrities Who Are Friends With the Royals
Royal Family members are arguably halfway between celebrities and politicians in Britain—and they get on famously with the stars of stage and screen.
Princess Diana had many friends in the showbiz world, some of whom have been there for her sons since her death.
Prince Harry and Prince William have also made their own famous acquaintances and Meghan Markle's career as an actress has set her up with a full contacts book.
1. Elton John
Elton John was close to Princess Diana and famously played an adapted version of "Candle in the Wind" at her funeral.
He also played hits at Prince Harry and Meghan Markle's wedding reception at Windsor Castle in May 2018.
And he joined a documentary William and Harry helped put together to honor their mother's memory in 2017, 20 years on from her death.
For ITV's Diana, Our Mother: Her Life and Legacy, the "Rocket Man" singer and Harry discussed her work for Aids charity London Lighthouse.
John said: "It was considered to be a gay disease and for someone who was within the Royal Family and who was a woman, and who was straight, to have someone care from the other side, was an incredible gift."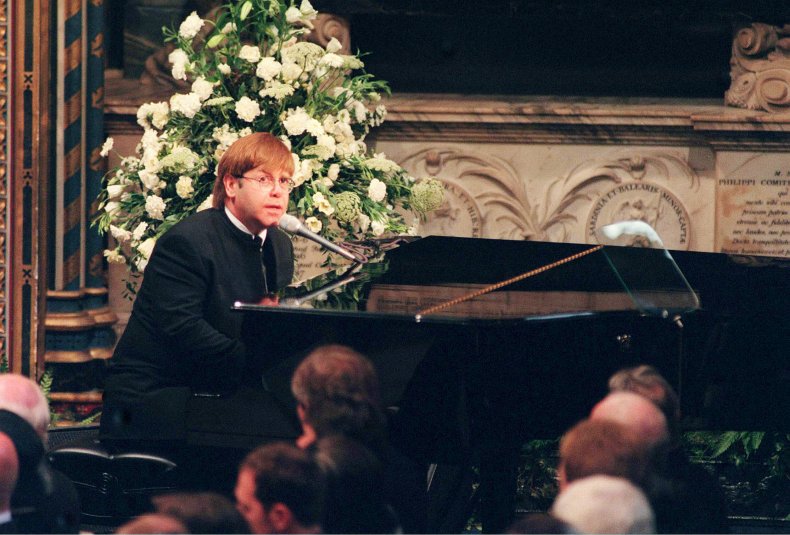 2. David and Victoria Beckham
Former Manchester United soccer star (and current Inter Miami owner) David Beckham and Spice Girl turned fashion designer Victoria Beckham are close, if at times controversial, friends of the royals.
The couple were guests first at Prince William and Kate Middleton's 2011 wedding and then at Prince Harry and Meghan Markle's seven years later.
They were also invited into Buckingham Palace for daughter Harper's sixth birthday, when she and friends hung out with Princess Eugenie—Harry's cousin—in 2017.
However, the party, for a small group of friends, sparked a backlash with a headline in The Sun stating it had been organised "behind [the] Queen's back" while she was away in Balmoral.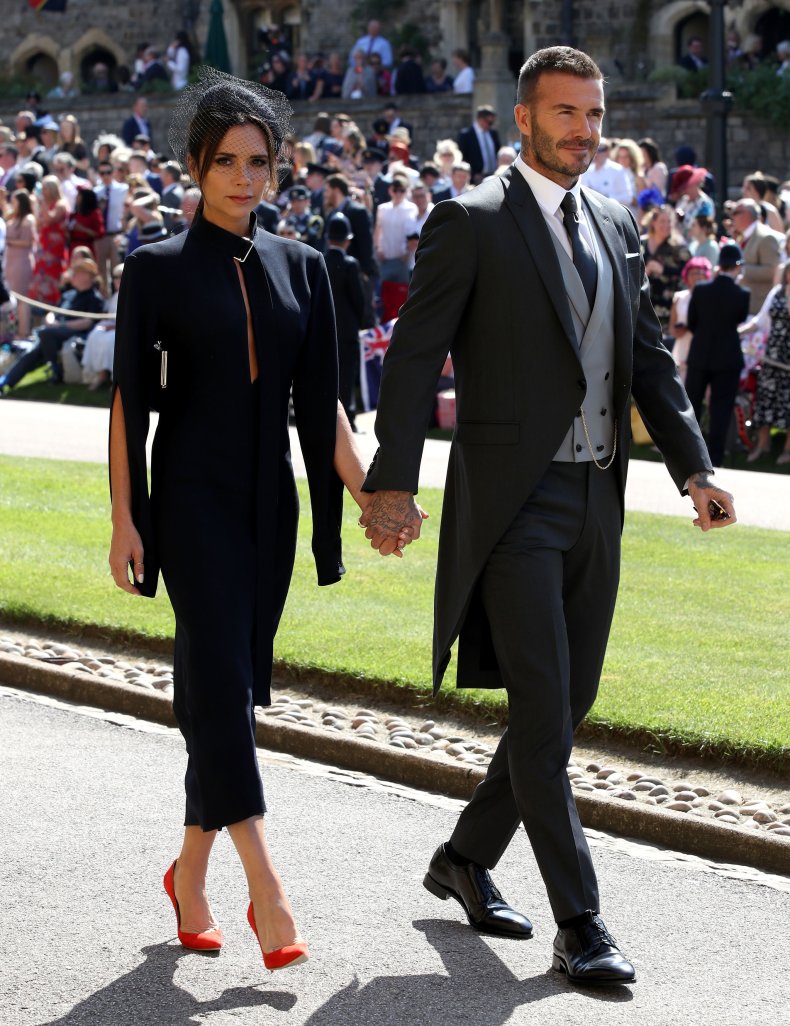 That same year, David Beckham's private emails were published by hackers, showing his efforts to use his charity work to get a knighthood.
The Daily Mirror reported how one message was dismissive of lower ranks in the U.K. honors list and read: "Unless it is a knighthood f*** off."
After Harry and Meghan quit royal duties, David Beckham told Entertainment Tonight: "We love him [Harry]. But I'm proud to see him growing up as an individual and being that person that every father wants to be.
"Every father wants to be loving to their children and that's what I see with him."
He added: "I haven't spoken to Harry about him moving. We speak as friends and that's the most important thing for me."
3. Freddie Mercury
Princess Diana was once in line to be queen herself—but it was the front man of the band Queen who gave her a rare moment of normality for a princess.
Her close friend Freddie Mercury dressed the Princess of Wales up as a man and smuggled her unrecognised into a gay bar in the 1980s.
The night began at the home of U.K. comedian Kenny Everett where together with actress Cleo Rocos they drank champagne and watched Golden Girls.
Rocos described in her biography The Power of Positive Drinking how they were not only able to get into the Royal Vauxhall Tavern, in London, but Diana managed to order drinks seemingly without being rumbled.
She wrote: "We were nudging each other like naughty schoolchildren. Diana and Freddie were giggling... Once the transaction was completed, we looked at one another, united in our triumphant quest. We did it!"
She added: "She did look like a beautiful young man."
4. Serena Williams
The tennis champion has counted Meghan among the fans watching her grand slam matches from the stands in London and New York.
Serena Williams was a guest at Prince Harry and Meghan Markle's May 2018 wedding and also planned Meghan's New York baby shower in 2019.
Biography Finding Freedom states: "Serena had reserved the grand penthouse at the Mark, where approximately twenty of Meghan's closest friends from her teenage years to the present gathered for a party, described by one guest as 'chill and relaxed'."
Authors Omid Scobie and Carolyn Durand listed guests including CBS host Gayle King and actresses Janina Gavankar and Abigail Spencer.
The book added: "Meghan first met the tennis champ at a Super Bowl Party in Miami in 2010.
"Out of all the stars and athletes there, Meghan and Serena 'hit if off immediately,' as Meghan Later described.
"Connecting over 'good old-fashioned girly stuff,' the women snapped photos of each other on their phones."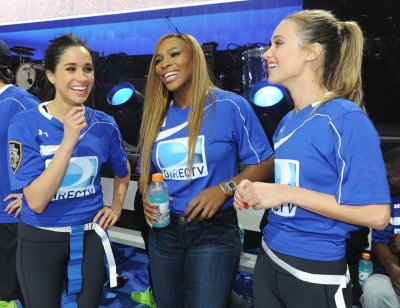 5. David Attenborough
David Attenborough is a longstanding friend of the royal family has grown particularly close to the Duke and Duchess of Cambridge and their children.
The expert in all things wildlife has been helping Prince William generate funding for technological solutions to climate change through the Earthshot Prize.
And the intrepid explorer got to meet a new generation or royalty in the Fall when he was interviewed by Prince George, Princess Charlotte and Prince Louis.
Prince George asked him: "Hello David Attenborough what animal do you think will become extinct next?"
Attenborough said: "Well, let's hope there won't be any, because there are a lot of things we can do when animals are in danger of extinction. We can protect them."
He also gave Prince George a tooth from a giant shark as a present last year.
6. James Corden
Prince Harry and Meghan Markle's big tell-all interview with Oprah Winfrey in March was preceded by a slightly smaller but very warm chat between the Duke of Sussex and James Corden.
The Late Late Show host described Harry as "a friend of mine" as he told viewers he wanted to show the fellow British ex-pat around Los Angeles.
The pair visited the house where The Fresh Prince of Bel-Air was filmed and travelled on an open top bus.
Perhaps most memorably, Corden was left behind as army veteran Prince Harry completed a military-style obstacle course.
7. Bon Jovi
The Livin' on a Prayer singer teamed up with Prince Harry to create a song with the Invictus Games choir, "Unbroken," released last year.
However, it is not clear whether the Duke of Sussex, who was at the famous Abbey Road studio for the recording process, actually sang on the track.
Bon Jovi also joined Prince William and Taylor Swift on stage at the Winter Whites Gala at Kensington Palace.
The trio sang "Livin' on a Prayer" to raise money for homeless charity Centrepoint, which counted Princess Diana as one of its biggest advocates.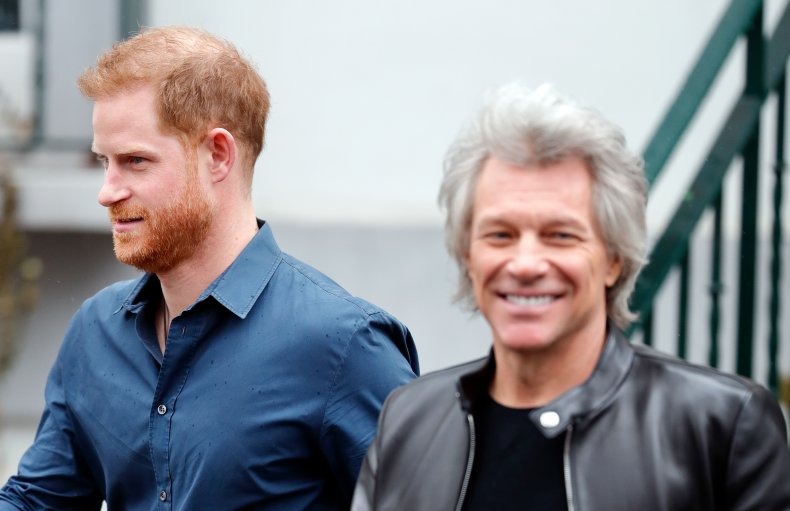 8. Reese Witherspoon
Kate Middleton met Reese Witherspoon during a tour of Los Angeles in 2011—the same year she got married.
The actress wrote in her biography Whiskey in a Teacup: "I felt relatively immune from the obsession with the royals until a few years ago when I was invited to meet Kate Middleton.
"She had just married Prince William, and she was coming to Los Angeles for a fundraiser. I don't even know how I got so lucky as to receive the invitation.
"The scream that issued from my lips upon receiving it—you would have thought I was going to die."
She added: "I was up at 4 am doing my hair. That's early, even for me. I was up, dressed, and waiting by the door by 7 am. Jim took pictures of me in the car. You can see rays of happiness shooting out of my face. I love Kate Middleton that much. And she did not disappoint!"
And Kate seemingly took to Reese too as she sent the Big Little Lies star's son Tennessee a birthday present.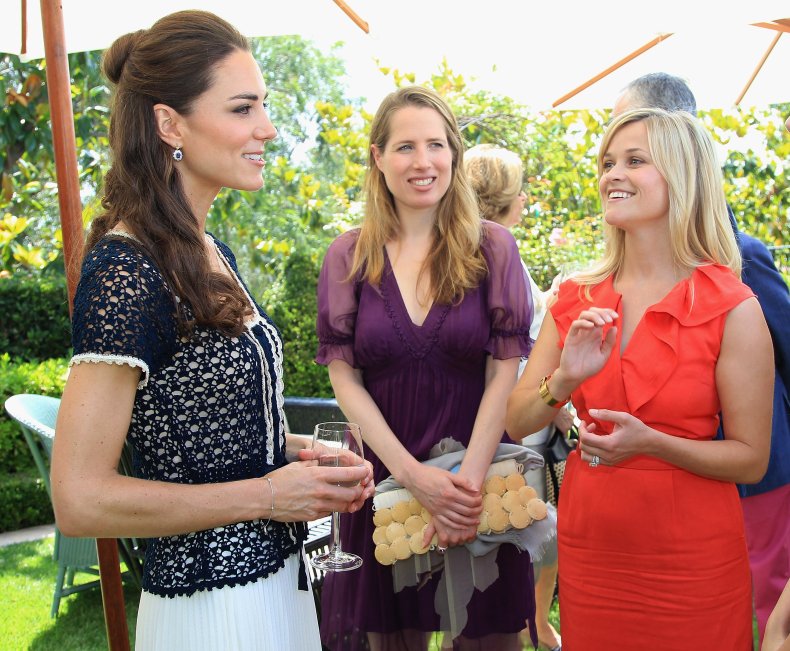 9. Oprah Winfrey
The chat show host entered the royal history books when she guided Meghan and Prince Harry through a set of bombshell allegations against the royal family, the Monarchy and the British media in March.
However, she was friends with the couple before that point and was a guest at their wedding in May 2018.
She also lives a stone's throw from the young family since they bought their first house together, in Montecito, Santa Barbara.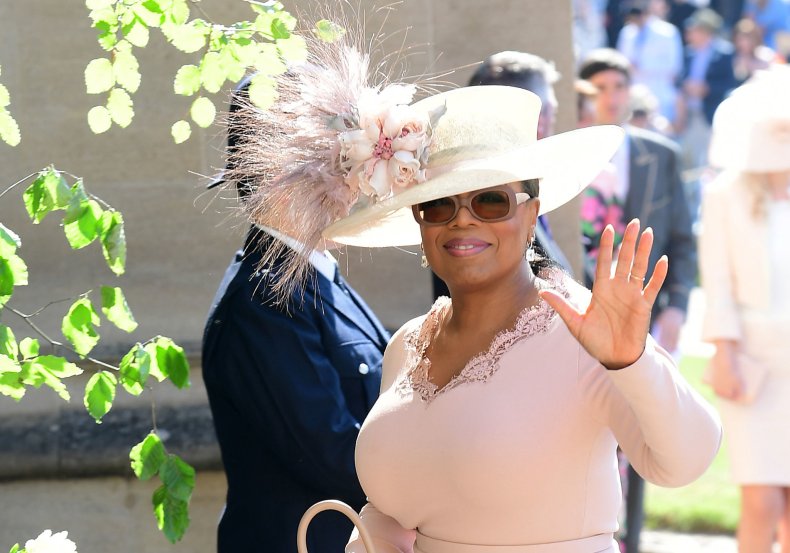 10. Eddie Redmayne
The Theory of Everything actor has been friends with Prince William since their school days when they played rugby together.
Eddie Redmayne told People magazine in 2018: "I did play rugby with Prince William. I always felt a bit sorry for him because basically any school you played, all they wanted to do was tackle Prince William and they could say, 'I tackled Prince William.'
"So if you were standing next to Prince William, like I was, it was actually quite easy and quite fun."