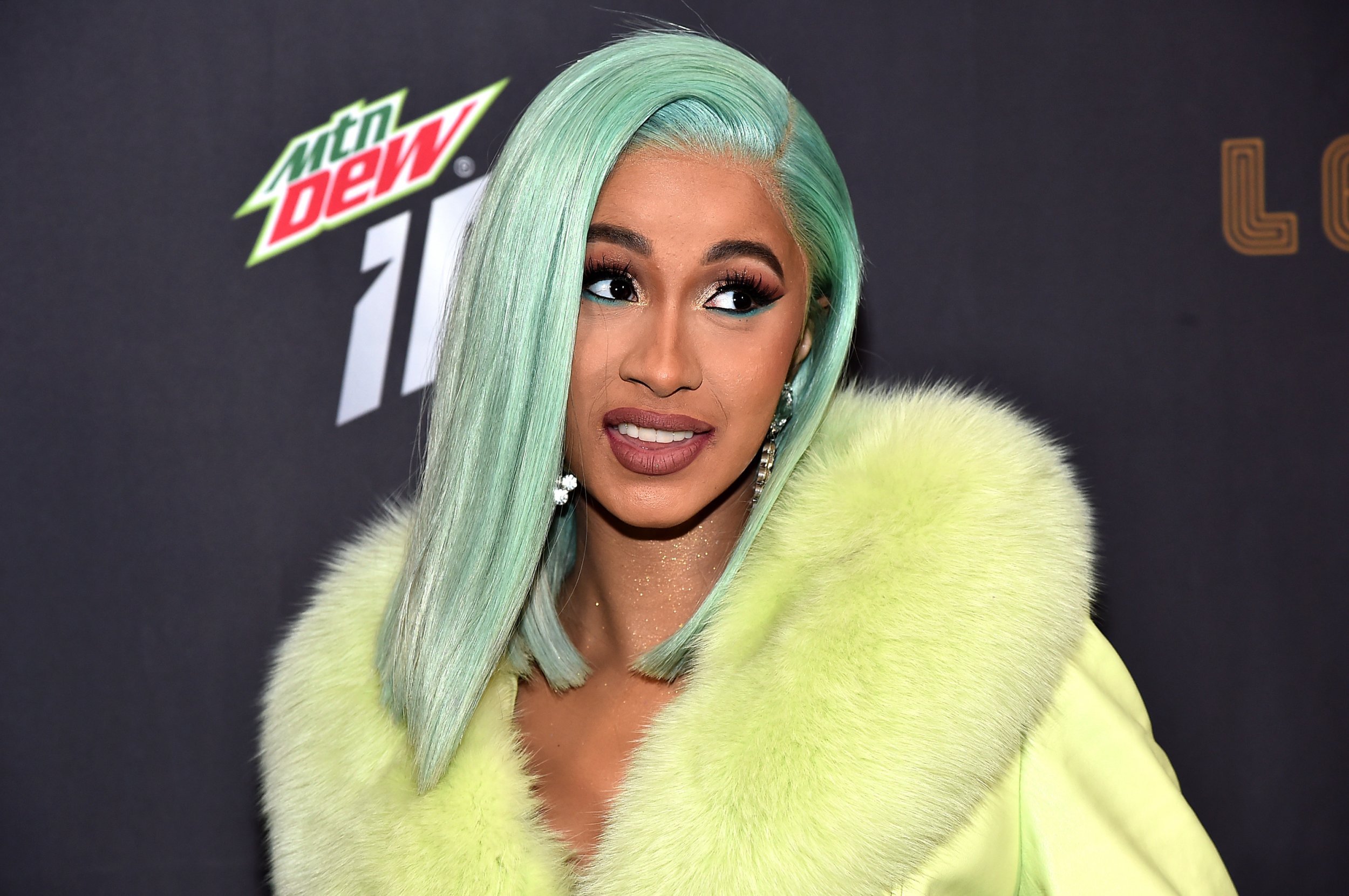 Nicki Minaj and Cardi B's beef took center stage Monday after the rap stars spilled a boatload of tea on each other. For those not attuned to the ongoings between the two, here's a breakdown of what went down before the duo called an unexpected truce.
The tension between Cardi and Minaj appeared to first surfaced in March 2017 when the "Barbie Tingz" hitmaker reportedly liked a post that mocked the rising talent's rapping style, according to Glamour. Minaj then seemingly slammed Cardi on Katy Perry's "Swish Swish" upon rapping, "Silly rap beefs just get me more checks/ My life is a movie, I'm never off set / Me and my amigos (no, not Offset)." The feud escalated further over time, but their drama was notably spotlighted during Harper's Bazaar ICONS party at New York Fashion Week (NYFW) in September.
Minaj was approached by the 26-year-old "Money" rapper at the event. Cardi attempted to attack her by throwing a shoe at her. Security then stepped in. A barefoot Cardi was escorted out of the event with a bump on her head.
"I've let a lot of sh*t slide! I let you sneak diss me, I let you lie on me, I let you attempt to stop by bags, f**k up the way I eat!" Cardi wrote after the brawl via Instagram. "You've threaten other artists in the industry, told them if they work with me you'll stop f**kin with them!! I let you talk bug sh*t about me!! I addressed you once in person, I addressed you a second time in person, and every time you copped the plea!!"
Cardi continued, "But when you mention my child, you choose to like comments about me as a mother, make comments about my abilities to take care of my daughter is when all bets are f**kin off!!"
After Cardi's telling Instagram post, Minaj addressed the "mortifying" incident on her Queen Radio show in September. "I could not believe how humiliating it all felt...how we made ourselves look," said Minaj. "I would never discuss anyone's child and it's so sad that for someone to pin that on me because I'm the bad guy and people would believe them."
Minaj continued to not-so-subtly shade Cardi. She released a merchandise line that used the phrase "Nicki stopped my bag," which referenced what Cardi said about Minaj in her post-NYFW Instagram statement. The 35-year-old "Chun-Li" rapper later appeared to imply Cardi uses a ghostwriter by seemingly deeming her on Future's "Transformer" Milli Vanilli, which is a group that had their Grammy's revoked after it was revealed they weren't singing their music.
The pair's latest incident, however, surfaced after Minaj appeared on Queen Radio to address the pair's NYFW altercation once more. The Harajuku Barbie claimed she'd give $100,000 to "anybody that wants to pull up the surveillance footage" of the fight. She additionally alleged Love & Hip-Hop New York star Rah Ali was responsible for giving Cardi a bump on her head, not a security guard onsite.
Minaj's remarks didn't amuse Cardi. The "Bodak Yellow" rapper, in turn, hit Instagram to share a 10-part video rant where she slammed Minaj's Queen Radio comments. She delivered the receipts while addressing various topics, including how Minaj has taken projects Cardi's rejected and how Minaj has harrassed Cardi. Cardi ultimately deemed Minaj a "hater."
"How you say that I was the wild animal, that I attacked you, that you was mortified, that you was humiliated, playing the victim but now you the gangsta? You need to pick a side," Cardi said. "Do want to be the victim or do you want to be the gangsta? You lie so much you can't even keep up with your f***ing lies."
Minaj initially clapped back at Cardi's accusations. She instructed Cardi to stop attempting to "distract everyone" about Ali attacking her at NYFW, suggested she was asked to collaborate with Fashion Nova before Cardi and questioned whether she'd ever "written a rap." Minaj later issued a truce.
"Let's focus on positive things from here on out. We're all so blessed. I know this stuff is entertaining & funny to a lot of people but I won't be discussing this nonsense anymore," Minaj tweeted Monday. Minaj's tweet led Cardi to also agree to put their feud to rest, writing on Instagram: "Let's keep it positive and keep it pushing."