What Is Nitric Oxide? How the Gas That Gave Us Viagra Could Help Treat Coronavirus Patients
As scientists race to find specific treatments for COVID-19, the colourless gas nitric oxide has emerged as a candidate.
Nitric oxide works as a signalling molecule in the cardiovascular, nervous and immune systems of animals, and is mostly produced in the inner layer of blood vessels called the endothelium. The compound relaxes muscle cells, which in turn prompts blood vessel walls to widen, boosting blood flow and decreasing blood pressure.
As such, physicians have used it for a range of conditions, and it was first approved for use by the U.S. Food and Drug Administration in 1999.
Warren Zapol, emeritus anesthetist-in-chief at Massachusetts General Hospital and a professor at Harvard Medical School, told Gizmodo nitric oxide is used to treat babies born blue, as well as adults with cardiac surgery, and patients with what is known as acute respiratory distress syndrome, where the oxygen supply to lungs are cut off by bodily fluids. "About a half-million Americans have breathed in NO [nitric oxide]," Zapol told the outlet.
Nitric oxide was also central to the creation of the erectile dysfunction drug Viagra in the 1990s, as the pill's main ingredient sildenafil makes the relaxing effect of nitric oxide in the body more potent and increases blood flow.
Now, Zapol is among scientists exploring whether nitric oxide could be harnessed to help COVID-19 patients. Currently, there are no specific drugs for the disease. He and colleagues at the Massachusetts General Hospital have launched two clinical trials to see if the gas can help patients with mild to moderate COVID-19, and others with severe respiratory distress.
Zapol told Gizmodo his team is also awaiting approval to start a trial to see if dosing healthcare workers with the gas would prevent them from being infected by the new coronavirus
Dr. Lorenzo Berra, critical-care specialist at Massachusetts General Hospital who is leading the trials, told Los Angeles Times he wanted to try the gas on COVID-19 patients after it showed promise during the SARS epidemic.
Meanwhile, a team of scientists at Tongji Hospital in China have launched a clinical trial to investigate whether sildenafil can help COVID-19 patients.
Ian Hall, professor of molecular medicine at the University of Nottingham who is not involved in the projects, explained to Newsweek: "Nitric oxide works mainly by relaxing the blood vessels which supply blood to the lungs from the heart, and has been used to treat patients with other conditions where the pressure in these blood vessels is too high.
"Some patients with more severe COVID-19 disease have abnormal pressures in these blood vessels (the pulmonary arteries) and hence nitric oxide might help relieve this increased pressure, and hence improve gas exchange in the lung."
It is hoped the treatment would reduce the number of patients who need treatment in an intensive care unit or a ventilator, said Hall.
However, he stressed "whilst there is some anecdotal evidence this may work in patients with COVID19, there has been no formal clinical trial to date."
Hall warned any such experimental treatments could have unwanted side effects.
"Hence I think it is critical that these interventions are studied in a formal clinical trial setting. As such it is encouraging to see that this is exactly the approach being suggested in these studies," he said.
Putting the trials into the wider context of the COVID-19 pandemic, Hall said: "There are a lot of clinical trials which are underway or being planned for patients with COVID-19. Most of these target hospital patients with more severe disease."
"At present we don't know which drugs work, but we will soon get information on this from studies such as RECOVERY in the U.K. which is comparing a range of different agents," Hall said. That trial focuses on a HIV drug and a steroid.
Unapproved anti-viral remdesivir is also being tested as a COVID-19 treatment, as are the antimalarial drugs chloroquine and hydroxychloroquine. Last month the World Health Organization launched a multi-country clinical study of four potential combinations, including remdesivir and chloroquine.
Four months in to the COVID-19 pandemic, 1.3 million cases have been confirmed, almost 76,000 people have died, and over 289,000 have recovered, according to Johns Hopkins University. As shown in the Statista map below, every continent except Antarctica is affected.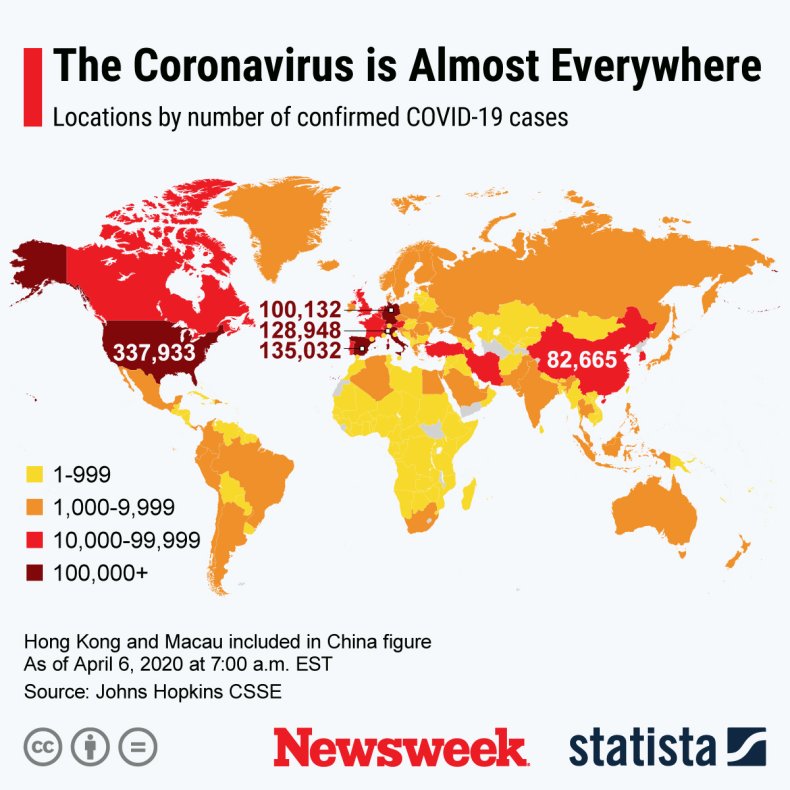 Centers for Disease Control and Prevention Advice on Using Face Coverings to Slow Spread of COVID-19
CDC recommends wearing a cloth face covering in public where social distancing measures are difficult to maintain.
A simple cloth face covering can help slow the spread of the virus by those infected and by those who do not exhibit symptoms.
Cloth face coverings can be fashioned from household items. Guides are offered by the CDC. (https://www.cdc.gov/coronavirus/2019-ncov/prevent-getting-sick/diy-cloth-face-coverings.html)
Cloth face coverings should be washed regularly. A washing machine will suffice.
Practice safe removal of face coverings by not touching eyes, nose, and mouth, and wash hands immediately after removing the covering.
World Health Organization advice for avoiding spread of coronavirus disease (COVID-19)
Hygiene advice
Clean hands frequently with soap and water, or alcohol-based hand rub.
Wash hands after coughing or sneezing; when caring for the sick; before, during and after food preparation; before eating; after using the toilet; when hands are visibly dirty; and after handling animals or waste.
Maintain at least 1 meter (3 feet) distance from anyone who is coughing or sneezing.
Avoid touching your hands, nose and mouth. Do not spit in public.
Cover your mouth and nose with a tissue or bent elbow when coughing or sneezing. Discard the tissue immediately and clean your hands.
Medical advice
Avoid close contact with others if you have any symptoms.
Stay at home if you feel unwell, even with mild symptoms such as headache and runny nose, to avoid potential spread of the disease to medical facilities and other people.
If you develop serious symptoms (fever, cough, difficulty breathing) seek medical care early and contact local health authorities in advance.
Note any recent contact with others and travel details to provide to authorities who can trace and prevent spread of the disease.
Stay up to date on COVID-19 developments issued by health authorities and follow their guidance.
Mask and glove usage
Healthy individuals only need to wear a mask if taking care of a sick person.
Wear a mask if you are coughing or sneezing.
Masks are effective when used in combination with frequent hand cleaning.
Do not touch the mask while wearing it. Clean hands if you touch the mask.
Learn how to properly put on, remove and dispose of masks. Clean hands after disposing of the mask.
Do not reuse single-use masks.
Regularly washing bare hands is more effective against catching COVID-19 than wearing rubber gloves.
The COVID-19 virus can still be picked up on rubber gloves and transmitted by touching your face.