What Is Pneumonia—And How Dangerous Is It for 68-Year-Old Hillary Clinton?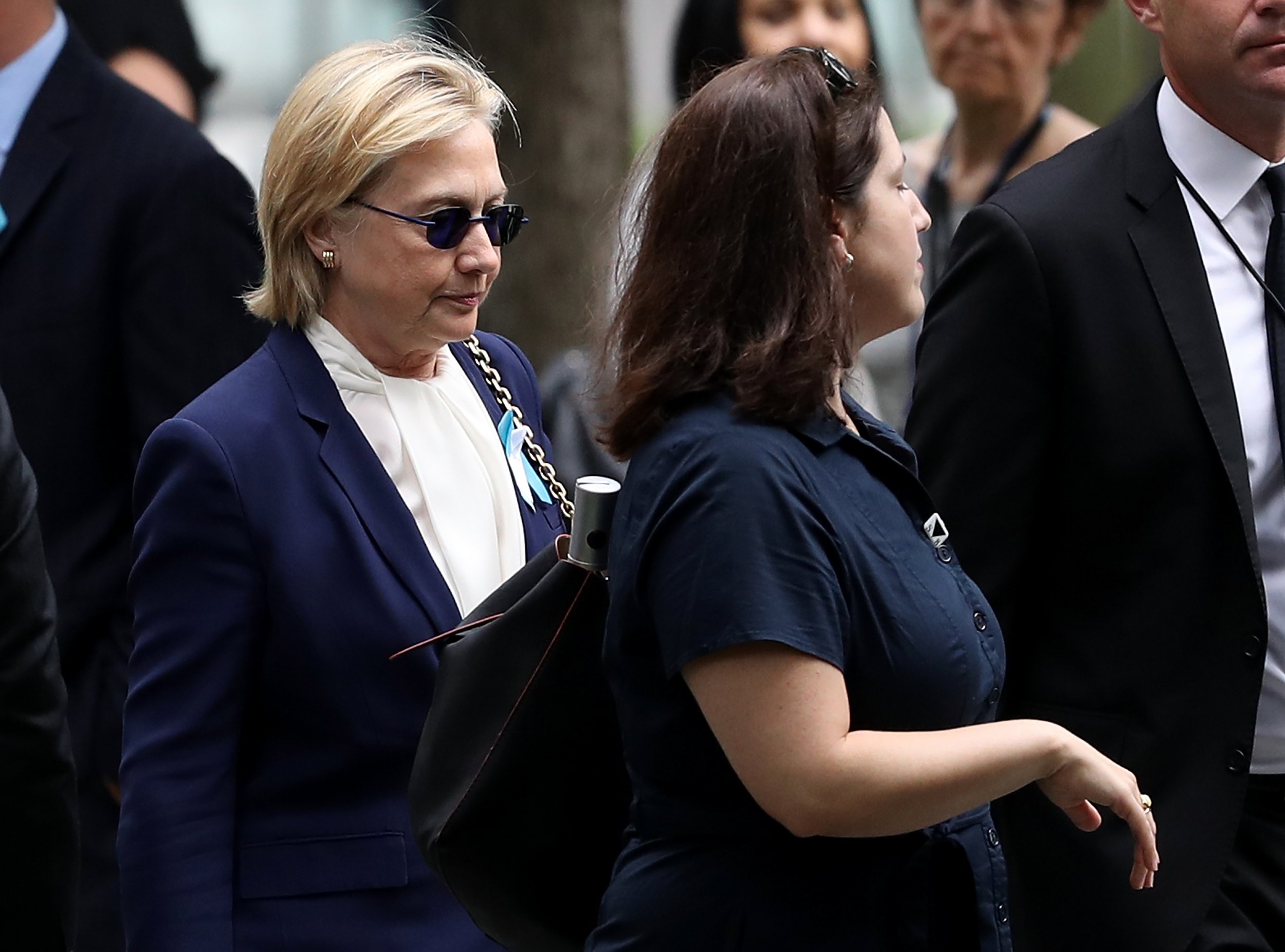 Hillary Clinton has cancelled a trip to California to attend fundraising events after it emerged the Democratic presidential nominee has pneumonia.
An aide announced the cancellation Sunday night following Clinton's abrupt departure from the 9/11 memorial ceremony in Manhattan because, her campaign initially said, she felt "overheated." Clinton was seen stumbling out of the event and helped into a car by members of her team.
Her personal physician, Dr Lisa Bardack, later released a statement that said: "Secretary Clinton has been experiencing a cough related to allergies. On Friday, during follow-up evaluation of her prolonged cough, she was diagnosed with pneumonia. She was put on antibiotics, and advised to rest and modify her schedule.
"While at this morning's event, she became overheated and dehydrated. I have just examined her and she is now rehydrated and recovering nicely."
But what is pneumonia—and how dangerous is it?
What is pneumonia?
Pneumonia is an infection of the lungs. Often, it is a bacterial infection that sweeps in after a cold or flu virus. Each year, about 1 million people in the U.S. seek hospital care because of pneumonia, and it causes tens of thousands of deaths, according to the Centers for Disease Control and Prevention.
How dangerous is pneumonia?
When an otherwise healthy adult under 65 years of age gets pneumonia, his or her body can usually fight off the infection. But patients with a weak immune system—those who are very young or old, or those who have a pre-existing condition—can struggle to cope and will sometimes develop complications.
As the infection sets in, it can cause oxygen levels in the body to fall. In extreme cases, this can lead to organ failure and death.
How serious is pneumonia at Clinton's age?
About one-third of people with pneumonia are aged 65 or older and it is more serious in this group, because they often have, and may develop, other medical problems.
At 68, Clinton falls into this category, and complications of pneumonia include:
Pleurisy—where the thin linings between your lungs and ribcage (pleura) become inflamed, which can lead to respiratory failure
A lung abscess—a rare complication that's mostly seen in people with a serious pre-existing illness or a history of severe alcohol misuse
Blood poisoning (septicaemia)—also a rare but serious complication.
Is pneumonia contagious?
You do not catch pneumonia—you catch the germs that cause it.
You can catch the germs that cause pneumonia in the most common of places, and the environment you frequent on a daily basis may contribute to how susceptible you are to the disease.
For example, children in school or daycare facilities can easily catch viruses from one another, which makes them more prone to viral pneumonia.
In general, viral pneumonias are more contagious than bacterial and fungal pneumonias. That is because viruses are more likely to spread from person to person.
Some types of pneumonia are contagious only in certain environments.
For example, Legionnaires' disease, which is caused by the bacteria Legionella pneumophila, may only be contagious for people exposed to a contaminated air conditioning system. Legionnaires' has also been linked to inhaling droplets from whirlpools, spas, or fountains.
How easy or difficult is it to recover?
Mild pneumonia can usually be treated at home with rest, antibiotics and by drinking plenty of fluids, but more severe cases may need hospital treatment.
If hospitalized, patients are given antibiotics and fluids intravenously through a drip, and sometimes oxygen to help with breathing.
After starting treatment, symptoms should steadily improve, but how quickly they improve will depend on how severe the pneumonia is.
According to a U.K. NHS health guide, after one week, fever should have resolved; after four weeks, chest pain and mucus production should have substantially reduced; after six weeks, cough and breathlessness should have substantially reduced; after three months, most symptoms should have resolved, but you may still feel very tired​; after six months, most people will feel back to normal.