What Polls Say About Bolsonaro vs. Lula Just Ahead of Brazil's Election
Brazilians will head to the polls on Sunday to vote in their country's presidential election.
Recent polling in the race have shown Workers' Party candidate and former Brazilian President Luiz Inácio Lula da Silva with an advantage over incumbent far-right Brazilian President Jair Bolsonaro.
One of the latest polls in the races, conducted by Datafolha and released on Thursday, shows da Silva, who is commonly referred to as Lula, with a 14 point lead over Bolsonaro. The left-wing challenger received the backing of 50 percent of voters in a hypothetical first-round election, compared to Bolsonaro's fluctuation of 35 to 36 percent. The poll surveyed 6,800 people and has a margin of error of 2 percent.
In Brazilian elections, if a presidential candidate doesn't receive more than 50 percent of the vote in the first round, a second round is held.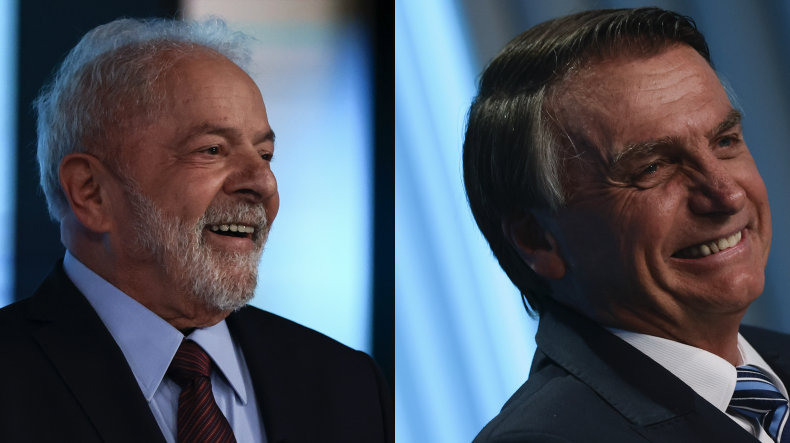 According to the Americas Society/Council of the Americas, which tracks polls in the Brazilian election, aggregated polling data shows Lula leading Bolsonaro 45 percent to 37 percent.
In 2018, Bolsonaro defeated leftist opponent and former Sao Paulo Mayor Fernando Haddad to become the country's 38th president. Bolsonaro received over 55 percent of the vote from nearly 150 million people.
In the run-up to the election, critics have accused Bolsonaro of casting doubt on the country's electoral system, and encouraging political violence. The BBC reported Friday that Bolsonaro, without evidence, has said that the country's voting machines are susceptible to fraud.
"The system is completely vulnerable," the Brazilian president said, who also added that the public should be suspicious of the election result if he doesn't win "at least 60 percent," according to CNN.
Bolsonaro has also attacked the country's judicial system, encouraging protests against the courts after justices investigated him or criticized his election fraud claims. He has also taken anti-LGBTQ actions while in office including the removal of LGBTQ rights from human rights ministry considerations and mentions of homosexuality from textbooks.
"Polls suggest Luiz Inacio Lula da Silva enjoys a sizable advantage and might avoid a second round of voting, but President Jair Bolsonaro has discredited the electoral process and blamed the media for an uneven playing field. Several reports of violence and intimidation against Lula's supporters have also emerged, and Bolsonaro's proximity to the armed forces remains a concern if the election is contested," Gustavo Flores-Macias, Associate Vice Provost for International Affairs and professor of government at Cornell University, said in a statement on the university's website on Thursday.
Lula's campaign for another shot at Brazil's presidency comes after he was released from jail in 2019 after being convicted on corruption charges. The former president's conviction and sentence was vacated by Brazil's Supreme Federal Court in 2021. The United Nations Human Rights Committee found that Lula's criminal investigation and prosecution "violated his right to be tried by an impartial tribunal, his right to privacy and his political rights."
Former President Donald Trump has endorsed Bolsonaro, saying last month that he "has done a GREAT job for the wonderful people of Brazil."
"When I was President of the U.S., there was no other country leader who called me more than Jair seeking Tariff & Tax cuts, Trade Renegotiations, Strengthened Drug & Border Policies (to put the "bad guys" in jail!), Military Help, & more," Trump said.
Newsweek has reached out to several experts on Brazilian politics for comment.