What the Polls Say About Donald Trump vs. Joe Biden in Key 2020 Swing States
Presumptive Democratic presidential nominee Joe Biden continues to lead President Donald Trump in key swing states and nationally, according to recent polling. But polls also show that a significant number of voters remain undecided or are considering backing other candidates.
Recent polling in Michigan, Wisconsin, Pennsylvania and Florida--states that former President Barack Obama carried in 2008 and 2012, but Trump won in 2016--showed Biden several points ahead of the incumbent president. Meanwhile, the traditionally Republican stronghold of Arizona appears to be shifting blue, although the state has only voted for a Democratic presidential candidate once in the past five decades.
Ken Farnaso, deputy press secretary for Trump's reelection campaign, dismissed the recent polling results in an email to Newsweek, pointing to the president's victory in 2016 that came despite polling suggesting he would lose.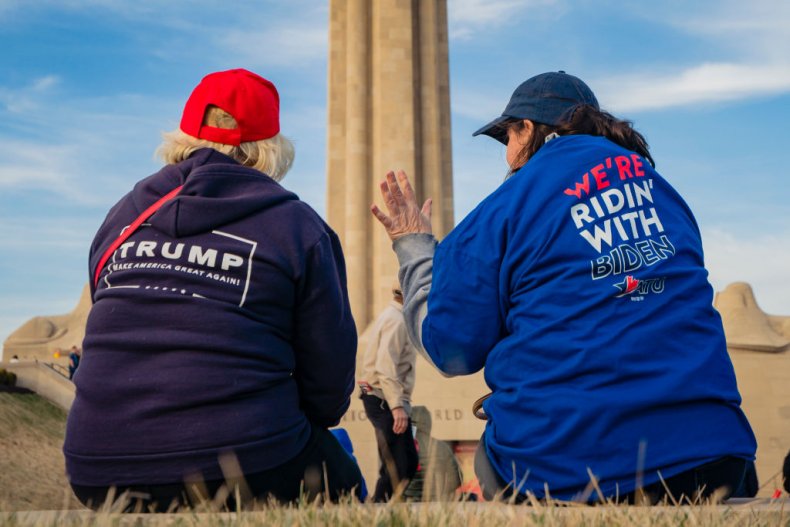 "2016 proved that polling is notoriously wrong and has always underestimated the president and his ability to connect with the American people. President Trump's America First agenda ushered in an economic renaissance, a renewed national security, strengthened our relationships with our allies, and kept our foes at bay," Farnaso said.
Newsweek has also reached out to the Biden campaign for comment.
In Michigan, which Trump carried by a margin of 0.2 percent of the vote, Biden currently leads by an average of 5.5 points, according to an aggregate of recent polls compiled by Real Clear Politics. A poll conducted by conservative Fox News in April showed Trump trailing by an even greater margin of 8 points, with Biden backed by 49 percent of respondents and the president supported by just 41 percent of Michigan voters. However, that survey also demonstrated that 10 percent of voters in the Midwestern state remained undecided or may vote for another candidate.
The race between Biden and Trump appears to be much closer in Wisconsin, which the president carried by a similarly slim margin of just 0.3 percent in 2016. Real Clear Politics shows Biden ahead by an average of 2.7 points. The most recent survey in the state by Marquette Law School, conducted May 3 to 7, showed Biden ahead by 3 points, with 46 percent of the vote compared to Trump's 43 percent. Again, in that poll, 11 percent of respondents said they were undecided or would vote for someone else.
To the east in Pennsylvania, Biden has a stronger lead over Trump. The president also narrowly won in the 2016 election in the eastern state by 0.7 percent. Currently, the Real Clear Politics average of polls for the state shows Biden ahead by about 6.5 percent. Harper Polling showed in late April that Biden was ahead by 6 points, with support from 49 percent of voters compared to Trump's 43 percent. But 8 percent of respondents remained undecided.
Florida, where Trump officially relocated his state residency from New York in October, also appears to be leaning toward Biden. While the president won the southern state by a wider margin of 1.2 percent in 2016, he's now trailing the former vice president by an average of 3.3 percent, according to the Real Clear Politics aggregate. The most recent poll from Florida Atlantic University, which was conducted earlier this month, shows Biden ahead by 6 points, 53 percent to Trump's 47 percent.
Over in Arizona, Trump appears to be trailing Biden by an even larger margin, despite winning the southwestern state by 3.6 percent in 2016. Currently, the Real Clear Politics average shows Biden ahead by about 4 points. Polling conducted by OH Predictive Insights from May 9 to 11 showed the former vice president ahead by 7 points, with 50 percent compared to Trump's 43 percent. But again, 7 percent of voters in that survey did not firmly back either candidate.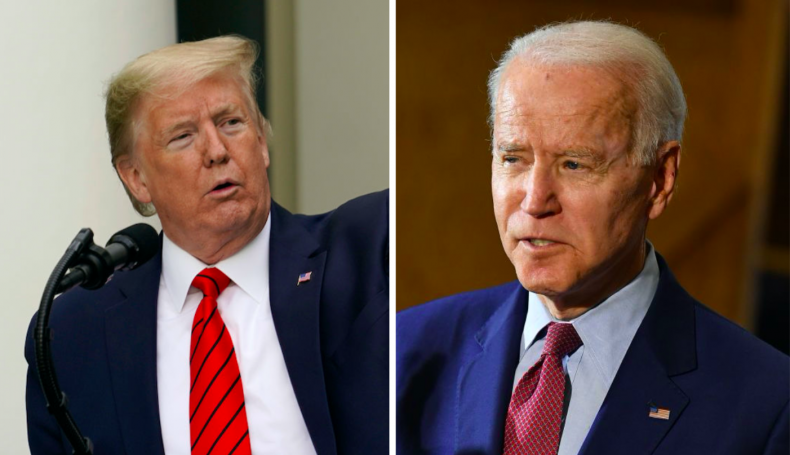 If Biden manages to win Arizona, he'd be the first Democratic presidential candidate to do so since 1996, when former President Bill Clinton won the support of the state during his re-election campaign. Some analysts have suggested that Arizona may become a solidly blue state in the coming years, as Democrats have already taken control of one of the state's Senate seats and are growing more confident that they can flip the other seat in November.
But as Trump's campaign pointed out to Newsweek, leads in polling do not necessarily translate to victory in November. Former Democratic presidential candidate Hillary Clinton was ahead of Trump by double digits in mid-2016, according to many national polls. Although Clinton won nearly 3 million more individual votes than Trump nationwide, the president managed to pull off a series of narrow wins in key battleground states like the ones highlighted above. As a result, Trump won the Electoral College by a significant margin.
Nonetheless, recent national polls continue to show Biden as the clear front-runner among voters. Polling by Fox News conducted from May 17 to May 20 showed the former vice president with support from 48 percent of voters compared to 40 percent who back Trump – a lead of 8 points. Similarly, Rasmussen Reports, a right-wing polling company, shows Biden ahead by 5 points, with 48 percent support compared to 43 percent who back the president.