What Polls Say About Mark Kelly vs. Blake Masters 2 Months Before Election
Polling two months ahead of the midterm elections in Arizona show Democratic Senator Mark Kelly, and the Republican candidate trying to unseat him, Blake Masters, in a close race.
A survey published by Emerson College on Friday found Kelly ahead by two points—with 47 percent of voters backing the incumbent Democrat, while 45 percent supported Masters, who is endorsed by former President Donald Trump. Five percent of voters said they were undecided about the race, and 4 percent said they planned on voting for another candidate.
"A stark gender divide exists in the Arizona Senate Election; men break for Masters by a 10-point margin whereas women voters break for Kelly by 13. Additionally, Independent voters favor Kelly over Masters, 46% to 37%," Spencer Kimball, Executive Director of Emerson College Polling, said in a statement.
The poll had a margin of error of 3.85 percent, and surveyed nearly 630 likely Arizona voters.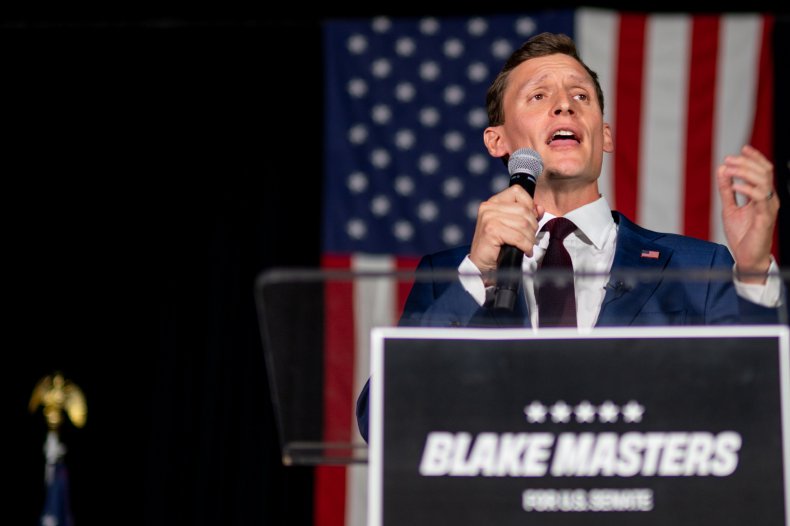 Another survey published by the Trafalgar Group on August 30 found Kelly leading Masters 47.6 percent to 44.3 percent. That poll had a margin of error of 2.9 percent and polled 1,074 voters.
FiveThirtyEight, which compiles and analyzes polling data, found Kelly with a larger lead in an overall polling average. Taking eight surveys released over the last month or so, FiveThirtyEight found Kelly with support from 48.4 percent of voters, and Masters with 42.3 percent.
Newsweek has reached out to the Kelly and Masters campaigns for comment.
Masters Changes Stance on Abortion
Masters is among a group of Republican Senate candidates that have changed their stance on abortion in recent weeks. While Masters had previously said on his campaign website that he was "100 percent pro-life" and supported a "federal personhood law (ideally a Constitutional amendment) that recognizes that unborn babies are human beings that may not be killed," the language was recently altered.
On the website, it was changed to say that the Senate hopeful backs "a law or a Constitutional amendment that bans late term (third trimester) abortion and partial-birth abortion at the federal level" and "pro-life legislation, pregnancy centers, and programs that make it easier for pregnant women to support a family and decide to choose life."
Democrats Gain Steam in Polling
An election forecaster at the University of Virginia (UVA), Larry Sabato, recently shifted his prediction for the Senate races in Arizona and Pennsylvania from toss-ups to "leans Democratic."
"We are moving the Senate races in Arizona and Pennsylvania from Toss-up to Leans Democratic on account of candidate weaknesses for Republicans in both states and what appears to be a not-as-bleak environment for Democrats," UVA's Center for Politics said on Wednesday.
Meanwhile, a number of other recent polls have shown Democrats with an advantage ahead of the midterms.
A poll from Yahoo News/YouGov earlier this month found 45 percent of voters would support Democratic congressional candidates, while 40 percent said they would vote for Republicans. The poll had a margin of error of 2.6 percent and surveyed 1,634 people.