What Polls Say About Mitch McConnell vs Amy McGrath With 3 Weeks Until the Election
With less than three weeks until the November 3 election, Senate Majority Leader Mitch McConnell continues to poll ahead of his Democratic challenger, Amy McGrath.
McConnell, a Republican from Kentucky, is the longest-serving U.S. senator in the state's history. McGrath, a former Marine fighter pilot, is looking to stop him from gaining a seventh term.
While the Democratic candidate conducted a successful fundraising campaign—raking in nearly $47 million by the end of June compared to McConnell's $36.7 million at the end of September—polls show McGrath trailing her opponent in the red state.
In the most recent survey, left-leaning research group Data for Progress polled 807 likely voters from September 14 to 19, finding that 48 percent would back McConnell, compared to the 41 percent who chose McGrath.
Days earlier, McConnell's lead had widened even further, with 53 percent of likely voters supporting McConnell over the 41 percent who chose McGrath, according to a Quinnipiac University poll conducted September 10 through 14.
McGrath did have a narrow lead over her opponent in late May, according to an RMG Research survey among 500 registered voters. Then, 41 percent of those polled said they backed McGrath, compared to the 40 percent who chose McConnell.
But one month later, McConnell leapt ahead once more. In a Morning Consult poll conducted July 24 to August 2 among 793 likely voters, McGrath received 36 percent of voters' support, compared to the 53 percent who chose McConnell.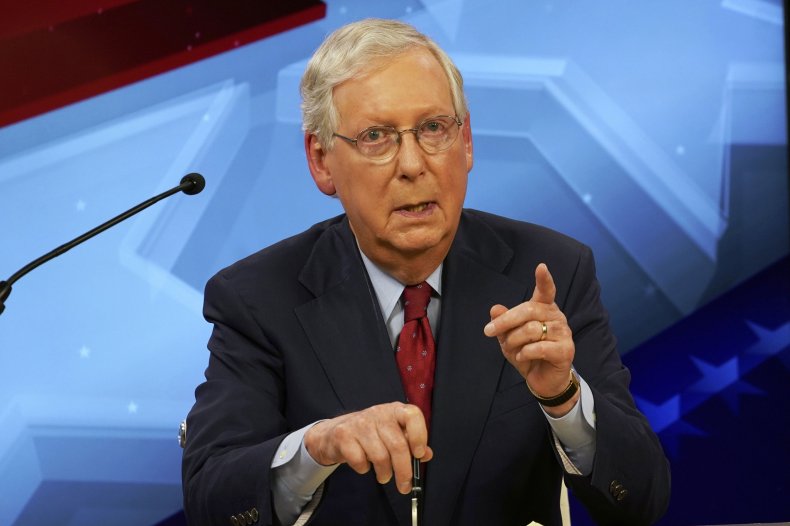 McGrath and McConnell went head-to-head Monday evening during their first televised debate. The politicians discussed topics such as the federal response to the coronavirus pandemic and the fight for President Donald Trump's Supreme Court nominee.
The Democratic candidate blamed McConnell for the lack of a second federal stimulus package, calling it a "dereliction of duty," NBC News reported. McConnell, in turn, blamed his congressional Democratic counterparts for the lapse in progress.
McConnell had harsh words for McGrath later on in the evening, firing back at her constant attacks on his Senate record.
"I think her entire campaign is: She's a Marine, she's a mom and I've been there too long," McConnell said of his opponent.
McGrath had a response of her own: "Senator, you've been there for 36 years. How's it looking, Kentucky?" She listed the state's high cancer and diabetes rates, and a lack of broadband access and well-paying jobs in some parts of the state.
McConnell touted the billions of dollars in federal money he's delivered while serving—something he argued McGrath couldn't replicate if she were to replace him and become a freshman senator.