What Polls Say About Mitch McConnell vs Amy McGrath With Less Than 24 Hours to the Election
With Election Day in less than 24 hours, Senator Mitch McConnell, a Kentucky Republican who serves as Senate Majority Leader, holds a wide lead over his Democratic challenger Amy McGrath.
Democrats, who see McConnell and his leadership in the Senate as one of the biggest obstacles to their legislative agenda, have poured tens of millions of dollars into McGrath's campaign. But despite garnering more than $88 million in contributions—over $30 million more than the GOP incumbent as of mid-October reporting—McGrath looks unlikely to dethrone the "Grim Reaper." McConnell has proudly used the nickname to describe his efforts to block and disregard Democratic legislation.
The latest polling by Morning Consult shows McConnell ahead of McGrath, a former Marine fighter pilot, by just over 11 percentage points. The GOP lawmaker is supported by 51.1 percent of Kentucky's voters while the Democrat is backed by just 39.8 percent. McConnell's lead is well outside the poll's margin of error, which is plus or minus 3 percentage points.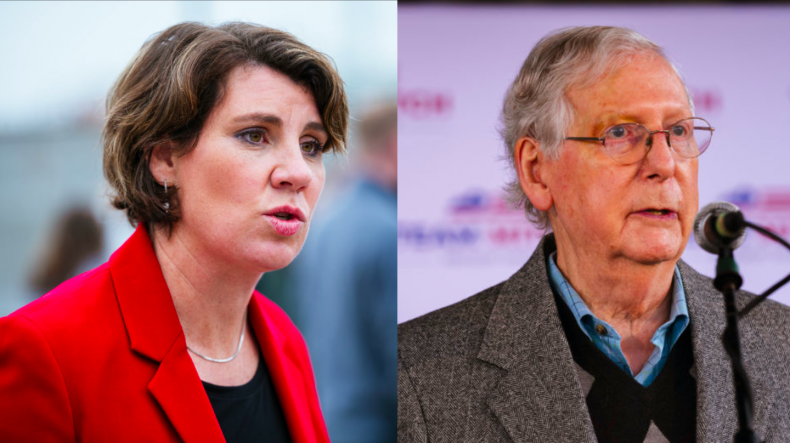 Another poll carried out by Mason-Dixon Polling & Strategy in October showed McConnell with the backing of 51 percent of likely Kentucky voters as opposed to 42 percent who favored McGrath—a 9 point margin in favor of the Republican incumbent. The margin of error for that survey was plus or minus 4 percentage points.
Polling by Bluegrass Community and Technical College in late October showed similar results. McGrath was down by 10 percentage points, with McConnell supported by 50 percent of registered voters. Just 40 percent backed the Democratic candidate. The only public poll to show McGrath with a slight lead over McConnell came from RMG Research back in June. McGrath was supported by 41 percent of registered voters and McConnell was backed by 40 percent—a lead of just 1 point for the Democrat.
McConnell, although he has low approval ratings nationally, benefits from representing a deeply conservative state. President Donald Trump won Kentucky with a margin of nearly 30 percent over former Democratic presidential candidate Hillary Clinton in 2016. The current Democratic nominee, former Vice President Joe Biden, appears to be performing slightly better in the state—but still trails Trump by double digits in recent polls.
Even though McConnell looks likely to maintain his seat in the Senate, Democrats are still hopeful that they can remove him as majority leader by flipping enough GOP-held seats to take control of the upper chamber of Congress. The Cook Political Report currently rates two Republican-held seats as leaning toward their Democratic challengers while seven others are rated as "toss up" races. One Democratic-held seat, that of Senator Doug Jones of Alabama, is rated as leaning toward his Republican challenger.
In order to take control of the Senate, Democrats need to gain at least four seats. Republicans currently hold 53 seats, while there are 45 Democrats and two independents who caucus with their Democratic colleagues. FiveThirtyEight's Senate forecast shows Democrats have a 75 percent chance of taking control of the upper chamber of Congress. The Economist's forecast gives Democrats slightly better odds at 81 percent.