With just 10 days remaining until the November 3 general election, President Donald Trump and Democratic candidate Joe Biden are narrowing their focus on several key swing states, vying to nudge voters to side with their respective parties.
Although more than 52 million Americans have already cast their vote early ahead of the election, many states don't reveal data showing which parties the voters belong to, providing little insight into how either candidate is currently doing.
Newsweek analyzed recent polling data from nine of the battleground states deemed most essential to both Biden and Trump in their hopes to secure the presidency: Arizona, Florida, Georgia, Michigan, Minnesota, North Carolina, Ohio, Pennsylvania and Wisconsin.
Trump managed to win all of these states in 2016 with the exception of Minnesota, giving him the victory over Hillary Clinton.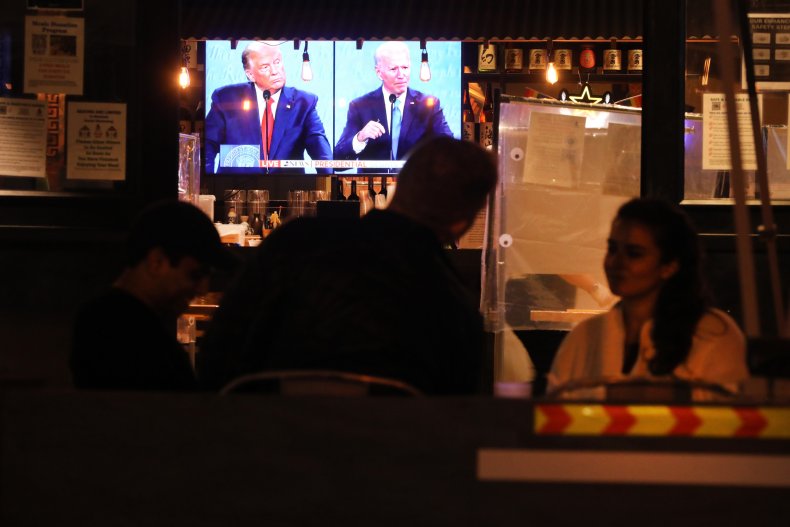 Arizona
With the exception of President Bill Clinton's win in 1996, Arizona's 11 electoral votes have gone to the Republican candidate since 1952, according to 270 To Win. But the most recent survey, conducted by Susquehanna Polling and Research from October 19 to 22, has both Biden and Trump tied among voters at 46 percent each.
Two recent polls conducted by Ipsos and Rasmussen Reports show Biden in the lead, 49 and 48 percent to Trump's 46 percent, respectively. But a Morning Consult survey conducted between October 11 and 20 has Trump pulling ahead by just one percentage point, 48 to 47.
Florida
Florida, with its 29 electoral votes, is essential for Trump. Many pundits have said that his entire re-election hinges on scoring the Sunshine State. But its large, diverse population featuring both rural pockets and major cities like Miami is reflected in Florida's voting patterns.
A Rasmussen Reports poll conducted among likely voters on October 20 and 21 found Trump leading in the state by four percentage points, 50 percent to Biden's 46 percent. But a St. Pete/Florida Politics poll from October 21 and 22 had Biden winning, 49 to 47 percent.
An Ipsos poll conducted October 14 to 21 had Biden receiving 51 percent of voters' support, compared to Trump's 46 percent. A Morning Consult poll surveyed voters between October 11 and 20, with 52 percent of them saying they were likely to cast their ballot for Biden, compared to the 45 percent who chose Trump.
Both campaigns have recognized the state's importance. Trump hosted a rally in Orlando on Friday and former President Barack Obama traveled to Miami on Saturday to celebrate the first day of early voting.
Georgia
Georgia, once considered a reliably red state, has proven to be problematic for Trump. He won the state's 16 electoral votes by more than five percentage points in 2016, but two recent polls show him tied with Biden.
Both Morning Consult and Siena College/New York Times Upshot polls had the two candidates receiving equal support among voters. An Emerson College poll conducted October 17 to 19, however, put Trump one point ahead, receiving 48 percent of voters' support compared to Biden's 47 percent. But a SurveyUSA poll conducted the week prior, from October 8 to 12, had Biden edging ahead, 48 to 46 percent.
Michigan
Michigan has also shown mixed results in recent polls. A Zia Poll survey conducted among likely voters from October 11 to 18 found Trump leading by four percentage points, 49 to 45 percent. But an EPIC-MRA poll conducted between October 15 and 19 saw Biden leading by nine points, 48 to 39 percent.
Comparatively, a Morning Consult poll and a Fox News poll both put Biden in front by sizable amounts in the state, which carries 16 electoral votes.
Minnesota
Minnesota voters are consistently expressing their support of the Democratic candidate over Trump. The majority of recent polls show Biden leading by wide margins.
A Morning Consult poll conducted October 11 through 20 found that 51 percent of likely voters backed Biden, compared to the 42 percent who chose Trump. A Civiqs poll taken from October 17 to 20 similarly found Biden leading, 53 percent to Trump's 43 percent.
In a SurveyUSA poll conducted October 16 through 20, Biden was beating Trump by six percentage points, but a Change Research poll conducted days earlier had him in leading Trump by five. The state holds 10 electoral votes.
North Carolina
Polls have Biden performing surprisingly well in North Carolina, a state Trump won by nearly four points in 2016. A Rasmussen Reports poll conducted October 20 and 21 had the president ahead by one percentage point, but several others all show Biden taking the lead.
Recent surveys conducted by Morning Consult, East Carolina University and The Washington Post/ABC each show Biden at least three percentage points ahead of his competitor, suggesting that the state's 15 electoral votes are at risk of going to the Democrat this year.
Ohio
In Ohio, polls are split when it comes to which candidate voters prefer. Recent surveys by Morning Consult and Fox News both found Trump leading Biden by at least two percentage points.
Two polls conducted by Rasmussen Reports and Quinnipiac University, however, each put the Democrat ahead by a narrow margin, with Biden receiving 48 percent of support to Trump's 47 percent. Ohio holds 18 electoral votes.
Pennsylvania
Trump flipped Pennsylvania in 2016, receiving its 20 electoral votes after the state hadn't voted for a Republican president in six election cycles, 270 To Win reported.
But several of the polls have Biden leading, as his team increasingly turns their focus on the state. Obama campaigned there on Wednesday, hosting a drive-in rally to encourage the importance of voting early. Polls conducted by Morning Consult, Muhlenberg College, Fox News and Suffolk University each had Biden in front of Trump by at least five percentage points.
Wisconsin
Wisconsin, which was also a key battleground state in the 2016 election, saw its 10 electoral votes go to Trump four years ago. Voters are conflicted now as well, according to recent polling.
A Morning Consult survey conducted October 11 through 20 found Biden with his most significant lead against Trump, with 54 percent of voters saying they'd cast their ballots for the Democrat, compared with the 42 percent who chose Trump.
An RMG Research poll found Biden ahead by six percentage points, 50 to 44 percent. A Fox News poll conducted with registered voters gave Biden just a four-point lead, 48 to 44 percent. But a Susquehanna polling survey conducted from October 16 to 19 found the two candidates tied, both receiving 45 percent of voters' support.