What Pope Francis Has Missed on TV Since He Stopped Watching in 1990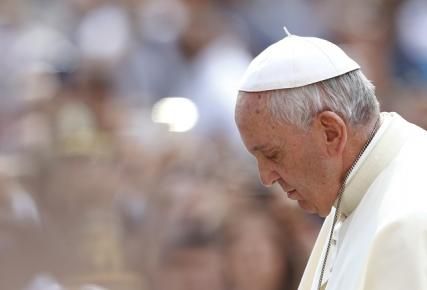 TV isn't for Pope Francis. At least that's what he admitted in a recent interview with an Argentine newspaper.
The 78-year-old Catholic leader revealed that he hasn't watched TV since July 15, 1990, when he made a vow to the Virgin Mary that he would never tune in again.
"It's not for me," he said, according to a translation.
Francis, the first Latin American pontiff, took control of the papacy from Pope Benedict XVI in March 2013. Since then, he has made significant rhetorical breaks with Catholic tradition and focused on helping homeless men and women.
He stands by his promise, but has missed some of the most talked about entertainment and sports moments in the past two decades,
1. Reality-Based Television
This genre of TV programs arguably started in 1991 with Nummer 28, a Dutch reality soap opera that brought together student strangers and recorded their interactions in Amsterdam. It then exploded into a phenomenon in the late 1990s and early 2000s with the success of such shows as Survivor, Real World, The Bachelor, The Real Housewives, The Biggest Loser, Say Yes to the Dress and Jersey Shore.
2. Friends
Central Perk. Smelly Cat. Ross and Rachel's break up. "My eyes, my eyes!" The doll house fire. Chandler's proposal to Monica. "How you doin'?" Phoebe's wedding. Ross' tan. I'll Be There for You.
These mean nothing to the pope because the highly popular series ran from 1994 until 2004.
3. American Idol: The Search for a Superstar
Francis missed "A Moment Like This" when Texas-born Kelly Clarkson won the first season ofAmerican Idol on September 4, 2002. Her victory started the first of 15 ongoing seasons, a hurrah set to end next year.
4. Super Bowl XXXVIII Halftime Show
The game between the Carolina Panthers and the New England Patriots on February 1, 2004 might arguably be best remembered for "Nipplegate." Former 'N Sync leader Justin Timberlake exposed Janet Jackson's nipple during the halftime show. The incident was later referred to as a "wardrobe malfunction."
5. Boston Red Sox End 86-Year Drought
For the first time in 86 years, the Red Sox won its first World Series title on October 27, 2004. The year also marked the 100th World Series. The team ended the so-called Curse of the Bambino, a superstition among fans that began when the team sold star player Babe Ruth to the New York Yankees in 1920.
6. Balloon Boy Hoax
Richard and Mayumi Heene released a gas balloon filled with helium in Fort Collins, Colorado, and claimed their 6-year-old son Falcon was inside it. The incident gained worldwide media attention for hours on live TV, as helicopters broadcasted video of the balloon and rescue operation.
Francis, viewed by many as a progressive pope, might have followed "balloon boy" on blogs and other social media networks. The event, which took place on October 15, 2009, later was deemed a hoax after the balloon landed near the Denver International Airport.
7. Royal Wedding
The pope apparently wasn't one of the millions of people in 180 countries who watched the wedding of Prince William and Catherine Middleton on April 29, 2011. But people's fascination with the couple didn't stop at the wedding. Reporters staked out the British hospital where the duchess delivered the couple's first child, Prince George of Cambridge, two years later ahead of its July 2013 delivery.
8. 2014 FIFA World Cup Final
Germany defeated Argentina 1-0 in extra time on July 13, 2014. The match was the third final between those two countries, following games in 1986 and 1990.
The 1990 final had the same losing outcome for Argentina on July 8, seven days before Francis stopped watching TV.
(Francis, who is from Argentina, said during his interview with the newspaper that a Swiss Guard keeps him updated on the scores of his favorite soccer team, Buenos Aires–based San Lorenzo.)
9. Mayweather-Pacquiao fight
The pope is lucky he saved money earlier this month by not watching the "Fight of the Century" between American Floyd Mayweather and Filipino Manny Pacquiao. Pacquiao said a shoulder injury hindered his ability to give Mayweather a first-ever defeat as a professional in the world welterweight championship on May 2.