What is Project Roomkey? Echo Park's Homeless Residents Being Offered Temporary Shelter
Authorities in Los Angeles moving to clear a homeless encampment in the city's Echo Park have said that some homeless residents have been moved into hotel rooms being rented by the city.
They are being temporarily housed through Project Roomkey, a state program that sparked protests when it was launched last year to house vulnerable homeless people and curb the spread of the coronavirus, officials said.
"More than 120 people experiencing homelessness at Echo Park Lake have been successfully moved into transitional housing. This includes non-congregate shelter options at a nearby Project Roomkey site," L.A. City Councilmember Mitch O'Farrell said on Twitter as people protested the park's closure for repairs, which would displace a large homeless encampment.
O'Farrell added that homeless service providers would return Thursday "to offer shelter and services to anyone who wants and needs the assistance."
But according to the Los Angeles County website, rooms under Project Roomkey are reserved for the most vulnerable members of the homeless population. To qualify, they must be aged 65 and older, or have underlying medical conditions or be medically compromised.
Project Roomkey aims to "protect the most vulnerable people in our communities, prevent the spread of COVID-19 and protect capacity in our healthcare system," the website states.
"In addition, in this period of economic uncertainty, Project Roomkey is keeping local businesses open and members of our community employed, with local tax revenue benefiting local cities."
In order to get a room, the Los Angeles Homeless Services Authority (LAHSA) said people "are pre-screened and selected by a homeless services provider or referred by an outreach team before they can be transported to the location. Clients cannot walk-up and access the sites without a referral."
Once allocated a room, people must adhere to rules of the sites, LAHSA said. They receive three meals a day and help finding stable housing.
When California Gov. Gavin Newsom announced the program in April last year, he said federal government funds would help pay for an initial goal of around 15,000 rooms across the state during the pandemic. Los Angeles County, which has the biggest homeless population in the state, set its own target of 15,000 rooms.
More than 66,000 people in Los Angeles County are homeless, according to data released in June last year, though the figures represent numbers from January before the impact of the COVID-19 pandemic was felt.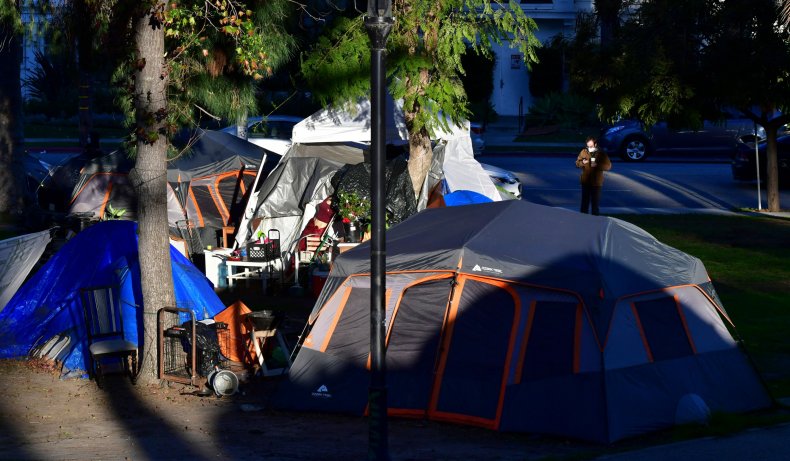 However, the most recent report about Project Roomkey states that only 2,616 rooms have been rented in Los Angeles County as of March 22, with 1,724 currently occupied.
Data compiled on Project Roomkey Tracker, a website launched to track the program's efforts, shows the county has not come even close to meeting its target in almost a year.
Earlier this month, the Los Angeles Times reported that officials don't plan to expand the number of rooms they are renting, citing budget concerns. The rooms will only be available through September at the latest.
Officials say the county, LAHSA, as well as non-profits are working to develop a "comprehensive" plan so that those housed by the program "do not return to the streets once the COVID-19 crisis comes to an end."
LAHSA has been contacted for comment.