What Putin May Really Have on Trump
At the end of January, on orders from Congress, the U.S. Treasury will publish a list of Russian President Vladimir Putin's "close associates"—from oligarchs to leading officials. There won't be any sanctions attached to this list—for now. But eventually, the people on the list will likely join dozens of top Putin lieutenants already banned from traveling or doing business in the West. Meanwhile, forensic accountants from the intelligence unit of the U.S. Treasury Department will start scrutinizing their finances.
It's unclear if such a move would damage Putin, whose approval ratings continue to soar despite multiple rounds of sanctions. But if Treasury inspects the Kremlin's breadcrumbs abroad, it may lead them to President Donald Trump—and ultimately help special counsel Robert Mueller.
In Fire and Fury, Michael Wolff's scandalous new book about the White House, Trump's former chief strategist, Steve Bannon, warned that Mueller's investigation will focus on money laundering. He predicted that the special counsel was going to "crack Don [Trump] Jr. like an egg on national TV." A new sanctions-related spotlight on the business dealings of top Russian oligarchs' will only add to Mueller's ongoing scrutiny.
Take Deutsche Bank, for instance, which U.S. and European regulators fined last year for helping Russian oligarchs move their money offshore. Deutsche has also been a long-time creditor of the Trump business empire. Last December, it was reportedly subpoenaed by Mueller, who is trying to determine if Russia—as it interfered in the presidential election—coordinated its efforts with the Trump Team. In January 2017, the bank was hit with hundreds of millions in penalties by the New York State Department of Financial Services (DFS) for violating anti-money laundering laws following a "mirror trading" scheme that shifted billions from the bank's Moscow branch to New York and London and then onto the British Virgin Islands and other tax havens, according to DFS Superintendent Maria Vullo.
Related: Is Trump's dark Russian secret hiding in Deutsche Bank's vaults?
"Basically, DB was putting money from [Russian] oligarchs into one pocket and lending the Trump Organization hundreds of millions from the other," says Tim Brown, a London-based financial investigator who has done Russia-related work for Kroll Associates and other asset-tracing companies. "So far, there's no proven connection between those pockets…In large banks like DB, it's quite plausible that the guys at those two departments have never even met. But [the FBI and Treasury] will also be looking at the oligarchs' private investments. Any of that money finds its way into Trump businesses and bam, you got a smoking gun…on money laundering."
Glenn Simpson, founder of Fusion GPS, the business intelligence company which commissioned the now-infamous Trump dossier from ex-MI6 officer Chris Steele, has also suggested that Trump could be connected to dirty Russian money. In his November testimony to the House Intelligence and Senate Judiciary committees, Simpson said his private investigations into Trump's finances had revealed "patterns of activity that we thought might be suggestive of money laundering"—including "fast turnover deals and deals where there seemed to have been efforts to disguise the identity of the buyer." He also noted that in the late 2000s, Trump was in urgent need of capital because many mainstream banks were wary of his multiple corporate bankruptcies. Simpson did not back up his allegations with concrete evidence of wrongdoing by the Trump Organization—though former Trump campaign manager Paul Manafort has already been indicted by the FBI for laundering Ukrainian oligarch money through Cypriot banks, among others.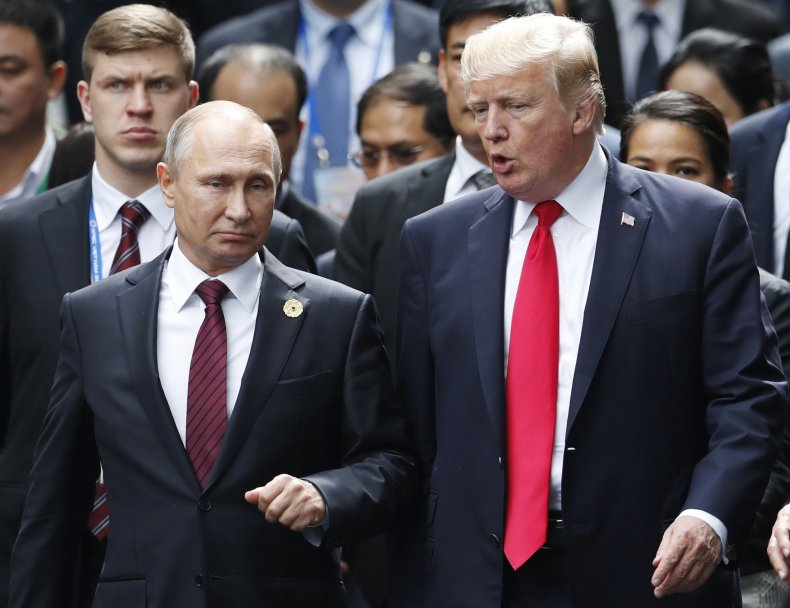 "The allegation that concerns me most is...the issue of money laundering, and not money laundering alone by Mr. Manafort but whether the Russians also laundered money through the Trump Organization," Representative Adam Schiff of California, the ranking Democrat on the House Intelligence Committee, told The Atlantic in October. "I mention that because when most people think of kompromat ['compromising material' in Russian], they think of the salacious video. But if the Russians were laundering money... that would be a very powerful lever the Russians would have over the president of the United States."
Trump has insisted that he has "...nothing to do with Russia—no deals, no loans, no nothing," as he wrote on Twitter. But last May, golf writer James Dodson said that during a 2014 interview, Trump's son Eric boasted that his father's company had access to Russian money. "We don't rely on American banks," Dodson said Trump told him. "We have all the funding we need out of Russia." (Eric Trump later denied he made this claim.) Likewise, in 2008, Donald Trump Jr. told a real estate conference that "Russians make up a pretty disproportionate cross-section of a lot of our assets," and later added, "We see a lot of money pouring in from Russia."
Investigators searching for links between Putin cronies and Trump's businesses will have to trawl a vast sea of evidence. Some $31.3 billion left Russia in 2017 alone, according to the country's Central Bank, a 160 percent increase from the previous year. And that's just the official figure. In April 2016, the Panama Papers—the leaked records of Mossack Fonseca, the world's fourth biggest offshore law firm—revealed a complex network of offshore companies that Russian oligarchs and Putin associates used to hide their money.
One trail lead from Panama, through Russia, Switzerland and Cyprus to Putin's best friend Sergei Roldugin, a cellist who introduced the Russian president to his now ex-wife Lyudmila (he's also the godfather to Putin's older daughter, Maria.) Roldugin is named in Mossack Fonseca's records as the owner of multiple business interests worth $2.1 billion. In January, Anders Åslund, a senior fellow at the Atlantic Council, alleged that some $800 million of Roldugin's money was traceable to a 2008 heist organized by corrupt police and tax officials that plundered stolen companies—and resulted in the murder Sergei Magnitsky, an anti-corruption lawyer, who had tried to