What is Shelter in Place and What Does It Mean? U.S. Cities Issue Order Amid Coronavirus Pandemic
The San Francisco Bay Area was the first in the U.S. to institute a "shelter in place" directive in an effort to combat the threat posed by the COVID-19 coronavirus pandemic, and other cities are beginning to mirror the move.
Shelter in place directives are intended to help stem the spread of the virus by keeping people isolated at home. All non-essential businesses are ordered closed under the directives, leaving only hospitals, fire departments, law enforcement and limited essential businesses including grocery stores and pharmacies open.
Although the directives can fall short of the fully enforced lock downs that multiple European countries have implemented to combat the virus, breaking the order in San Francisco is a misdemeanor.
Shelter in place orders do not apply to essential workers but everyone else would typically only be allowed to venture outside for reasons like getting groceries or visiting a pharmacy or doctor. The San Francisco order makes an exception for exercising or walking pets outside, although people are required to maintain a distance of six feet.
Similar directives have been used in the past, although mostly due to major natural disasters like tornadoes or hurricanes, or when "chemical, biological, or radiological contaminants may be released accidentally or intentionally into the environment," according to the American Red Cross.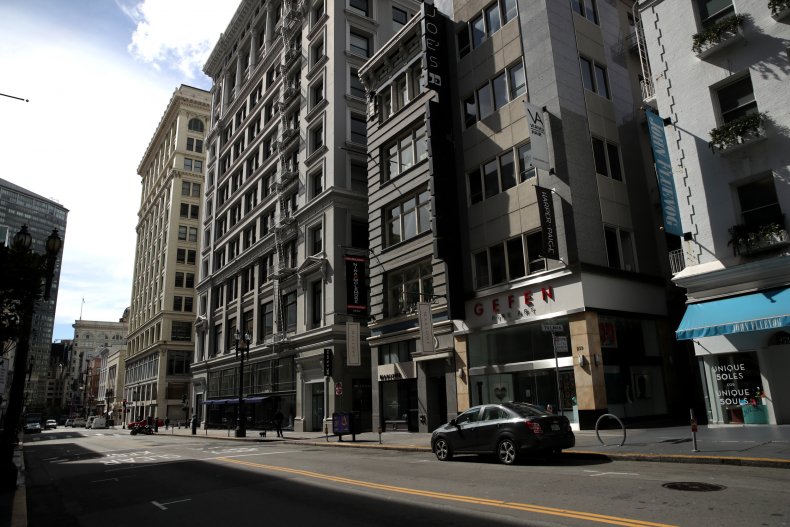 The Centers for Disease Control and Prevention say that locations to shelter in place can vary depending on the emergency. Unlike directives given during natural disasters or other immediate threats, there was a slight delay from when the San Francisco order was announced to when it was implemented. Other directives intended to contain COVID-19 in the U.S. are likely to be similar.
The order went into effect Tuesday for seven Northern California counties encompassing and surrounding San Francisco, covering an estimated seven million people until at least April 7. A similar order was issued in Southern California later that night, when officials in Palm Springs ordered residents to shelter in place.
New York City Mayor Bill de Blasio was also said to be considering issuing a shelter in place directive for inhabitants of the nation's largest city, saying Tuesday that he is likely to make his decision in the next 48 hours.
"New Yorkers should be prepared right now for the possibility of a shelter in place order," de Blasio said during a press conference. "It has not happened yet, but it is definitely a possibility at this point. I believe that decision should be made in the next 48 hours."
However, New York Governor Andrew Cuomo immediately threw cold water on the suggestion, with his office issuing a statement insisting that such an order would require authorization at the state level and that "there is no consideration of that for any locality at this time."