New York City Mayor Bill de Blasio confirmed Tuesday that he is "absolutely considering" a shelter in place order for residents of the largest metropolitan area in the U.S. due to the coronavirus pandemic, noting that "all other options" are on the table.
On Monday, six counties in California's Bay Area, which includes San Francisco and Oakland, announced "shelter in place" orders, barring residents from leaving their homes and ordering them to avoid contact with others for the next three weeks, except for essential purposes. Asked whether New York City could take a similar step to curb the spread of coronavirus, De Blasio told CNN Tuesday that it was definitely an option being considered.
"We're absolutely considering that," the Democratic mayor said. "I mean right now we have taken a series of steps to reduce the number of people who are circulating around. You have people that telecommute, obviously social distancing, closing the schools, which was particularly painful, closing the bars and restaurants. But we're going to look at all other options," he said.
"It could get to that for sure," de Blasio said of a possible shelter in place order. "It could get to that for the whole country," he said.
New York City ordered all restaurants, bars, gyms and movie theaters closed as of Monday evening. Restaurants are allowed to deliver food to residents and New York Governor Andrew Cuomo noted that an extraordinary exception would be made to allow bars and other liquor establishments to deliver alcohol to residents' doors. Several other states and municipalities have taken the same or similar steps to curb the spread of the novel virus.
Italy, which has become the hardest-hit country in Europe by the pandemic, has implemented a nationwide lockdown. Residents are only allowed to leave their homes to seek medical care, go to the pharmacy or to buy groceries. All non-essential businesses have been shuttered, and residents now face fines and even jail time if they leave their homes for non-essential purposes.
During a Monday press conference, Trump dismissed reports of a possible nationwide lockdown in the U.S. However, he released a series of guidelines to curb the spread of the pandemic, which include seriously restricting activities outside the home. The president called for avoiding all gatherings of more than 10 people, advised against going to restaurants and bars, and encouraged people to work from home as much as possible.
"This is a bad one. This is a very bad one," he said of the coronavirus.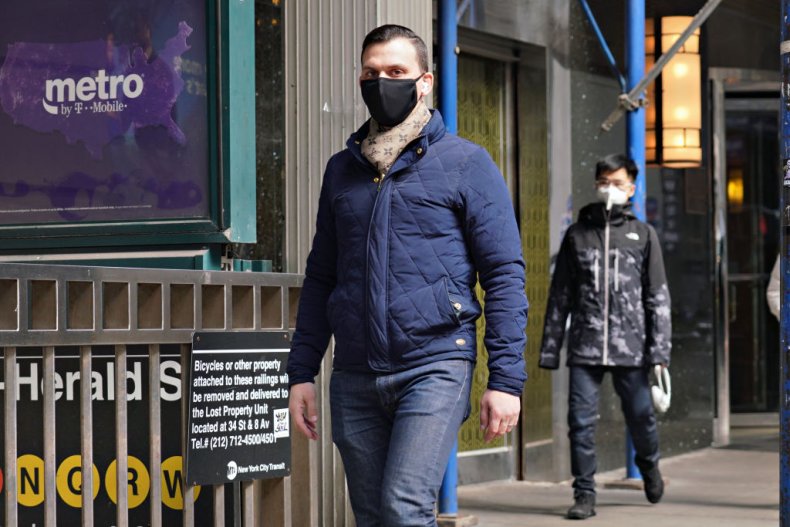 Health experts and doctors have largely praised and supported the social distancing recommendations and requirements implemented by local governments.
"I absolutely applaud the consideration for making restrictions to people's activities and social isolation, because I think that it's actually going to number one, reduce disease transmission and flatten the curve and number two give people some sense of confidence that there's action being taken," Dr. Jake Deutsch, co-founder and clinical director of Cure Urgent Care Centers and Specialty Infusion, told Newsweek.
"Stay at home. That's probably going to be the same message that we're going to be saying over and over until we have a better sense of what's going on," Deutsch added.
About the writer
Jason Lemon is a Weekend Editor at Newsweek based in Brooklyn, New York. Prior to taking on the editor role, Jason's reporting focused on U.S. politics and international affairs. He joined Newsweek in 2018, and had previously worked as a founding editor at a Middle Eastern media startup called StepFeed. He also worked a year as a contributor to The Atlanta Journal-Constitution and has bylines in The Christian Science Monitor, The Palm Beach Post, Al Fanar Media and A Magazine. He is a graduate of the American University of Beirut in Lebanon and Andrews University in Michigan. You can get in touch with Jason by emailing j.lemon@newsweek.com. Languages: English, Spanish, French and Levantine Arabic