'What to the Slave Is the Fourth of July?'—5 Stars Who Performed Frederick Douglass Speech
It is the Fourth of July and, all across the United States, people will be reflecting on the history of their beloved country.
As they celebrate the Declaration of Independence in 1776, they might also want to remind themselves of a speech delivered decades later by an abolitionist and former slave.
On July 5, 1852, Frederick Douglass—also an acclaimed writer, orator, social reformer and statesman—gave an address that has become known as "What to the slave is the Fourth of July?." Speaking at Corinthian Hall in Rochester, New York, Douglass pointed to the hypocrisy in the Declaration as slavery still flourished throughout the United States.
His speech has been widely taught in history and English classes in U.S. high schools and colleges, and remains an important part of the country's history.
Over the years, it has been recited by several famous performers, as well as by a group of Douglass' descendants.
On July 5 last year, National Public Radio released a video showing five young relations of the great abolitionist—Douglass Washington Morris II 20, Isidore Dharma Douglass Skinner, 15, Hayley Rose Watson, 17, Zoë Douglass Skinner, 12, and Alexa Anne Watson, 19—taking it in turns to read lines.
Here are five of the famous actors and activists who have also delivered the speech.
James Earl Jones
On July 5, 2004, Star Wars actor James Earl Jones recited an excerpt for Howard Zinn and Anthony Arnove's project Voices of a People's History of the United States.
Sixteen years later, Jones' rendition was shared with millions on social media when NBA superstar LeBron James posted a clip to his Twitter and Instagram accounts.
Morgan Freeman
Oscar winner Morgan Freeman has also recited an excerpt of "What to the slave is the Fourth of July?" His credits include The Shawshank Redemption, Million Dollar Baby and the Dark Knight trilogy—as well as Invictus, in which he played another great orator, Nelson Mandela.
Danny Glover
Like Jones, Danny Glover delivered Douglass' words for Zinn and Arnove's history project. The actor and activist is best known for his role as Roger Murtaugh in the Lethal Weapon films and his performance in The Color Purple.
He is an active campaigner for civil rights in the U.S. and around the world, and a long-time union supporter.
Ossie Davis
The actor and civil rights leader Ossie Davis delivered many great speeches in his lifetime, including a eulogy at the funeral of Malcolm X, a tribute to Martin Luther King the day after his assassination—and, in a 1975 recording, Douglass' address.
Davis and his wife Ruby Dee were prominent figures in the civil rights movement and close friends of Malcolm X, Jesse Jackson and MLK. The couple helped to organize the 1963 March on Washington for Jobs and Freedom and served as its emcees.
He had more than 100 credits as an actor and, later in life, became known for roles in Spike Lee films. He died in 2005.
Baratunde Thurston
Comedian, writer and critic Baratunde Thurston performed "What to the slave is the Fourth of July?" on stage in 2016. Thurston co-founded the political blog Jack and Jill Politics and published a bestselling book, How to be Black, in 2012.
What Does the Speech Say?
Douglass argued in 1852 that celebrating values such as freedom and citizenship on Independence Day was offensive to the enslaved population of the United States, who lacked liberty and identity.
Douglass called the Founding Fathers "brave" and "great men," but pointed to the hypocrisies of the Declaration of Independence that preached "life, liberty and the pursuit of happiness."
He said: "This Fourth of July is yours, not mine, You may rejoice, I must mourn.
"What have I, or those I represent, to do with your national independence?
"Are the great principles of political freedom and of natural justice, embodied in that Declaration of Independence, extended to us?"
He continued: "What, to the American slave, is your Fourth of July? I answer; a day that reveals to him, more than all other days in the year, the gross injustice and cruelty to which he is the constant victim."
Douglass also criticized the churches for betraying their Christian values by not taking a stand against slavery.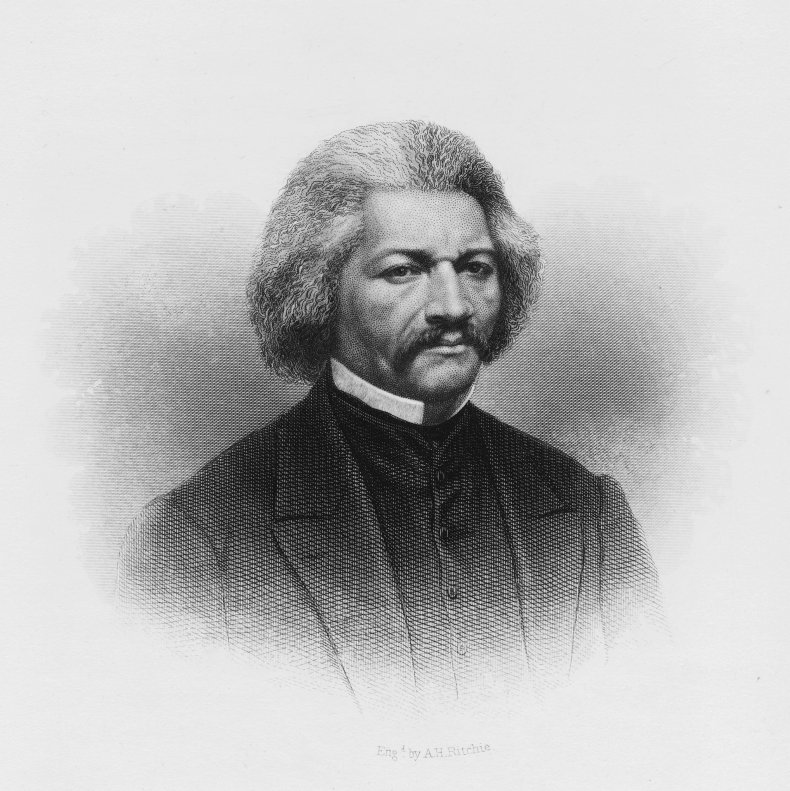 He said of the Founding Fathers: "Oppression makes a wise man mad. Your fathers were wise men, and if they did not go mad, they became restive under this treatment. They felt themselves the victims of grievous wrongs, wholly incurable in their colonial capacity. With brave men, there is always a remedy for oppression."
Toward the end of his speech, Douglass made a plea for the abolition of slavery, arguing that the institution could be abolished with the support of the church.
Abraham Lincoln's Emancipation Proclamation came into effect on January 1, 1863, but it took longer for slavery to end across the U.S. The final slaves in the Confederacy were freed in Texas on June 19, 1865—known as Juneteenth and now a federal holiday.