What Is Juneteenth and How Long Has It Been Celebrated?
Juneteenth has become a federal holiday in the U.S some 156 years since the liberation of the last enslaved Black people in Texas.
President Joe Biden signed a resolution on Thursday proclaiming the first national holiday declared since then-President Ronald Reagan named Martin Luther King Jr. Day a holiday in 1983.
The federal holiday will be celebrated each year on June 19, but this year the celebrations will be held a day earlier as June 19 falls on Saturday.
Juneteenth has evolved and grown in the decades since it was first marked with local festivities and commemorations. Here's all you need to know about Juneteenth's meaning and history.
What is Juneteenth?
A day of celebration for African Americans, Juneteenth marks the official end of slavery across the country on June 19, 1865, when Texas became the final state to announce the Emancipation Proclamation.
The proclamation—which was issued on January 1, 1863, by President Abraham Lincoln as the Civil War raged—had been rolled out across the U.S. with varying degrees of speed.
Because there were not enough Union troops in Texas to enforce the Executive Order, it lagged behind other states. The last enslaved Black people in the Lone Star State did not learn of their freedom until June 1865.
On the 19th, Union General Gordon Granger arrived in Galveston to announce that the Civil War had ended—Confederate General Robert E. Lee had surrendered two months earlier—and slavery had been outlawed.
The date is already recognized as a state holiday or special day of observance in 47 of the 50 U.S. states—and on Thursday it officially became a federal holiday and the first national holiday declared since then-President Ronald Reagan named Martin Luther King Jr. Day a holiday in 1983.
"This is a day that's profound in my view—profound in weight and profound in power," Biden said.
"I'm especially pleased that we showed the nation that we can come together as Democrats and Republicans to commemorate this day with an overwhelming bipartisan support in Congress."
Americans' familiarity with Juneteenth remains somewhat limited, however. As this graphic from Statista shows, 28 percent of respondents to a Gallup poll conducted in May this year admitted knowing nothing about the day.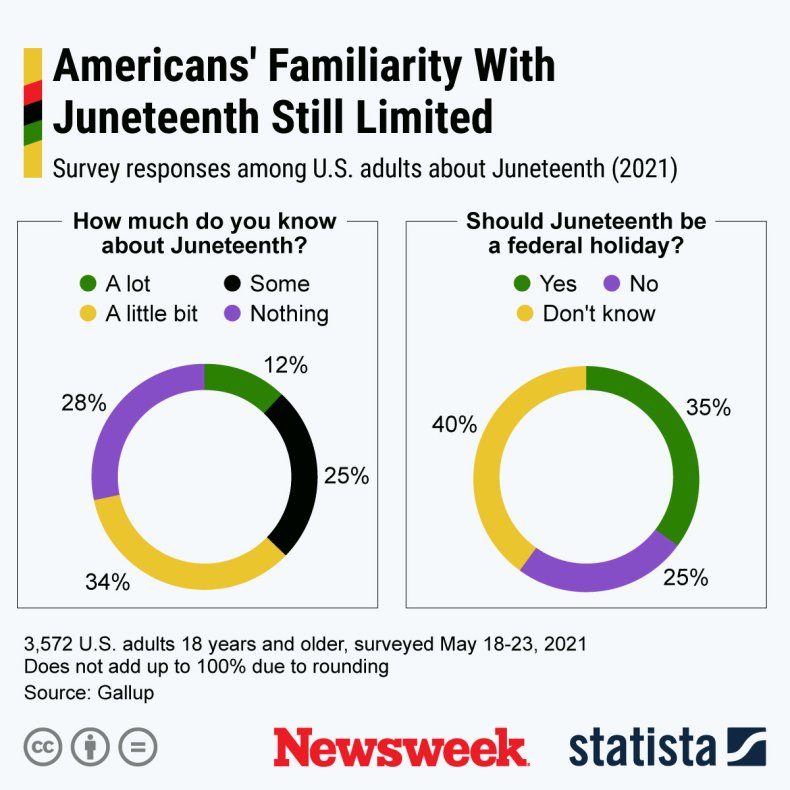 How long has Juneteenth been celebrated?
Sometimes referred to as Freedom Day, Juneteenth Independence Day or Emancipation Day, Juneteenth has been celebrated since 1866.
According to Juneteenth.com, the event initially attracted little interest outside the African American community. Celebrations mostly took place in rural areas or church grounds, because they were often barred from being held on public property. In 1872, a group of Black businessmen organized by Rev. Jack Yates purchased 10 acres of land in Houston for $1,000 and created Emancipation Park as a site for the annual Juneteenth celebration.
Celebrations declined steeply during the Depression as many people moved from rural areas into the big cities in search of work, before a resurgence was sparked by the Poor People's March to Washington, D.C. in 1968.
In 1980, Texas became the first state to designate the day as a holiday—the latest to join the club are New York, Virginia and Washington—and Juneteenth has grown in popularity ever since.