What Is Tinder U? Dating App Rolls Out New Version for College Students
Online dating app Tinder has announced an update for college students.
Starting in U.S. colleges today, Tinder U will be available to students with an education (.edu) email address. It will launch on iOS devices (iPhone and iPad) at "four-year, accredited, not-for-profit schools that deliver courses in a traditional face-to-face learning format."
Tinder U will prioritize students who attend the same school. When you open the app, classmates will appear before other (non-student) people. "Need a study buddy? Not a problem," Tinder wrote in its announcement. "Coffee date on the quad? We've got you covered. Freshman year and you don't know a soul? This is your ticket to the coolest crowd on campus. Let's face it—it doesn't get any classier than this."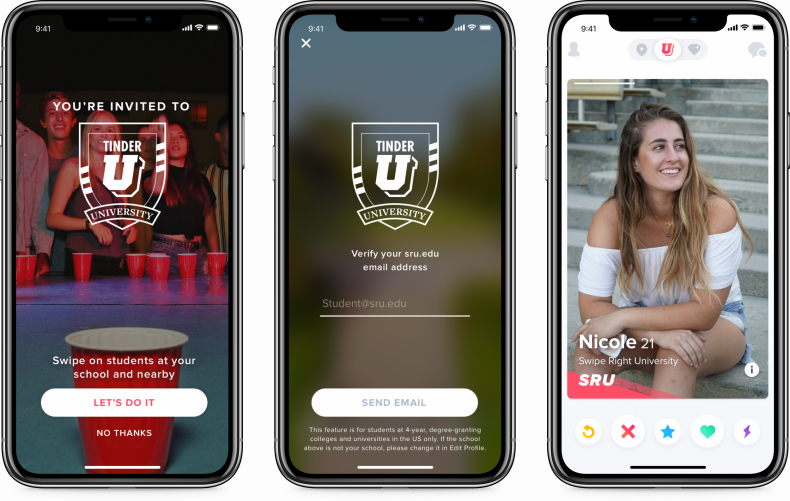 Students who want to sign up will need to open the Tinder app and provide their education email. Tinder will send a verification email through for people to click. Once verified, Tinder will work the same as usual, just prioritizing students' matches with other students.
If you want to expand your searches beyond your campus, Tinder also lets you select nearby schools. "That's right, get ready to kiss those crosstown rivalries goodbye," the app declared.
Tinder U was announced several weeks ago by Tinder's parent company, Match Group. According to a Bloomberg report earlier this month, Tinder now has 3.7 million paying users, an 81 percent rise compared to 2017.
Tinder launched in September 2012 and introduced the paid subscription option in March, 2015 for $19.99 per month.
Despite a steep rise in subscriptions, Tinder is facing heavy competition from apps such as Bumble, which requires the woman to make first contact once matched. In August 2017, Match Group attempted to buy Bumble for $450 million. The company tried again in November, this time with an offer of "well over a billion dollars," according to TechCrunch.
Bumble said no again, and many spectators believed the company's refusal has more to do with its founder's principles than a payout.
Bumble founder Whitney Wolfe Herd occupied a senior marketing position at Tinder from 2012 to 2014. Though she remains legally bound from describing her experience at Tinder, she has hinted that the workplace environment was toxic to women. In 2014, Gawker published a series of disturbing text messages exchanged between Wolfe Herd and Tinder co-founder Justin Mateen, in which Wolfe Herd pleaded with Mateen to stop texting her and "get back to work."