What Tom Brady Has Said About His Friendship With Donald Trump
Tom Brady's thinly-veiled swipe at Donald Trump's claims of fraud at the 2020 presidential election raised eyebrows on Tuesday—not least because the athlete and former president have long been known to be friends.
As Tampa Bay Buccaneers quarterback Brady, 43, and his teammates visited the White House following their Super Bowl win, the sportsman joked about people not believing the Bucs' victory, alluding to fraudulent claims President Joe Biden, 78, was not the legitimate winner over Trump, 75, last year.
"We found our rhythm, we got on a roll. Not a lot of people think that we could've won," Brady said while discussing his team's Super Bowl win on February 7. "In fact, I think about 40 percent of the people still don't think we won."
Brady went on to make another joke about Biden and those that referred to him as "Sleepy Joe"—a name Trump repeatedly called his political opponent.
"We had a game in Chicago where I forgot what down it was. I lost track of one down in 21 years of playing," Brady said. "And they started calling me 'Sleepy Tom.' Why would they do that to me?"
With Trump currently suspended from Twitter, there has been no opportunity for his committed followers—and detractors, alike—to read any off-the-cuff reactions to Brady's jibes from the man himself.
However, it has been well-documented over the years that Brady and Trump have been firm friends since first meeting in 2001, when the real estate mogul asked the footballer to judge a Miss USA competition.
"He became someone who would come up to our games and stand on the sideline and would cheer for the Patriots," Brady told Howard Stern in an interview on his SiriusXM show in 2020. "He always had a way of connecting with people and still does."
Such was Trump's admiration for Brady that he even hoped the star would get together with his then-unmarried daughter, Ivanka Trump.
"I think he's a great character. I got to know him when he was a judge at a jitterbug contest I entered after the Patriots won the Super Bowl," Trump told Playboy in 2004. "He's a winner, and by that I mean every time he needs to make the pass he makes it.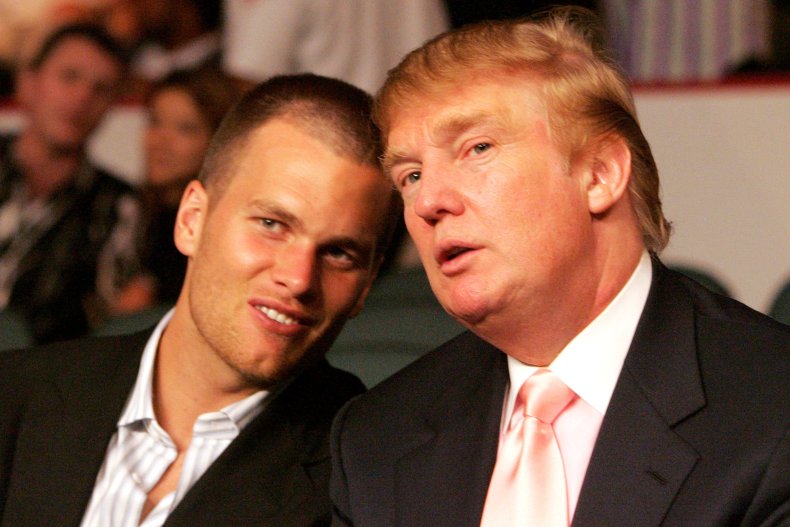 "You have other guys in the NFL and in life who have all the equipment but don't make the pass. I think Tom's a great guy, and I think he and Ivanka would make a great combination."
When Trump ran for president against Hillary Clinton in 2015, Brady's support appeared to be unwavering, with a signature Make America Great Again cap was seen in the football star's locker during his time with the New England Patriots.
In September 2015, an ESPN reporter asked Brady: "He's a guy who likes winning like you. You think he's got what it takes?"
"I hope so, that would be great," Brady responded. "There would be a putting green on the White House lawn, I'm sure of that."
The endorsement pleased Trump, who told The Washington Post in a December 2015 interview: "In Massachusetts, I'm at 48 percent. You know why? Tom Brady said Trump's the greatest.
"He says it to anyone who asks him. You know, it's hard for a guy like him to say that. When you're a football player, you don't want to be taking sides in campaigns and having the Hillary [Clinton] people now say you're not as good as Bart Starr. You understand. So Tom Brady is great."
Days later, Brady told WEEI on ESPN: "Donald is a good friend of mine. I have known him for a long time. I support all my friends. That is what I have to say. He's a good friend of mine. He's always been so supportive of me.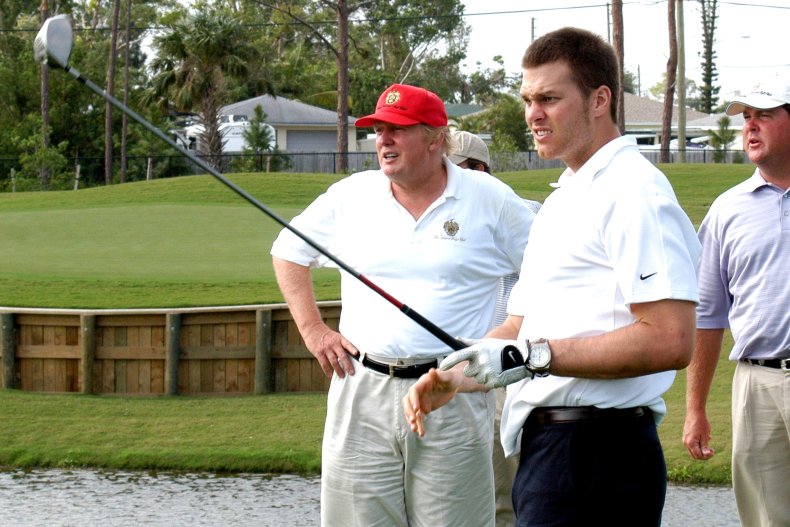 "For the last 15 years, since I judged a beauty pageant for him, which was one of the very first things that I did that I thought was really cool that came along with winning the Super Bowl. He's always invited me to play golf and I've always enjoyed his company.
"I support all my friends in everything they do. I think it's pretty remarkable what he's achieved in his life. You're going from business, kind of an incredible businessman and then a TV star, and then getting into politics. It's three different career paths. I think that is pretty remarkable."
Despite early support, much conversation surrounding Trump and his political career was deflected by Brady, who is married to supermodel Gisele Bündchen.
During his 2020 interview with Howard Stern, Brady admitted that he grew increasingly uncomfortable with the way his relationship was scrutinized.
"Then the whole political aspect came, and I think I got brought into a lot of those things because it was so polarizing around the election time," Brady said, per People. "It was uncomfortable for me because you can't undo things, not that I would undo a friendship, but political support is a lot different than the support of a friend."
Revealing that he declined an invitation from Trump to appear at the Republican National Convention in 2016, Brady added: "[Trump] wanted me to speak at that convention too, and I wasn't going to do anything political."
While he was invited to the White House by Trump and former President Barack Obama to mark the Patriots' Super Bowl wings in 2015, 2017 and 2019, Brady opted not to attend. Before returning on Tuesday, Brady's last accepted an invitation to the White House in 2005, when George W. Bush was president.