How Veterans Day's Meaning Evolved From an Armistice Celebration Into Trump's Twitter Inspiration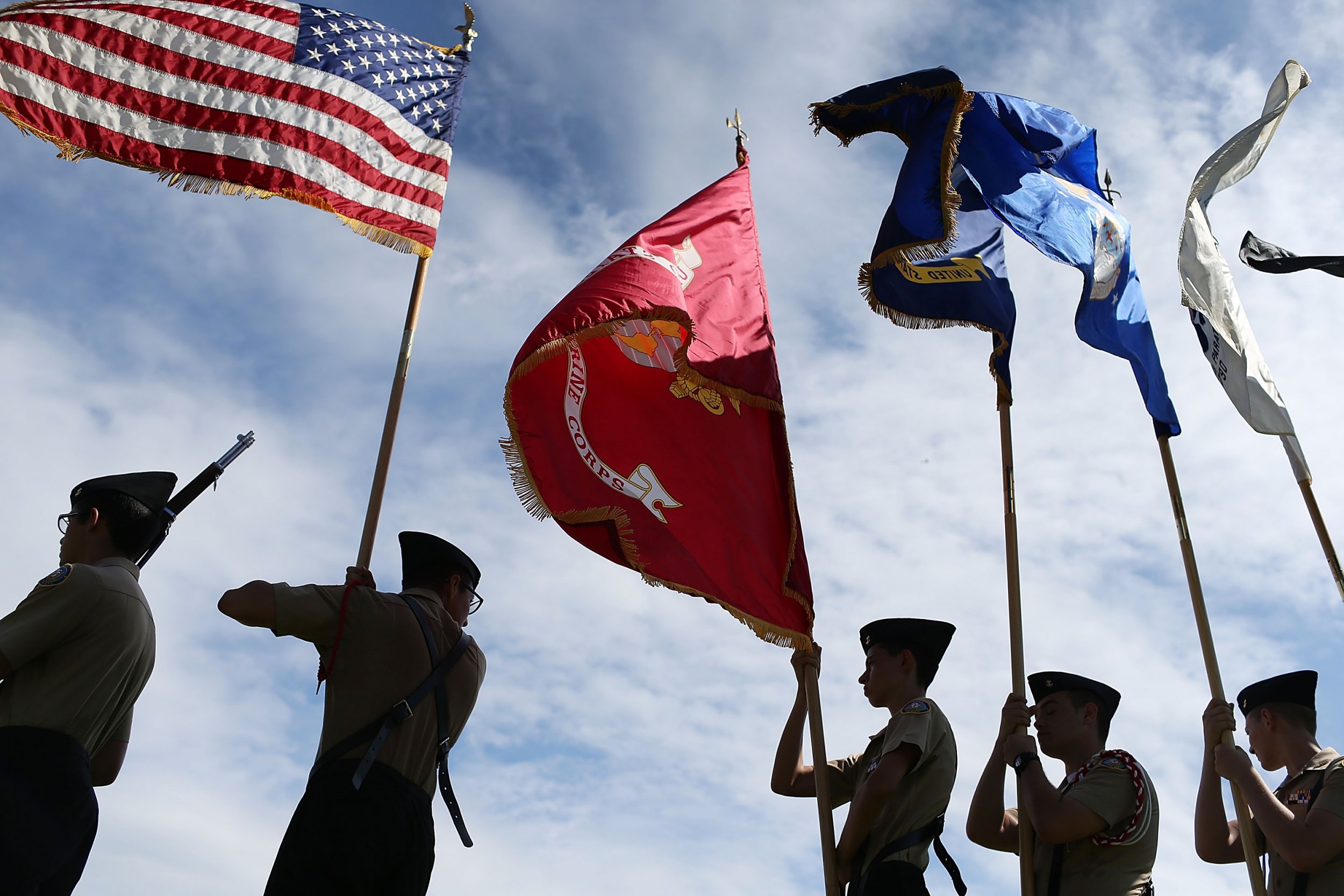 Judging from President Donald Trump's North Korea trash talk, the U.S. may be gearing up for war. But on Saturday, the country will recognize the end of it.
It's Veterans Day, a federal holiday intended to honor members of the Armed Forces who protect the nation. The observance turns 98 this year, meaning everyone—from Trump to curious schoolchildren to people simply glad they don't have work on Friday—should recognize there's almost a century's worth of history involved in the modern celebration.
That means it's time for a refresher course on how Veterans Day started and how its meaning has evolved over time:
The tradition dates all the way back to November 11, 1918, when an armistice ended the violence between Germany and the Allied nations at the 11th hour on the 11th day of the 11th month. The World War — remember, this was before there was a second global conflict to designate The Great War as "WWI" — was finally over. President Woodrow Wilson proclaimed:
My fellow countrymen: The armistice was signed this morning. Everything for which America fought has been accomplished. It will now be our fortunate duty to assist by example, by sober friendly counsel and by material aid in the establishment of just democracy throughout the world.
Americans rejoiced at the announcement, with The Ogden Standard declaring, "Greatest Day In All History Being Celebrated." A year later, Wilson made the commemoration official, naming November 11 as Armistice Day, according to the U.S. Department of Veterans Affairs. It was an occasion for Americans to feel "solemn pride" for the heroism of the military, recognized with parades and a two-minute reflection period at 11 a.m.
Congress caught on a few years later, in 1926; by 1938, Armistice Day was a legal holiday. But as the U.S. became involved in more wars, the scope of the observance widened. In 1954, Armistice Day was renamed to Veterans Day. That way, it could include the soldiers involved in World War II and the Korean War.
Even then, Veterans Day continued to change. Some people wore poppies, the flower featured in the 1915 poem In Flanders Field describing a battlefield of fallen soldiers. The VA now says the tradition is more closely linked to Memorial Day and more widely observed in Canada and the United Kingdom.
For a while, the holiday was moved to October in order to give federal employees a three-day weekend. This policy was eventually nixed, and starting in 1978 the observance was back on November 11.
Today there are about 18.8 million veterans in the U.S., according to the Census, with about half of them over age 65. Famous veterans include Ice-T, Morgan Freeman, Tony Bennett and Ben Bradlee. Trump, however, is not among them—he received five deferments during the Vietnam War for being a college student and allegedly having bone spurs in his feet.
Trump has proclaimed Saturday Veterans Day, writing in a statement that "we honor all Americans who have served in the Army, Navy, Air Force, Marines and Coast Guard, both in times of war and peace," but he's recently made a series of blunders in how he treats them.
After being called out for waiting days to contact the families of four U.S. special forces killed in Niger last month, Trump criticized his predecessors' handling of military deaths. He then got into a spat with Florida Congresswoman Frederica Wilson, a Democrat, who claimed Trump told the relatives of late Sgt. La David Johnson he "knew what he signed up for."
That could indicate that the meaning of Veterans Day 2017 will, too, be slightly changed from what it was 98 years ago.
No longer is it just a chance to watch parades, pause at 11 a.m., donate to veterans advocacy groups and thank members of the military. Now, Americans also need to keep an eye on the president's Twitter account. After all, that's where, in 2013, Trump said, "Happy Veterans Day to ALL, in particular to the haters and losers who have no idea how lucky they are!!!"