Scientists have identified the lifestyle which they believe is the most likely to prevent cancer.
Researchers reviewed the lifestyle recommendations of leading health organizations to pinpoint which is the most effective at lowering an individual's overall risk of developing the disease. They also looked into specific diseases: breast, colorectal and prostate cancers.
The study published in the journal Cancer Research named the recommendations by the World Cancer Research Fund and the American Institute for Cancer Research (WCRF/AICR) as the best.
Aside from not smoking, maintaining a healthy weight and exercising frequently are among the most important behaviors for avoiding cancer, according to the WCRF / AICR. A diet packed with whole grains, vegetables, fruits and beans but with minimal amounts of fast food, red and processed meats, sugary drinks, and alcohol is also advisable. Infants should be breastfed wherever possible, and dietary supplements—such as vitamins and mineral pills—should be avoided by the average person.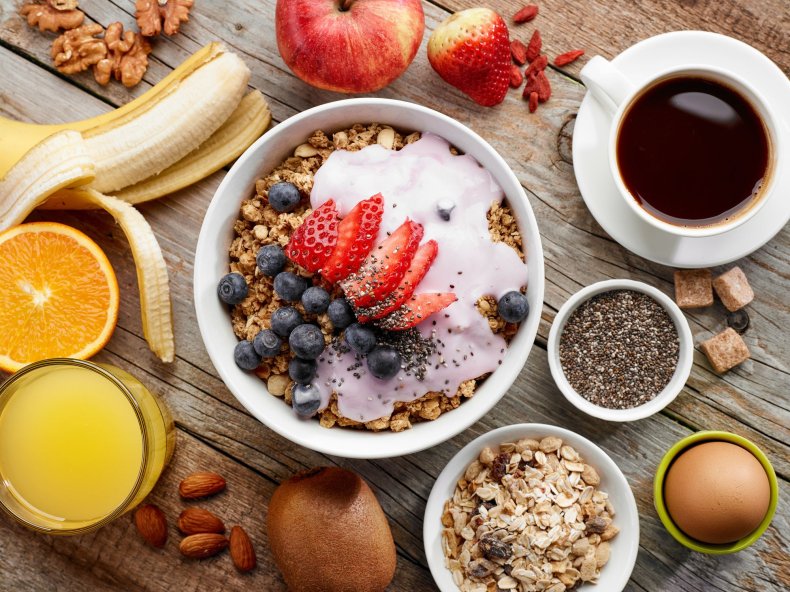 To find out which diet is the most effective, the researchers at the French National Institute of Health and Medical Research (Inserm), University of Paris 13, studied four lifestyle recommendations: the WCRF/AICR; the Alternate Healthy Eating Index; the French Nutrition and Health Program-Guidelines; and Medi-Lite. Each set of recommendations comes with a score that individuals can use to identify behaviors negatively affecting their health.
Every diet appeared to lower the risk of developing cancer, the authors found, but the WCRF/AICR that was designed with this purpose in mind appeared to have the most powerful results.
The researchers analyzed data from the French NutriNet-Santé study. Launched to understand how nutrition affects participants' health, it involved over 41,000 people aged 40 or older who were cancer-free. Every six months, the respondents logged all the food and drink they had consumed in the last 24 hours in an online diary. This data was used to score the participants according to the four lifestyle recommendations.
Read more: Most common childhood cancer is likely caused by lack of exposure to infections, major study finds
Every point participants gained on the WCRF/AICR score was linked with a 12 percent reduction in their overall cancer risk, a 14 percent drop in breast cancer and 12 in prostate cancer.
Dr. Mathilde Touvier, author of the study and head of the Nutritional Epidemiology Research Team (EREN) at Inserm, told Newsweek: "These cancer locations [breast and prostate], the most frequent in women and men respectively, are not necessarily associated with diet in the mind of the public.
"Yet, better adherence to dietary recommendations could significantly contribute to reduce their incidence. This study emphasizes the importance of combining a healthy eating pattern along with a regular physical activity, alcohol avoidance and maintaining a normal body weight, in cancer prevention."
But co-author Dr. Bernard Srour, of EREN-Inserm, highlighted a downfall of the research.
"This study, relying on data from a volunteer-based cohort, overrepresented health-conscious behaviors and higher socio-professional and educational levels as compared to the general French population," he told Newsweek. These factors could have skewed the results. In addition, the researchers found a correlation between the lifestyle and a reduced cancer risk: but more research is needed to prove it is causal.
"However, this does not change the main take-home messages and public health recommendations: a balanced diet along with a regular physical activity and alcohol avoidance," he said.
Read more: Obesity linked to 12 types of cancer in new report
Commenting generally on the reduction of cancer risks with diet, Rebecca McManamon, a qualified dietitian, oncology specialist and spokesperson for the British Dietetic Association, told Newsweek that being active and keeping a healthy weight are "strongly linked," especially with breast cancer. Losing five to 10 percent of bodyweight if a person is overweight also has a strong association.
There is no strong scientific evidence that ketogenic diets reduce the risk of developing cancer, however, she said.
Regarding the downfalls of the study, she highlighted that it only involved French participants so the results may not relate to other populations. "It also did not, due to French law, record ethnicity, which can impact on some risks of cancer. For example, prostate cancer is much more highly prevalent in men of black African or black Caribbean ethnicity," she said.
Uncommon Knowledge
Newsweek is committed to challenging conventional wisdom and finding connections in the search for common ground.
Newsweek is committed to challenging conventional wisdom and finding connections in the search for common ground.
About the writer
Kashmira Gander is Deputy Science Editor at Newsweek. Her interests include health, gender, LGBTQIA+ issues, human rights, subcultures, music, and lifestyle. Her work has also been published in the The Independent, The Independent on Sunday, The i Newspaper, the London Evening Standard and International Business Times UK.