'What We Do in the Shadows' Season 4: Release Date, Cast, Trailer and Plot
Everything has changed for the vampires of Staten Island in What We Do in the Shadows.
Following the Season 3 finale, Nandor (Kayvan Novak), Laszlo (Matt Berry) and Nadja (Natasia Demetriou) have parted ways, with Colin Robinson (Mark Proksch) now a newborn baby after his first body expired at the age of 100.
This isn't the end of their story, however. FX renewed the show for a fourth season on August 13—before Season 3 had even started.
Showrunner Paul Simms spoke to Newsweek, both ahead of the Season 3 premiere in September and after the finale in October, about what fans can expect next. Here is everything we know about Season 4 so far.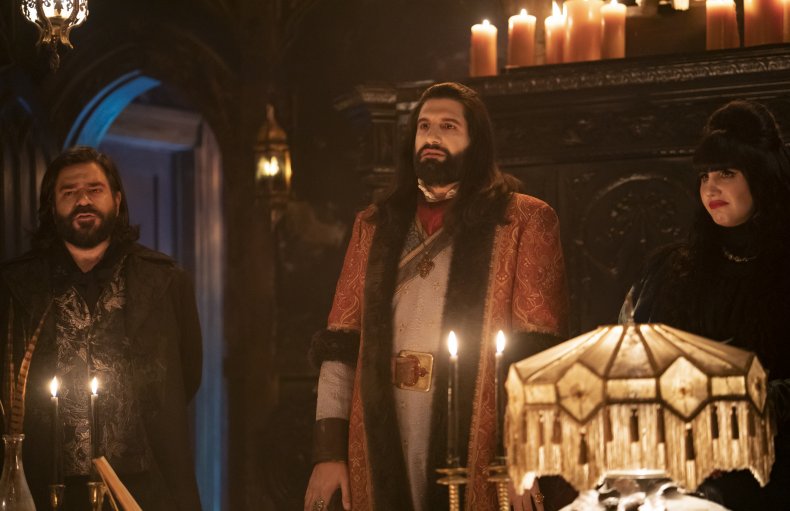 When Is 'What We Do in the Shadows' Season 4 Out?
The show's writers started work on Season 4 before shooting even began on the third season and were "finishing writing" in September, Simms told Newsweek.
"We've been working on Season 4 for quite a while now," he said. "We started figuring out the scripts for Season 4 before we started shooting Season 3.
"We were just being very optimistic, and with COVID we had some extra time and extra energy."
On Friday, May 13, FX confirmed that the show would be returning for its fourth season on Tuesday, July 12 at 10 p.m. ET/PT.
Who Stars in 'What We Do in the Shadows' Season 4?
The main characters are alive and well—or rather, undead and well—so Novak, Berry, Demetriou, Proksch and Harvey Guillén, who plays familiar Guillermo, are all returning.
Their characters are scattered across the globe, however, so it's unclear how much they will appear or interact with each other in the new season.
What Will Happen in 'What We Do in the Shadows' Season 4?
Season 3 ended with Nandor deciding to go traveling, while Nadja started her journey to England to become a member of the Supreme Vampiric Council.
Nadja was meant to be accompanied by her husband Laszlo, but the lothario sent an unwilling Guillermo with her instead and stayed in Staten Island to look after the baby Colin Robinson.
In September, Simms said: "There's a lot of things I think in Season 3 that set up Season 4, and a lot of things in Season 4 that refer back to Season 3."
And when he spoke to Newsweek after the finale aired on October 28, Simms revealed that filming had already started on Season 4: "We're filming right now... it's been about a month of filming."
Teasing what was to come, he added: "I think the biggest thing is the unanswered question of this baby Colin, is it inevitable that he'll grow up to be an energy vampire again? Or is it possible that he could become a normal, interesting human? That's sort of the puzzle that runs through Season 4."
On May 13, FX said in a press release of the new season: "This season, the vampires return to Staten Island to find their mansion on the verge of total structural collapse—and with no money to repair it.
"While Nandor's eternal search for love finally yields results, Nadja finally realizes her dream of opening the hottest vampire nightclub in the Tri-State Area.
"Laszlo struggles with the question of nature versus nurture as he tries raising Baby Colin to be anything other than an energy vampire. And even Guillermo finds himself on a powerful emotional track that touches on his love for his family, and for others."
Is There a Trailer for 'What We Do in the Shadows' Season 4?
As yet there is no trailer for What We Do in the Shadows Season 4.
What We Do in the Shadows Season 1-3 are available to stream now on FX on Hulu.
UPDATE 10/29/21, 5:11 a.m. ET: This article was updated to add quotes from Paul Simms after he spoke to Newsweek following the Season 3 finale.
UPDATE 05/16/22, 5:49 a.m. ET: This article was updated to add the confirmed release date for Season 4.