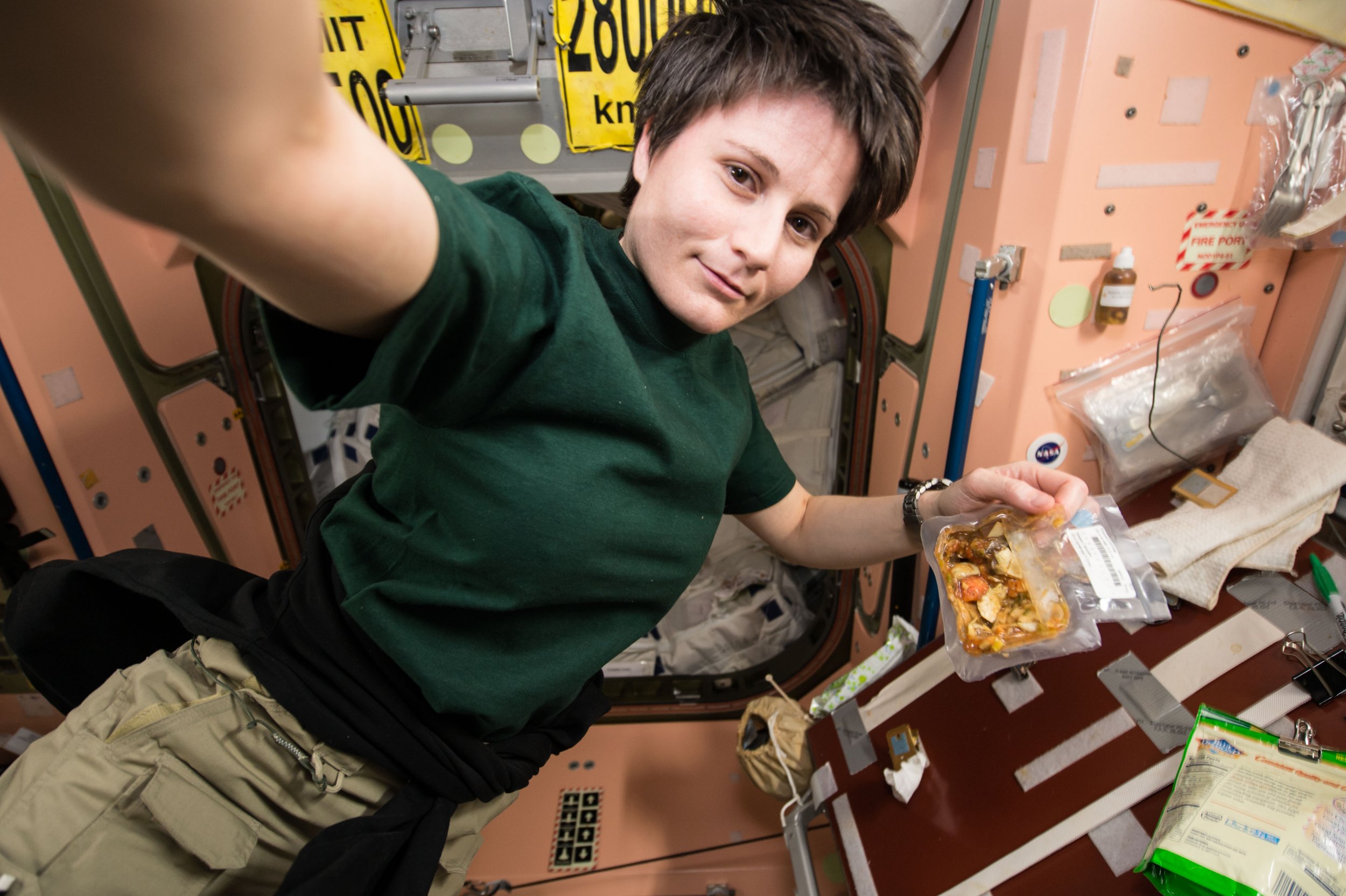 They might not celebrate Thanksgiving on this planet, but NASA Astronauts Randy Bresnik, Joe Acaba, and Mark Vande Hei, along with European astronaut Paolo Nespoli, will enjoy a fairly traditional meal aboard the International Space Station as they orbit about 220 miles above the Earth. Here's a look at how they will be dining.
Related: Healthy Thanksgiving Food: How to Make Lighter Mashed Potatoes That Taste Good
Although there is no set holiday menu, crew members can choose from a list of more than 200 items, which includes what we think of as seasonal dishes like roasted turkey, candied yams and cornbread stuffing, all served in pouches. Pumpkin spice fans will be sad to hear that it doesn't make an appearance on the menu, but NASA food scientist Vickie Kloeris says many astronauts happily end their meal with cherry blueberry cobbler.
As the International Space Station shared on its Twitter account, meal prep aboard the satellite is a far cry from a home kitchen—notably because the food is already cooked. Turkey tetrazzini, an option for the nontraditional Thanksgiving diners, is made in one simple step: rehydrating with water.
While the astronauts could forego our Earthly traditions in space by choosing to dine on turkey tetrazzini or even lasagna, Kloeris says they usually pool their resources and enjoy the standard fare. "Typically the U.S. crew members will put together a meal to share with their fellow crew members for Thanksgiving," she told Newsweek, explaining they appreciate being able to follow certain customs in a very untraditional setting.
The members offered a peek at how they'll spend today with a video posted on the ISS Facebook page. They plan to dine together this evening, including Italian astronaut Paolo Nespoli. Bresnik explained that their Russian counterparts will join the festivities, too.
Here on Earth, many homes will enjoy a typical turkey feast today and put their own spin on dishes by topping yams with marshmallows or adding ginger to cranberry sauce. No such personalizing will happen for space station crew. In fact, variety has been a missing ingredient for quite some time According to Kloeris, the standard space station menu has remained the same since Expedition 16 (they are now on 53). Recipes takes multiple iterations before becoming finalized, a lengthy and costly process. (To learn more about how these out of this world meals are made, visit the NASA tumblr). The green bean side dish that will accompany the crew members' meals, for example, was one of the trickiest to nail because vegetables are the hardest for food scientists to create.
"Often our crew members would prefer to have their vegetables plain," she said. "But you need a sauce to make them work."